Last letters of the Turkish POWs killed in Gare
In the last letters of the POWs killed during the Turkish invasion of Gare, the soldiers, policemen and intelligence officers ask why the state does nothing for them and their captivity is not an issue in Turkey.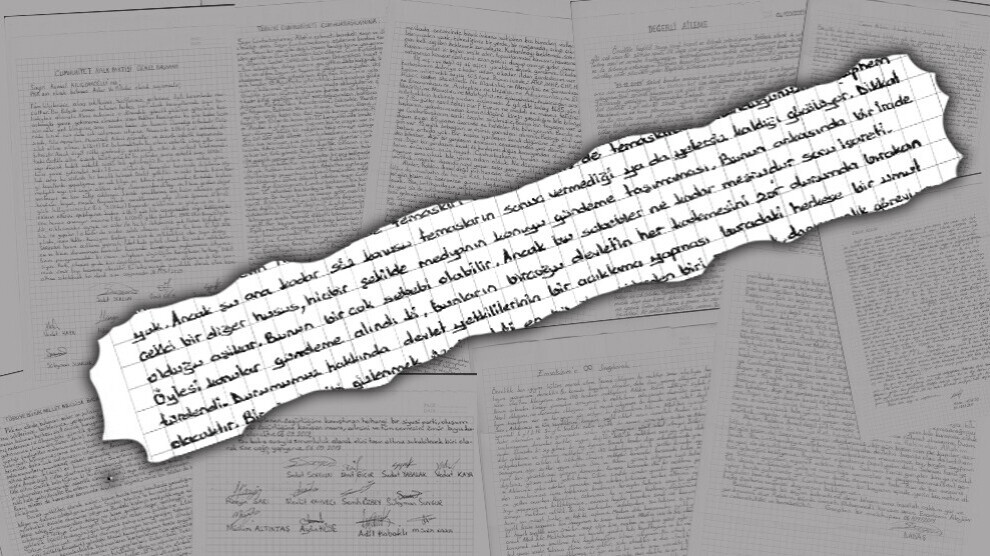 During the Turkish army's invasion of Gare in February, a POW camp was bombed by Turkish aircraft for three days, killing twelve Turkish soldiers, police officers and intelligence officers under PKK arrest. In 2019, the POWs had written a joint letter to Turkish Parliament Speaker Mustafa Şentop and CHP Chairman Kemal Kılıçdaroğlu. There are also separate letters to the families and one of the prisoners turns out to have appealed to President Erdogan. Copies of these letters dated September 6, 2019 are available to ANF, and they were signed by Sedat Sorgun, Ümit Gıcır, Sedat Yabalak, Vedat Kaya, Hüseyin Sarı, Mevlüt Kahveci, Semih Özbey, Süleyman Sungur, Müslüm Altıntaş, Aydın Köse, Adil Kabaklı and M. Salih Kanca.
In the letter to Parliament Speaker Mustafa Şentop, the POWs demand that the letter be read out before the 600 deputies of the National Assembly of Turkey. The letter says: "Are we not given the necessary importance and is there no commitment to us because the people here do not have reputed or very rich families? We could never have imagined that the state of the Republic of Turkey would not reclaim its soldiers and police officers for over four years, about 1500 days."
The letter further refers to numerous previous missions for the liberation of prisoners. Among the examples cited is the 2014 occupation of the Turkish consulate in Mosul by ISIS. Even for people without Turkish citizenship, it says, a commitment was shown that freed prisoners and returned them to their families: "We have waited for years with hope that our turn would come, too."
Who can we turn to?
"No one could guarantee our life and health in the past years, and this is still the case. Who should we turn to if the presidential office and the parliament do not act for our liberation? We have been separated from our families for four years and have no contact with them. What should we do? If we are accused, it is our right to know. Have we been convicted? That's what we want to know. Telling our families to be patient is just postponing or ignoring the problem. The talks held with Abdullah Öcalan have given us hope, but no result has come out of them either. Why are we not being talked about in these talks, why are we not on the agenda?"
"Your state does not ask about you"
In a letter to Erdogan, prisoner Sedat Sorgun describes who he is, how he came to be imprisoned and what his current living conditions are. He then asks, "My president, who are we? We are told here that our state does not ask about us and does not care about us. If it did, they would let us go, they would have no interest in holding us. It looks like they are telling the truth. Four years have passed and it is still not our turn. The organization leaders say: 'If your state wants, we will let you go but no one cares about you. If we let you go now, your state will kill you.'"
Concealed like a sin
In the letters to their families, the prisoners write of their situation, their longing, their expectations and hopes. Some also speak of their disappointment. Muhammet Salih Kanca writes: "It is striking that the topic does not appear in the media at all. Obviously, this is by design. There may be many reasons for this. However, the question is how legitimate these reasons are. If government agencies were to comment on our situation, it would mean hope for everyone here. For us, it is a great burden to be concealed like a sin."
RELATED NEWS: