Call from captive soldiers and police officers held by PKK
Soldiers and police officers captured by the PKK called on the state, political parties and NGOs to take action for them.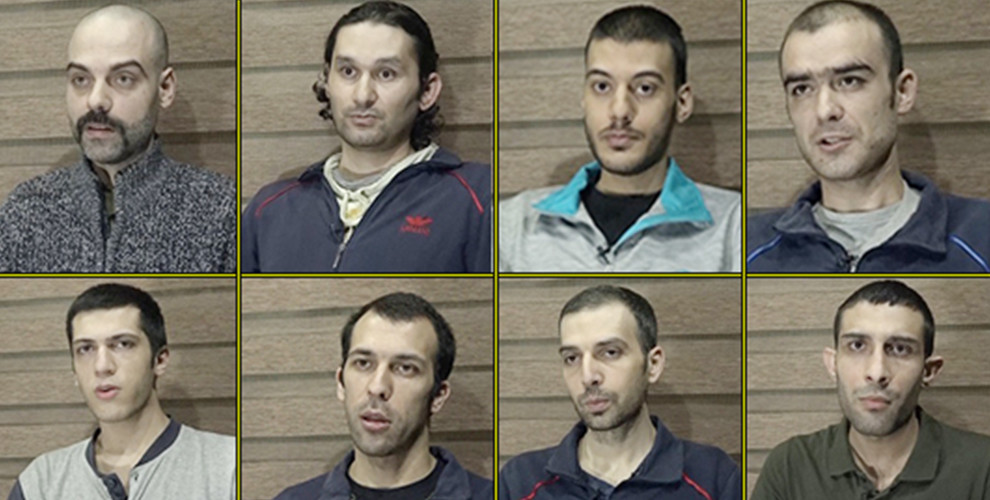 The Turkish government is not taking any action for the soldiers, police officers and former MİT members and it is risking their lives with aerial strikes. The 9 captive police officers and soldiers want initiatives to end their captivity.
Turkish intelligence MİT Overseas Ethnic Separatist Activity Director Erhan Pekçetin and MİT Human Resources Officer Aydın Günel had been captured in a special operation in Sulaymaniyah's Dokan town on August 4, 2017. Besides them, there are 9 soldiers and police officers currently held by the PKK. The police officers and soldiers spoke to the ANF and stated that war is not the solution, and that the state both ignores them and endangers their lives.
NOBODY TO LOOK AFTER THEM
Sedat Sorgun: "I'm from Erzurum, and I was a soldier stationed in the Van Type F Prison. On August 13, as I was going on leave, I was captured in a road check by the PKK guerilla. I have been here for some 3 years. Our health is well now. We don't have problems. We know that nobody has called us or looked for us to date. We know that nobody, not the opposition parties, not the government and not the TAF, looked for us, nobody looked after us.
On June 24 there is an election in Turkey. Many candidates are running for Presidency and for the Parliament, we can more or less hear every word that passes through their minds through the radio here, they can say anything at each other. But it's like we don't exist, nobody has us on their agenda.
What issue was ever resolved with weapons that the Kurdish issue would be?  I believe both sides should take the plunge and then the issue wouldn't have dragged on so long.
Now it's an election period, we think if you make the government, the opposition and new parliamentary candidates our videos one person among them might ask, 'What about these men?' Somebody should look after us.
PARTIES SHOULD STEP IN
Ümit Gıcır: I'm from Balıkesir. I was captured on September 21, 2016 in a road check between Hakkari and Çukurca. I was stationed in the Çukurca district gendarmerie. It had been just two months since I started there, I had just arrived in Çukurca.
We want something to be done for us. We want politicians, NGOs, state offiials to do something for us, it has been two years already. We have nothing to do anymore, we are doing all that we can.
We want political wings, opposition, human rights association, NGOs, whoever it may be, to step in. We expect the government, the CHP, the HDP, others I haven't named, we want everybody to do something for us.
We want our families to do something for us too. We want them to know we are OK, we want them to see.
I EXPECT HELP FROM ALL
Semih Özbey: I'm from Malatya. I was captured on September 17, 2015 while I was going on leave from Tunceli to Malatya. I expect help from all who can help us. I have been here for 3 years. I don't know if anybody is doing anything for us, if there are efforts, but I expect all to do whatever they can. The Human Rights Association, other NGOs, I want them to do whatever they can. They should fight for us, definitely.
WHY ISN'T ANYBODY DOING ANYTHING?
Adil Kabaklı: I was born in Osmaniye. I did the first part of my military service in Etimesgut, Ankara. I was captured by the PKK near Tunceli as I was travelling to do the second part. I've been here for almost 3 years. Nothing was done for us in all this time, and on the radio we have been listening to for 3 years, nobody talks about us. Our name hasn't been mentioned. Our expectation is from our state.
We have expectations from everybody, but nobody is doing anything. The AKP, the CHP, whatever political party it would be, it doesn't matter, we are calling on them all. Why are they not doing anything for us?
NOBODY EVEN SPEAKS OUR NAMES
Müslüm Altıntaş: I am from Halfeti, Şanlıurfa. I started doing my military service on August 5, 2015 as an infantryman. I was captured on October 2, 2015 in Tunceli and I have been at the hands of the organization to date, i.e. June 3, 2018. I have a call for the government and other state officials. We want something to be done both for us and our families. All these MPs, politicians, why can't they do anything for us? Or, is it that they won't? Kemal Kılıçdaroğlu went on the March for Justice. Can't he do anything for us? The government should do something for us already. Have we lost our citizenship or something? Nobody even speaks our names.
WE HEARD NOTHING
Mevlut Kahveci: I'm from Eskişehir. I was captured on September 21, 2016 on my way from Hakkari to Çukurca to register for an exam. I have been here for two and a half years. We heard nothing, no efforts for us. Now there are elections, no opposition party, not Vatan Party, not MHP, not the AKP ever said anything for us.
WHAT SHOULD WE DO?
Sedat Yabalak: I'm from Mersin, I'm a police officer. I was stationed in Urfa. I was taken on the Diyarbakır-Lice road on my way to Urfa from Erzurum on July 28, 2015. From then to this day, June 3, 2018, I have been at the hands of the PKK.
I'm calling on state officials. Do something for us already. We haven't heard of anything being done to date. Must we have been high ranking commanders, governors, district governors or rich people for them to have done anything in 3 years? That's what I wonder. What should we do? What are we here? Aren't we their policemen, their soldiers, personnel of their state?
DON'T IGNORE US
Süleyman Sungur: I'm from Siirt. I was doing my military service in Bingöl. I was taken in a road check by the PKK on the Diyarbakır-Lice road. I have been under arrest here for 3 years, I haven't heard from my mother, my father, nobody. We expect something from political parties, be it CHP, MHP, AKP or HDP. Many eids have passed, we haven't heard from our parents. They shouldn't ignore us, we expect things from them. This war has continued for 40 years, but there has been nothing gained. Only people died. We want peace too, we want people not to die, and to reunite with our families.
WHY DOESN'T THE STATE WANT US?
Hüseyin Sarı: I'm from Maraş. I was serving in Sarıkamış, Kars as a specialized sergeant. I was arrested on my way from Sarıkamış to Maraş on August 13, 2015. I was supposed to have my wedding on August 16, 2015. I've been married on paper for 3 years, but we didn't have our wedding so I have been separated from my wife for 3 years. I have no idea how my family and my wife are right now. For three years, we weren't taken care of, there were no demands for us. Today it's June 3, 2018, it has been so long, we don't know if anybody is trying to do anything for us. We haven't heard anything if they are.
We don't know what will happen during this election period. Will we be released? Will we not? We haven't heard of any demands from any political party to support us. Eid is coming, this will be the 6th eid away from our families. I wish my family a happy eid, I hope we will be reunited one day.