The State was preparing the end of the soldiers in PKK captivity
Some of the soldiers and policemen killed in the Turkish airstrike on Gare warned back in 2018 that the Turkish state was disregarding their lives and putting them in danger.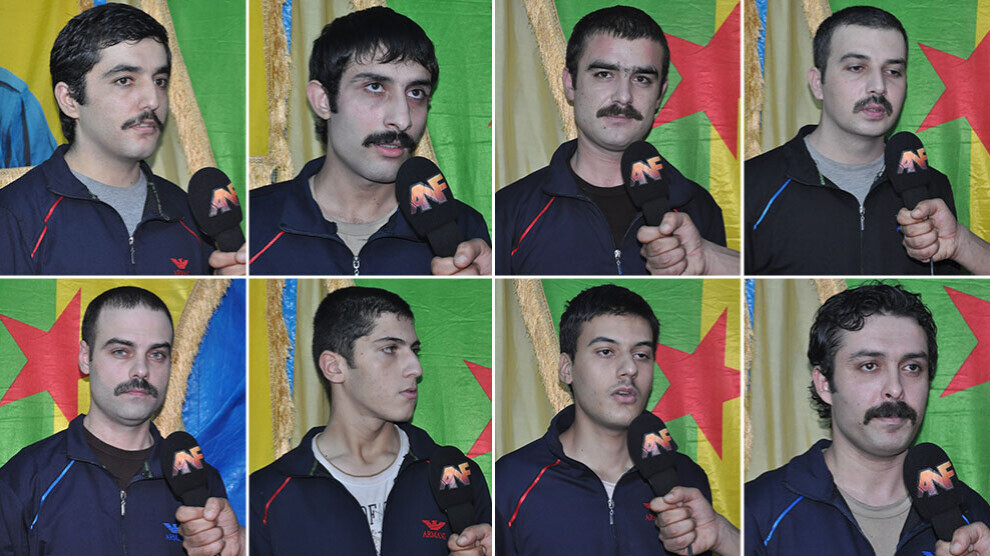 The Turkish army bombed a detention center in Gare that held soldiers, police officers and MIT agents captured by the guerrillas, killing thirteen of the inmates. The Turkish state and its media accused the PKK of shooting the prisoners. The guerrilla's command HSM stated that the Turkish army had heavily bombed the detention center for three days. The army must have been fully aware that no one would leave the camp alive, said the HSM and stressed that, therefore, this was been a "liberation operation, but an extermination operation." The Turkish state is now trying to put the blame of its own war crime on the guerrillas and thus conceal its defeat in Gare. It had previously ignored the efforts of human rights organizations and relatives to release the prisoners and is now trying to use the relatives it itself abandoned. Even the captured agents of the Turkish state had made several desperate appeals to the Turkish government.
For example, on June 7, 2018, nine captured soldiers spoke to ANF about their desire for a peaceful resolution and criticized the state for its ignorance.
"Nobody cares about us"
Soldier Sedat Sorgun stated at the time: "I am from Erzurum, I did my military service in the F-type prison in Van. On August 13, I was captured by PKK guerrilla fighters on my way to leave. I have been here for about three years. We are healthy at the moment. There is no big problem. We know that no one has been looking for us or asking about us. We know that no one, opposition parties, government or Turkish army, has been looking for us or asking for us. We know that nobody cares about us. There are elections in Turkey on June 24. Many candidates are competing for president and as deputies. We hear all kinds of explanations. What we hear over the radio shows that. They act as if we do not exist. Our situation is not on anyone's agenda. What problem has been solved by force of arms so far? How is the Kurdish issue going to be solved like this? Now that we are in an election period, we hope that these images will reach them. Whether it is the opposition, whether it is the new parliamentary candidates, we think they will ask themselves what should happen in the face of these images. They need to stand up for us."
"The parties must do something"
Soldier Ümit Gıcır said, "I am from Balikesir. On September 21, 2016, I was captured during the PKK road check between Hakkari-Çukurca. I worked at the Çukurca district gendarmerie command. I had been deployed there only two months ago and had just arrived in Çukurca.
We want something to be done for us. We expect something to be done for us after two years by politicians, non-governmental organizations, government officials. We have no option, we are doing everything we can.
We expect that everybody, from whatever political orientation, whoever may be in opposition and can do something, human rights associations or civil society organizations, everybody has to do something. We expect something to be done for us by the government, the CHP and the HDP and everyone else. We also expect our families to do something. We want them to know and see that we are doing well."
"I expect any help"
Sergeant Semih Özbey stated: "I am from Malatya. On September 17, 2015, I was captured while on leave on my way from Tunceli to Malatya. I am asking for help from anyone who can do anything. I have been here for three years. I don't know if anything is being tried, but I expect everything possible to be done. Whether it is human rights associations or other NGOs, they must do whatever they can. They should definitely fight for us."
"Why is nothing being done?"
Soldier Adil Kabaklı said: "I was born in Osmaniye. I was trained in Ankara-Etimesgut. On the way to my special unit, I was captured by the PKK on the Tunceli route. I have been here for about three years. So far nothing has happened for us and there is nothing about us on the radio station we have been listening to for three years. There is no mention of us. Our expectation is from our state. We expect something from everyone, but no one does anything. AKP, CHP, whatever political party, we address them all from here. Why is nothing done for us?"
"They don't even mention our names"
Soldier Müslüm Altıntaş said, "I am from Halfeti in Şanlıurfa. I served in the military on August 5, 2015. I am an infantryman. I was captured in Tunceli on October 2, 2015. I have been in the hands of the organization since June 2018. I appeal to the government and the state. We want something to be done for us and our families. There are so many deputies, politicians, can they do nothing for us? Kemal Kılıçdaroğlu marched for justice, but he cannot or does not do anything for us. The government must do something for us now. Did they take away our citizenship then? They don't even take our names in their mouths."
"We have heard no voice at all"
Sergeant Mevlüt Kahveci said: "I am from Eskişehir. On September 21, 2016, I was captured on my way from Çukurca to Hakkari. I was just on my way to register for the exam. I have been here for about two and a half years. It's hard for us, we haven't heard any voice from anywhere. Now it's election time, but they haven't said anything about us, nobody, whether from the opposition or Vatan Partisi, MHP or AKP."
"Aren't we their soldiers, their policemen, their officials?"
Police officer Sedat Yabalak stated, "I am from Mersin, I am a police officer. I was serving in Urfa. On July 28, 2015, I was captured on the road between Diyarbakır and Lice on my way from Erzurum to Urfa. From then until today - June 3, 2018 - I have been in the hands of the PKK.
I am addressing the state here. It should do something for us, so far we have not heard anything. I wonder if we have to be high-ranking commanders, governors or very rich for them to do something for us. What are we supposed to do and why are we here? Aren't we their soldiers, their policemen, their government employees?"
"They should not disregard us"
Soldier Süleyman Sungur said: "I come from Siirt. I was a soldier in Bingöl. I was arrested by the PKK on the road between Diyarbakır and Lice during a road check. I have been imprisoned for three years. I have not heard from my parents or anyone else. Whether CHP, MHP, AKP or HDP, we expect something from these political parties. Many holidays have passed without hearing anything from our parents. State and parties should not disregard us, we have expectations from them. This war has been going on for 40 years, but nothing has been achieved, only people have died. We want peace, we want people to stop dying, we want to be reunited with our families."
"Why doesn't the state want us?"
Sergeant Hüseyin Sarı said, "I am from Maraş. I was stationed in Kars-Sarıkamış as a non-commissioned officer. On August 13, 2015, I was arrested on my way from Sarıkamış to Maraş. My wedding was set to take place on August 16, 2015. On paper, I have been married for three years, but my wife and I have not had a wedding ceremony yet, we have been separated for three years. I don't know how my family and wife are doing now. No one has stood up for us or demanded our release in the past years. Now it is June 2018, so much time has passed, we don't know if any initiatives have been taken for us or not. We have not heard anything in this regard.
We don't know what will come out in the elections. Will we be released or not? No political party has stood up for us. We have Ramadan coming up, this will be the sixth holiday we have to spend away from our families. I wish my family all the best for Ramadan, and I hope we will be reunited."
HPG Commander: "For the fascist regime, human life has no value"
One of the HPG commanders, Mahir Deniz, had warned in a statement to ANF on September 17, 2019, that the state was doing nothing for the detainees and was trying to find out their whereabouts in order to kill them through an airstrike. The commander stated, "But despite all this, the Turkish state and the public act as if these policemen, these soldiers and MIT people did not exist at all, they just ignore them. Nobody asks about them." He continued, "The Turkish state has even tried to locate their position several times in the past to kill them in targeted airstrikes. The intention behind this is obvious. The government wants to propagate that the PKK is responsible for the death of these men. Even if they are their own people, for the fascist regime human life has no value. Only the families of the victims are interested in the fate of their loved ones. This attitude of the Turkish regime was already evident in 2008, when the government said about eight soldiers captured by the guerrillas in Oremar that "it would have been better if they had died."
"The families should ask the AKP-MHP"
Addressing the families at the time, Commander Mahir Deniz stated, "The families should turn to the state. What the AKP/MHP regime is currently doing to these families is to abuse them for its own interests. Just as their children have already been exploited and driven to war, they are now to be killed. Should anything happen to them, it is the state with whom the responsibility lies. The relatives of the soldiers and policemen should realize the truth and not let themselves be the tools of this dirty policy."
Letters handed over to IHD
On the occasion of a festive day, letters from the prisoners were transmitted to the families through the Human Rights Association IHD. Again and again, negotiations and solutions of captures by the guerrillas took place through the IHD. For example, due to the efforts of IHD, twenty customs officers could be handed over to the association on September 8, 2015 in South Kurdistan and brought to Turkey. Time and again, the co-chairman of the Human Rights Association Öztürk Türkdoğan had emphasized that the IHD could also take action in the case of the captured soldiers.
Dozens of press conferences and mediation attempts
Türkdoğan recalled that the association has held many press conferences with the families of soldiers and police so far and held meetings with state officials to this end. However, nothing has been done despite the families' talks with the prime minister and at the ministerial level, he said. Türkdoğan has launched countless initiatives and demanded that everyone take action to guarantee the release of the captured soldiers and police officers. He said, "Regardless of the political environment, what matters to us is that these people are safely handed over to their families. We declare that we are ready to make every attempt to secure their release." Türkdoğan also tried to meet with the Interior Ministry along these lines, but the IHD was ignored.
"Talk about the 13 prisoners"
Türkdoğan also criticized the silence of the public in Turkey on this issue, saying, "Is the Turkish public not aware that 13 citizens were in captivity? Talk about their situation, for four years they were not able to see their families."
"Are they supposed to die?"
The father of prisoner Müslüm Altıntaş also spoke at the press conference, saying, "I raised my young son and sent him to the army. It's been four years, it's a sin. If I told this to the wall, it would understand, but those facing us don't hear it. I call out to the government, what do you want? These people have had your soldiers in captivity for four years and you say you are not ready to negotiate. Should they die? After that, will they hold an official ceremony and transfer a medal to them? Come on, we are not children."
RELATED NEWS: