Families of soldiers/policemen captured by HPG meet IHD and HDP
Families of soldiers and policemen captured by the HPG held a press statement with the IHD and called on the public and the state. The families also met with the HDP.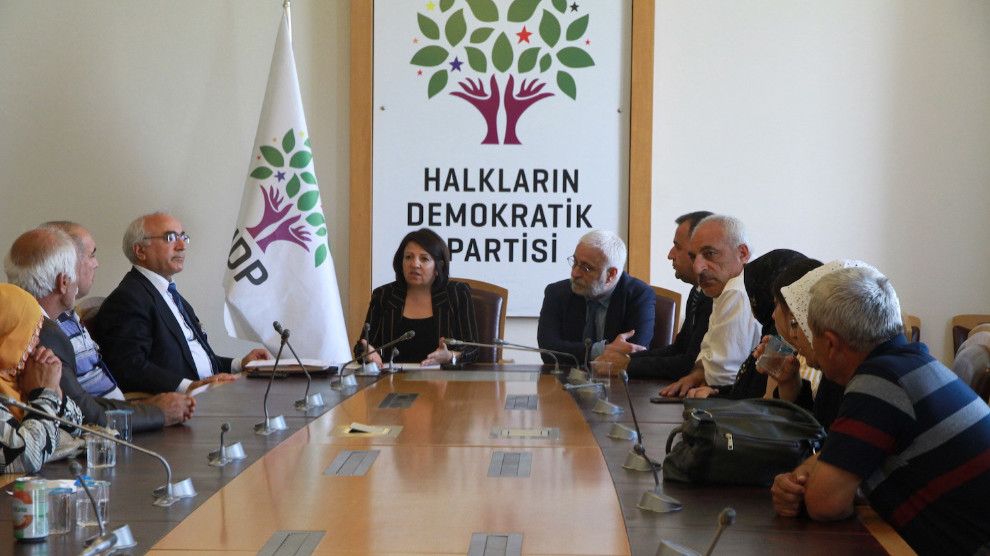 After the AKP ended the "solution process", 13 soldiers and policemen were captured by the HPG in road checks in Kurdish cities between July 24, 2015 and September 21, 2016.
After a long time of the families not being able to hear from their loved ones, letters by the soldiers and policemen were left at the Human Rights Association (IHD) Headquarters to be delivered to the families.
The association notified the families who went to Ankara to receive the letters. After they received the letters, the families held a press conference with IHD Co-chair Ozturk Turkdogan and Central Committee Member Raci Bilici.
"WE CAN ACT AS INTERMEDIARIES"
Turkdogan said the association is prepared to act as intermediaries again and said the following on the families' appeals to the IHD about their captive children:
"On July 24, 2015, police officer Vedat Kaya was captured along the Diyarbakir-Bingol highway. On July 28, 2015, police officer Sedat Yabalak was captured along the Diyarbakir-Bingol highway. On August 13, 2015, Specialist Sergeant Huseyin Sari, Private Sedat Sorgun and Private Suleyman Sungur were captured along the Diyarbakir-Lice highway. On September 18, 2015, Officer Semih Ozbey was captured along the Dersim-Erzincan highway. On October 2, 2015, Private Muslum Altuntas and Private Adil Kavakli were captured along the Dersim-Pulumur highway. On December 12, 2015, Specialist Sergeant Sedat Vardar and Specialist Sergeant Ferdi Polat were captured in Sirnak center. On September 21, 2016 Specialist Sergeant Umit Gicir and Specialist Sergeant Mevlut Kahveci were captured in Hakkari."
"THE STATE DOESN'T RESPOND TO OUR CALLS"
Turkdogan said the situation of captured Sedat Vardar and Ferdi Polat is still unclear and called for public statement for Polat and Vardar.
Turkdogan said the government hasn't issued a response despite calls by the families and their own initiatives.
"TO THE PUBLIC: 13 OF YOUR CITIZENS HAVE BEEN CAPTURED"
Turkdogan also criticized the Turkish public's silence on the matter. Calling on journalists, he said: "To the Turkish public: Do you know that right now 13 of your citizens have under captivity. Speak about them for a change. They haven't seen their families in 4 years."
In the meeting, the families also spoke and protested the silence by the state and the public.
The families left the IHD to meet with HDP, CHP and AKP group officials in the Parliament.
MEETING WITH HDP
HDP issued a statement and said the following on the meeting with the families:
"Our Deputy Group Chairpersons Fatma Kurtulan and Saruhan Oluc met with the families of 12 soldiers and police officers who have been captured by the PKK since 2015 in the Parliament. The families visited our group along with IHD Co-chair Ozturk Turkdogan and IHD Central Committee Member Raci Bilici and demanded the Parliament take action to have their children released. Oluc and Kurtulan said the matter has been on their agenda since day one, and added that they will fulfill their responsibility in reuniting the soldiers and police officers with their families and taking initiatives in the parliament."