55 people murdered by the Turkish state in Şırnak 30 years ago commemorated
Şırnak Provincial Organization of the Peoples' Democratic Party (HDP) commemorated 55 people killed by the Turkish state 30 years ago.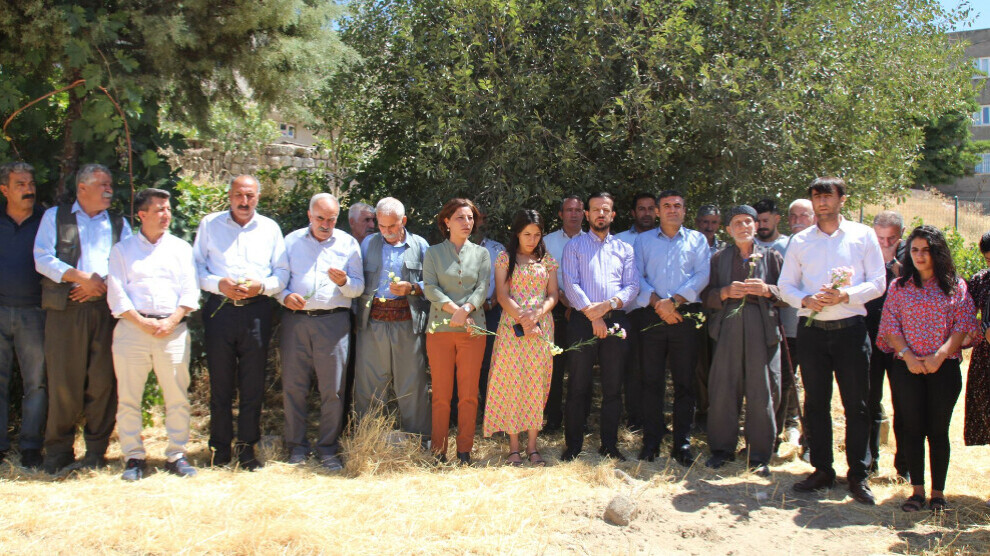 HDP's Şırnak Provincial Organization visited the Martyrs' Cemetery to mark the 30th anniversary of the 1992 Şırnak Massacre which claimed the lives of 55 citizens. HDP deputies Nuran İmir, Hüseyin Kaçmaz, as well as members of the Democratic Regions Party (DBP) and HDP Şırnak Provincial Organization attended the commemoration.
'AN OUTRAGEOUS MASSACRE'
HDP deputy Nuran Imir made a speech commemorating those who lost their lives in the massacre. "30 years ago, the Turkish state carried out an outrageous massacre in Şırnak, subjecting young and old alike to a mass slaughter. According to official data, 55 people were killed in this massacre, while it is actually claimed that more than 160 people lost their lives. Turkish officials put the blame for this outrageous massacre on the PKK while it was Turkish forces who did it. 21 years after the massacre, Şırnak Governor Mustafa Malay admitted that the massacre had been carried out by the state forces. Despite all these acknowledgements, no investigation or lawsuit has been launched against those responsible," she said.
'THE MASSACRE WAS PLANNED BEFOREHAND'
Imir emphasized that the massacre had been planned beforehand, stating, "The Şırnak region was chosen particularly for the massacre and the people killed here were deliberately chosen. Back then, the Turkish state was holding face-to-face talks with the PKK to stop the armed conflict. The first ceasefire was announced in April 1993. Nowadays, we see attitudes similar to the coup-like attempts that were made to prevent the ceasefire 30 years ago. In 2013, three Kurdish women were murdered in Paris to halt the resolution process concerning the Kurdish question."
Imir stressed that dozens of massacres were carried out later on because the perpetrators were never prosecuted. "Şırnak is an important place in terms of society and organization. That's why Şırnak was specifically chosen. Since then, the Kurdish people have faced dozens of massacres. They want to establish domination over the Kurds by protecting the murderers. However, we would like to state once again that the Kurdish people have not given up their struggle despite all the massacres and attacks they have faced. The Kurdish people have been attacked with the same mentality and hostility for many years. We condemn this dirty mentality and commemorate all our martyrs who lost their lives in the Şırnak massacre. Every single one of our people in Şırnak has that fighting spirit. We will not forget these massacres, which are the reason why we resist this fascism and the invaders," she added.
After Imir's speech, carnations were placed on the graves of the victims.