DFG: "Nothing to celebrate on Working Journalists Day!"
The Dicle Firat (Tigris Euphrates) Journalists Association (DFG) issued a statement said journalists in the country have nothing to celebrate on 10 January, Working Journalists Day.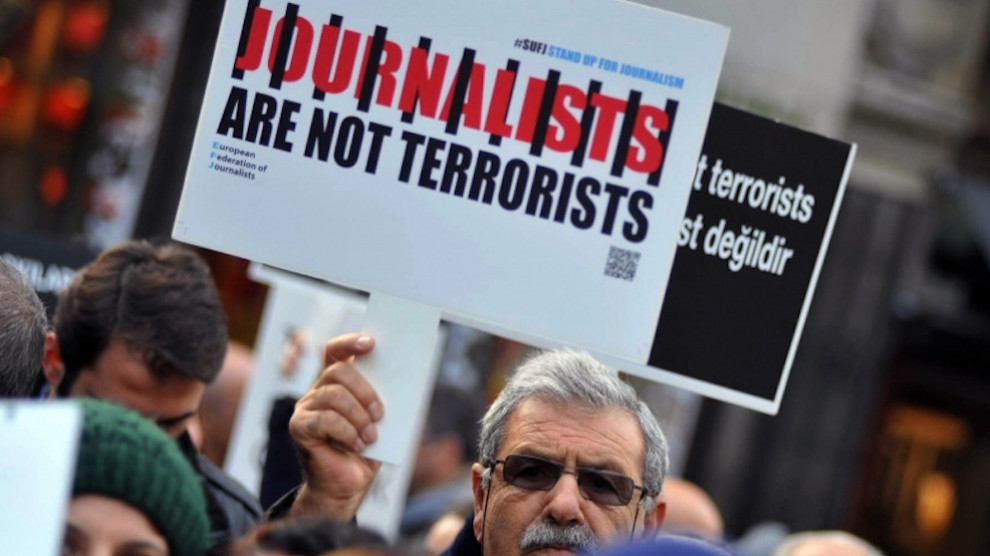 Dicle Fırat Journalists Association (DFG) issued a written statement to mark 10 January, "Working Journalists Day".
"Working Journalists Day" is celebrated since 1961, when journalists organised a march to claim their rights and freedom of the press.
The DFG recalled that "journalists in Turkey have little to celebrated. In particular since the State of Emergency has been declared on 20 July 2016 and the Decrees of Law implemented, 179 media outlets were closed. Thousands of journalists became unemployed while 53 newspapers, 37 radio stations, 34 televisions, 29 publishers, 20 magazines and 6 news agencies were shut down. Again in this period, 3,804 journalists yellow press cards were canceled."
Social media posts by journalists considered crimes
The statement underlined that "journalists news and social media posts are considered crimes.
Investigations and lawsuits have been filed against journalists on a daily basis. For this very reason, journalists spent most of their working hours in the courthouse corridors, either in front of the judge or in solidarity with friends. Turkey has gained the title of "world's biggest jail for journalists" as more than 100 journalists are behing bars."
The journalists association also pointed out that "in particular, the repression and intimidation aim at the opposition and Kurdish media."
Murdered jounralist Metin Göktepe commemorated
Dicle Firat Journalists Association also remembered and paid tribute to Evrensel journalist Metin Göktepe.
Göktepe had gone to the Alibeyköy Cemetery on 8 January 1996 in order to cover the funeral of two leftist inmates, Rıza Boybaş and Orhan Özen, who were beaten to death during prison riots in the Ümraniye Prison in Istanbul on 4 January. He was detained by police who blockaded the region. Göktepe was beaten and taken to the Eyüp Closed Sports Hall. He was kept at the sports hall for a while, reportedly felt sick there, and was then taken somewhere else by the police. 
An unknown person, who was detained and then released, called the Evrensel newspaper around 8pm on 8 January and said that Göktepe had been beaten to death. The lawyers for the paper exposed the fact that Metin Göktepe had been killed while in police custody.