YPJ fighters in Operation Cizire Storm: We will avenge all women
YPJ has played a leading role in the liberation of Northern Syria lands from ISIS. Women in the ranks of resistance state that their goal in participation in YPJ is to free all world's women from atrocities.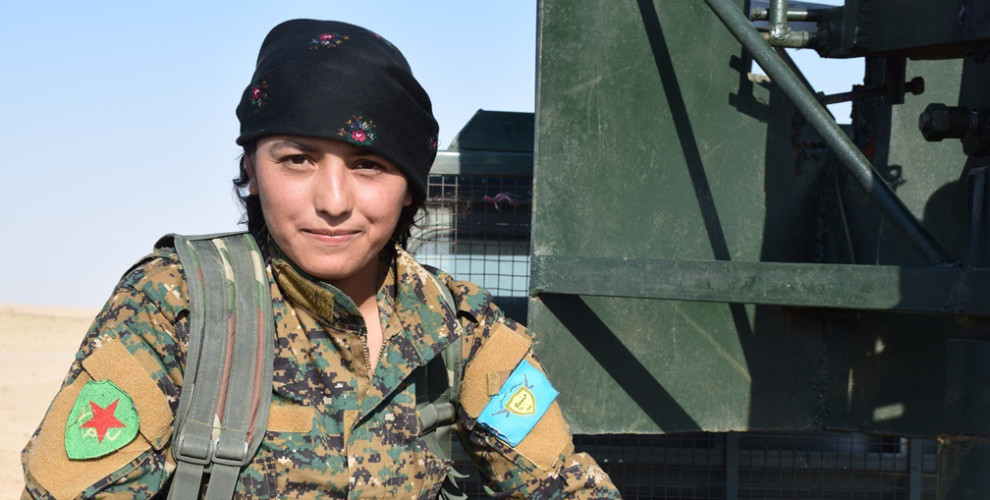 Fighters in the heavy weaponry brigade of Women's Defense Units (YPJ) are at the forefront of battle in the Operation Cizire Storm to defeat terrorism.
The fighters in the YPJ brigade stated that they are taking part in the Cizire Storm campaign to avenge all women that suffered atrocities in the hands of ISIS mercenaries.
Speaking to ANHA, Jinda Welat, commander of the heavy weaponry brigade's mortar units, pointed out that they have a decisive role in the Operation Cizire Storm which was launched on September 11 to liberate the eastern countryside of Deir ez-Zor.
Jinda said YPJ combatants partaking in the campaign are fighting for all women, saying; "We came to liberate women from the darkness of terrorists."
"We are here to avenge women from Shengal"
Jinda Welat emphasised that they as YPJ fighters had promised to avenge all women, those from Shengal in the first place, that were sold as slaves, tortured and massacred by ISIS. She said they will fulfill their promise during this campaign.
"Our target after Deir ez-Zor is Afrin"
Jînda Welat continued; "We will not leave Afrin alone. We are preparing for the liberation of Afrin. We will liberate Afrin just like we have liberated Northern Syria. The people of Afrin resisted against the most advanced weapons technology and they continue their resistance."
Fighter Eylem Minbic with her DShK
Eylem Minbic, who is also taking part in the Operation Cizire Storm, stated that she joined the YPJ to emancipate world's women from the male-dominant system. She said; "I am fighting the ISIS with my DShK weapon. I am happy to have the chance to fight against the ISIS that has committed atrocities against women."