YJA Star Commander: "Women play a leadership role in the battle"
Hêjar Zozan, one of the commanders of the women's guerrilla force said, "The actions of the YJA Star are not limited to Heftanin. There has been a strong participation of women in the struggle and actions in Garzan, Botan, Zagros and many other places."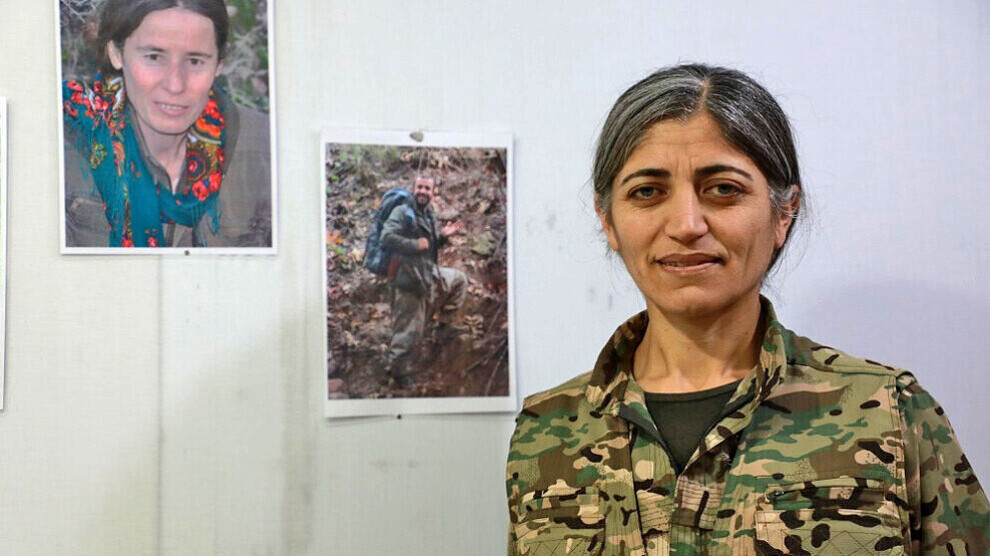 Hêjar Zozan, one of the commanders of the women's guerrilla troop YJA Star, attended the latest meeting of the People's Defense Forces (HPG) Command Council. Zozan spoke to ANF on the practice of YJA Star in 2020.
Zozan said that Sema Koçer set an example with her action at the beginning of 2020. The guerrilla fighter sacrificed herself on March 31, 2020, during an action against a gas pipeline in the border area between Iran and Turkey. Numerous soldiers were killed in the action.
In what framework was the YJA Star practice evaluated at the Command Council meeting?
At our meeting, the one-year practice of the People's Defense Forces (HPG) was evaluated. Of course, there was also discussion on how to look at the YJA Star, namely the women's practice. There were strong and intense evaluations because YJA Star militants played an important role in 2020. Women like Sema Koçer, Esmer and Zelal have taken a pioneering role.
If we want to evaluate this practice, it is important to talk about the action of Sema Koçer in Serhad region. With this action, it became clear how the year would go. Heval Sema had given the starting signal for the struggle in 2020. Naturally, the war for Heftanin followed on the basis of this legacy. Women played a leading role in the Cenga Heftanin resistance. In particular, the autonomous unit under the command of Heval Esmer played an effective role. The unit fought with the greatest courage in Heftanin. It inspired everyone. Great developments took place, especially in the Serhildan area. There was support from different areas. This created great morale among the female friends.
As you know, there were a lot of actions carried out by women this year. Of course, there have always been actions of YJA Star. But one thing became clear: the more women become professionalized and militarily stronger, the more actions come out. Of course, these actions must also be considered as revenge by women. Last year in Kurdistan, many young women were attacked by the enemy. Young girls and children were raped. Therefore, the resistance has increased massively and a lot of actions have been carried out.
Of course, the actions of the YJA Star were not limited to Heftanin. There was a strong participation in struggle and actions in Garzan, Botan, Zagros and many other places. In terms of professionalization of women friends, there were many different tactical departures this year. Doğa Zilan, in particular, played an important role in this. Both with her sacrifice (Doğa Zilan successfully struck Turkish invading forces at the Martyr Berîwan hill in Heftanin on July 12, 2020, using an aircraft loaded with explosives) and with her tactics, she became a pioneer of the aerial combat method, which was new to the guerrillas. She left a deep impression.
All these women friends have left us a legacy. Based on this accumulation of experience, we will take an even greater role and ensure participation more clearly in 2021. Accordingly, we will also increase our goals. As I said, we have completed an intensive practical process. However, we still do not consider our practice to be sufficient. We could have done so much more, avenged our martyrs even more. In this respect, we consider ourselves insufficient. Above all, Rêber Apo [Abdullah Öcalan] is still in prison and we have no contact with him. Therefore, we need to expand the struggle even further. A corresponding determination has emerged and will determine the agenda of 2021. We will participate on this basis.
Do you have a message for women?
On the occasion of our gathering, I would like to address the young women in particular: The YJA Star is first and foremost a military force of women. Wherever there is an attack on women, the YJA Star will defend them there. We will implement this commitment with all our means even more than before. In order to defend, strengthen and protect themselves from the attacks of fascism, the young women should join the ranks of YJA Star, equip themselves in all aspects and act against the attacks on women. The Turkish state mainly attacks people who have no protection. But if the women continue to strengthen themselves, then they can respond to the attacks much stronger. This is why I call on young women to join the ranks of YJA Star. I wish all women success in their struggle.
RELATED NEWS: