Yazidi women march in Shengal for recognition of genocide and status
As the anniversary of the genocide perpetrated by ISIS in Shengal on 3 August 2014 is approaching, the Yazidi women organized a march demanding recognition of genocide and status for autonomy.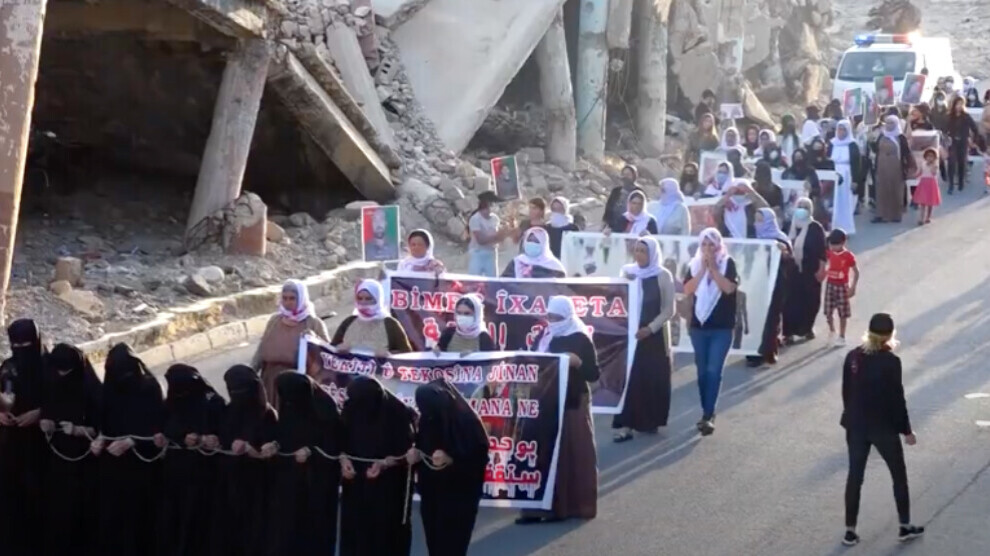 Hundreds of women gathered in Suka Kevin in Shengal with photographs describing the atrocities during the genocide. The women wore black chadors and chains representing the women who were kidnapped by ISIS and made into slaves.
During the march, the women chanted slogans such as "We want autonomy", "Long live the Shengal resistance", "Down with betrayal", "Women's resistance and struggle will frustrate genocides."
The women marched to the area where the genocide began, known as Shengal zigzags, and called on the international community to recognize the Yazidi genocide and the autonomous status of Shengal.
Fehîme Silêman, a member of the Yazidi Free Women's Movement (TAJÊ), said that "On August 3, 2014, hundreds and thousands of Yazidi women were forced to walk in this street as slaves."
"We want to turn the genocide march that started in this street into a freedom march today," she added.
"We have seen the suffering of our children, our daughters and our spouses, and we want to govern ourselves in order not to experience further sufferings. We created our security forces to defend ourselves and established our military force and women's organization" Silêman said, calling for the recognition of autonomous status for Shengal.
"We owe our gratitude to all our people who embraced and helped us," the TAJÊ member said.
During the march, the women in black chadors and chained hands broke their chains in a symbolic act and set the black chadors on fire.