Workshop for Yazidi women in Batman
Workshop in Batman where the atrocities experienced by Yazidi women is told.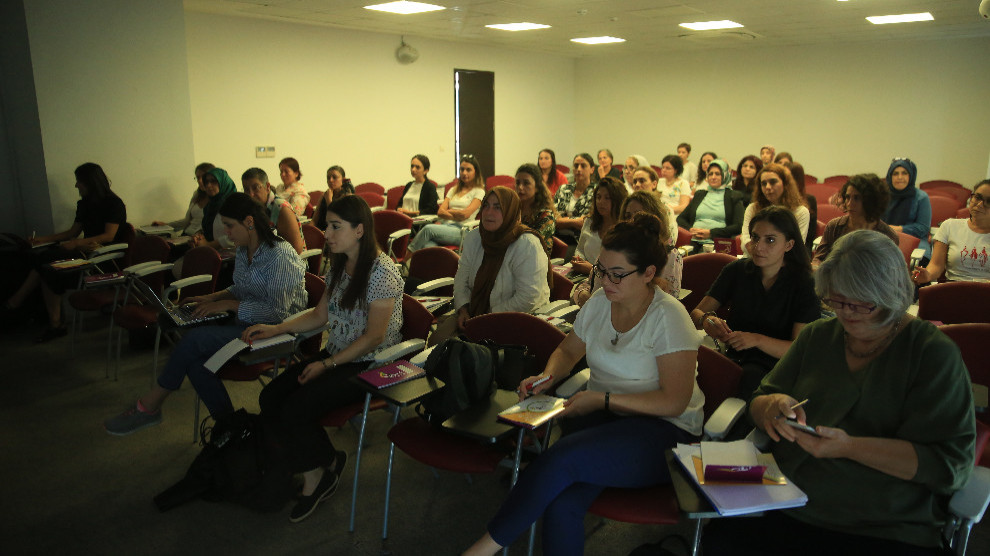 The Platform for Struggle for Women held in Captivity organised a workshop titled "73rd Genocide and the Freedom Struggle of Yazidi Women" in the Batman city.
The workshop at Batman Bar Conference Hall is attended by many women including HDP MPs Feleknas Uca, Saliha Aydeniz and Hüda Kaya, Batman Co-mayor Songül Korkmaz, TJA activists, the Human Rights Foundation of Turkey (TIHV) Chairperson Prof. Dr. Şebnem Korur Fincancı and intellectuel Ayşe Berktay.
"ALL WOMEN OF THE WORLD WERE TARGETED"
The workshop began with a cinevision screening depicting the accounts of Yazidis who survived the genocide.
Speaking after, HDP MP Feleknas Uca said; "Not only Yazidi women but all women on the world were targeted in the 73rd genocide experienced by the Yazidi community. Women were sold in slave markets and everyone was an onlooker. Virginity of 4-year-old girls was sold in slave markets and women were raped."
"300 ISIS MEMBERS DISCPLACED TENS OF THOUSANDS"
Journalist Berfin Hezil, a witness of the genocide, attended the workshop via video conference from Germany and told her testimony; "When ISIS first attacked, thousands of people were dragged to panic. 300 ISIS members displaced, massacred and abducted tens of thousands of people. What caused this was the peshmerga worried about the interests of South Kurdistan. The flight of the peshmerga with heavy weapons helped ISIS act freely."
"THE SORROW OF YAZIDIS DID NOT STOP"
Shengal Women's Council Member Feride Sadu also attended the workshop via video conference, from Shengal.
Recalling the worldwide silence as humanity was destroyed in ISIS genocide in Shengal, Sadu said; "The sorrow of Yazidis did not stop yet. For this very reason, their struggle continues as well. One of our goals is to have August 3 recognized as Global Day of Genocide."
Journalist Ayşe Gökkan made a presentation about the history of Yazidis and Kurds.
The workshop continues in its second session for the afternoon.