Women rallied in Amed to mark March 8 despite police repression
The 8 March International Working Women's Day rally in Amed was organized with the slogan 'Women in resistance for freedom, women on strike'.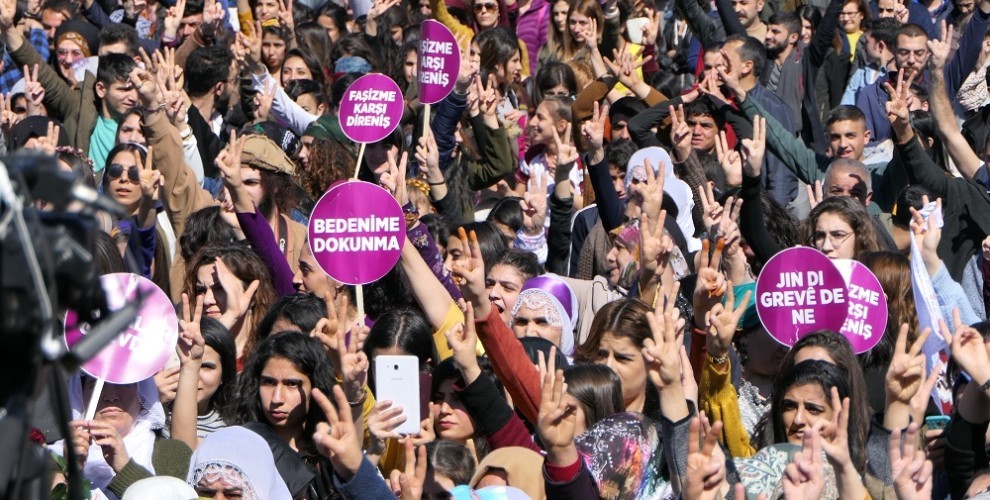 Women in Amed (Diyarbakır) joined the rally organised to mark 8 March, International Women's Day.
Police put up barriers before the rally all around the 5th of June Democracy (Station) Square, where women had begun gathering hours before the rally.
DAKP, KESK Women's Assembly members, TJA activists, HDP Young Women's Council, HDP Women's Council and many high school student women marched to Prestij Hotel chanting slogans of support to Leyla Güven.
Despite the attempt of police to prevent women from entering the rally area, there was no way to stop the women's wave.
The 8 March International Working Women's Day rally in Amed was organized with the slogan 'Women in resistance for freedom, women on strike'.
HDP Women's Council spokesperson and HDP Ağrı Deputy Dilan Dirayet Taşdemir addressed the crowd. She underlined how 8 March was born out of women's resistance and added that today fascism and attacks are especially targeting women.
Leyla Güven is leading the way
Taşdemir added: "Today a woman has stood up to fascism and leads the way. That woman is Leyla Güven. Leyla has been leading us for 121 days. Leyla knows what isolation means. Isolation is chaos and pressure. No one will be free until isolation ends."
Women of Rojava commended
Taşdemir added that "Mr. Öcalan said during the negotiation process in 2015, 'There will be no freedom and no peace unless a woman seats at this table'.
Leyla Güven draws attention to this issue and invites all women to resist. Leyla Güven points out that this state has committed a crime and does not comply with its own law. March 8 is the day of resistance. Today, women are rebelling against fascism all over the world. This new life model is being implemented under the leadership of women in Rojava. Let's greet them. Women in Rojava set an example for all of us. DAESH means rape, slavery, but the women of the resistance have become models to the world by defeating this dirty mentality.
The DAESH mentality is in every field today. Today, AKP-MHP power is not only the enemy of Kurds. It is the enemy of women. They are passing laws against women. We say that women will bring this dictatorship to an end."
Message from Leyla Güven
After Taşdemir, a message from HDP Hakkari MP and DTK co-chair Leyla Güven, who is on her 121st day of hunger strike, was read: "Dear women, today is 8 March. I congratulate all the women of the world on your 8 March, resistance day. I believe that every coming day, from today 8 March, will be carrying more free days. Every day, we will step up the resistance and step up our struggle."
Speaking after, Amed Metropolitan Municipality co-chair candidate Hülya Alökmen Uyanık said: "We send greetings to Leyla Güven and her friends who are on hunger strike against isolation policies.
Women are those suffering the most from isolation. Serious pressure is imposed on women through the policies of the State-appointed trustees. However, on 31 March [local election day], women will respond to the trustees. We are witnessing a historical process as women. We are going through an age in which women are not silent. It's hard but we're witnessing the resistance."