Women of Shehba protest ECHR verdict and isolation
The women of Shehba protested the isolation imposed upon Öcalan and the recent ECHR verdict ignoring torture against Öcalan.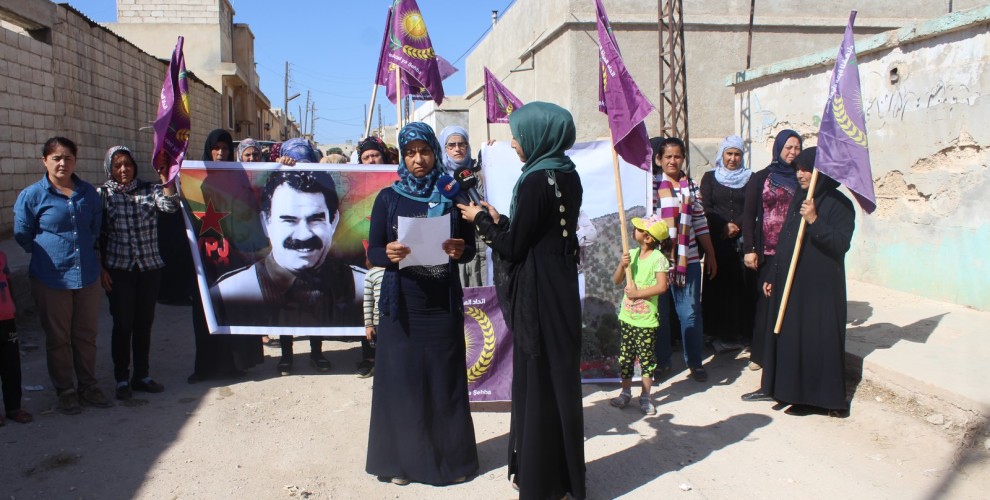 Women in the Kefer Naya district of Shehba protested the continued isolation the Turkish state imposes upon Kurdish People's Leader Abdullah Öcalan and the ECHR rejecting the appeal regarding the torture Öcalan was subjected to in 2008.
The women held a press statement to voice their protest and gathered in front of the Women's Science and Education Center with posters of the Kurdish People's Leader and banners of the Shehba Free Women's Union.
Kefer Naya District Assembly Deputy Co-chair Reca El Hemidi read the statement.
The statement said Öcalan was subjected to severe isolation conditions in Imrali since he was brought to Turkey in 1999 and that he has been subjected to punishments no other convict has faced for 20 years, including a ban on visits by his family and lawyers.
The statement added that the isolation imposed by the Turkish state for years has intensified in the last 2, and that the Turkish state aims to sever the bond between Öcalan and the peoples, but the plan is doomed to fail.
The statement said isolation can't isolate Öcalan from the people, because women and peoples have an ideological connection with Öcalan.
The women of Shehba condemned the ECHR rejecting the appeal regarding the physical attack against Öcalan in 2008 and stated that Öcalan is only imprisoned in body, and is a free man with his ideology.
The press statement ended with chants for Kurdish People's Leader Abdulah Öcalan's freedom.