Women from Afrin protest in front of Russian base in Shehba
In Shehba a large protest action of women from Afrin took place in front of a Russian base. The women demanded that Turkey be forced to withdraw from the occupied territories and that the population return safely to Afrin.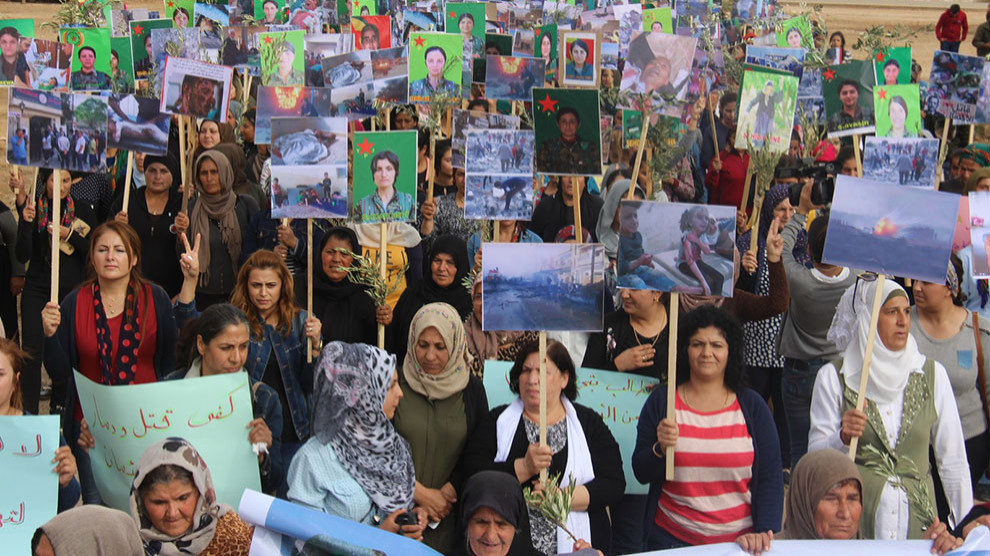 Many women gathered yesterday with pictures of the people killed in the Afrin resistance in front of the Russian base in Fafîn district in in the northern Syrian canton of Shehba. They carried banners with slogans such as "No to the massacre of women and children" and "We demand the liberation of Afrin from the hands of the Turkish state".
In a statement the women appealed to the international community: "We call on all international institutions to initiate proceedings against the Turkish state for its war crimes. The attacks of the Turkish state must be stopped immediately, peacekeepers must be sent to the region and a no-fly zone must be declared. The Turkish state must be forced to leave the whole region and the return of the population must be guaranteed'."
A delegation of protesters met with the commanders of the Russian forces and demanded the withdrawal of the Turkish army from Azaz, al-Bab, Jarablus, Serêkaniyê (Ras al-Ain), Girê Spî (Tal Abyad) and Afrin. The women also pointed out the need to include Northern and Eastern Syria in the Syrian Constitutional Committee.