TJK-E to hold women's conference in Hannover
The TJK-E will hold a conference in Hannover on November 16 titled 'Violence against women is political'.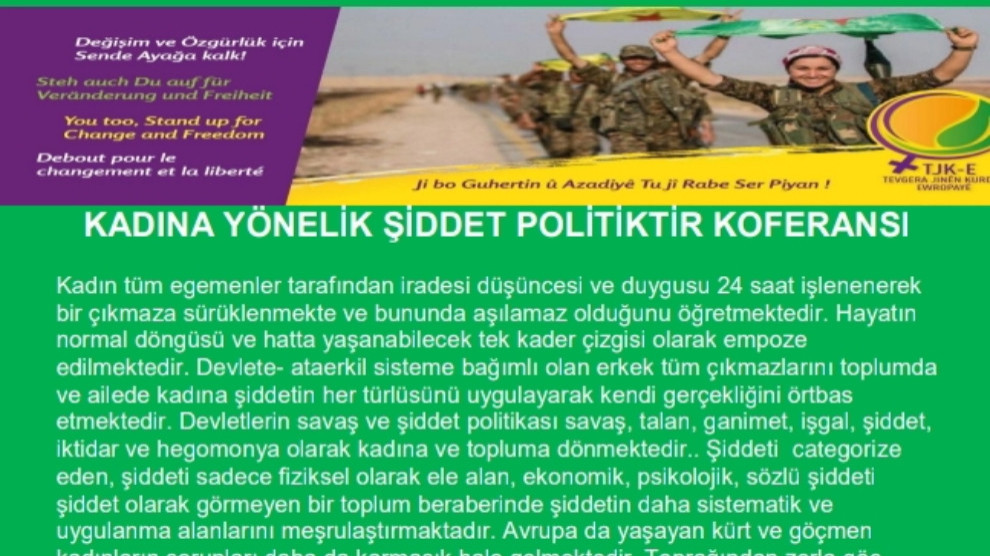 The TJK-E made a written statement regarding the conference to be held in Hannover within the scope of 'You too Stand Up for Change and Freedom'.
The statement said: "The state-patriarchal system is covering the male, domestic and all other types of violence against women. War and violence are policy of states. What the state is delivery to women and the whole society is war, plunder, occupation, violence, power and hegemony."
The TJK-E added: "The problems of Kurdish and immigrant women living in Europe are becoming more complicated. In their 40-year struggle, Kurdish women have fought at any one time against state violence which is based on the struggle against the dominant and feudal understanding of men in the family and society. On November 16, we will present our perspective and organization as well as our solution."
Details of the conference are as follows:
Date: November 16
Time: 9 am
Address: Leibniz Universität Hannover
Königsworther Platz 1
30167, Hannover.