Women celebrated 8 March for Leyla Güven in Marseille
TJK-F and Arin Mirkan Women's Council promoted a march and meeting in Marseille to celebrate 8 March.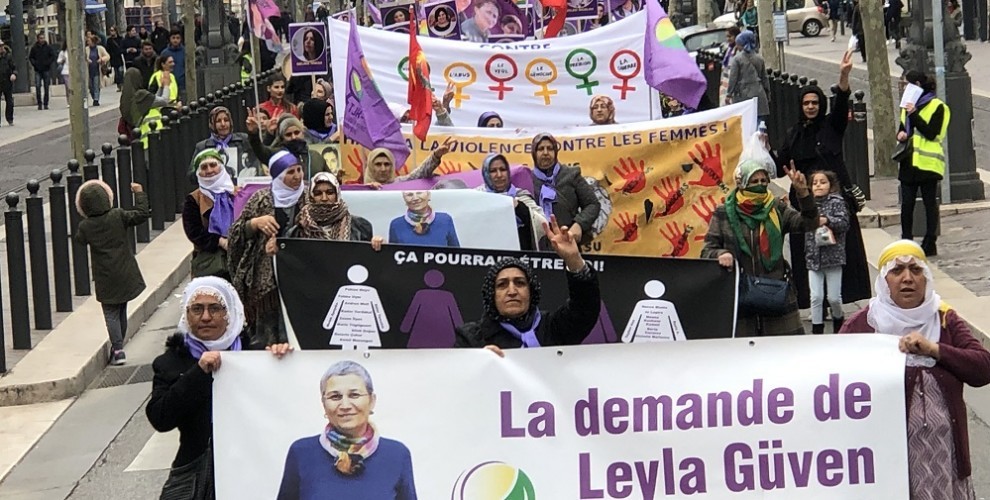 Hundreds of women attended the march in Canebière Square in Marseille, France on Wednesday. Women commended HDP Hakkari MP Leyla Güven and her historic hunger strike which left 119 days behind.
Leyla Güven and the other hunger strikers were commended with slogans such as "Women will be free with resistance". Likewise, Kurdish women fighting DAESH (ISIS) in Rojava were saluted.
The march ended in Vieux Port, where a message by the European Kurdish Women's Movement was read.
Suzan Varto, speaking on behalf of the Arin Mirkan Women's Council, commended the hunger strikers who will celebrate 8 March with great resistance. Varto pointed out that this process developed under the leadership of women and called on all women to be the voice of Leyla.
Jiyan Ege, speaking on behalf of TJKF, said: "We commend all women from the Mirabel sisters to Sara to Rosa Luxembourg and Leyla, to Arin Mirkan, and Beritan, who have left us an important legacy. Greetings to the Kurdish Freedom Movement and our Leader that turns all days into 8 March."
Jiyan Ege added: "March 8 is a flag of struggle that has been handed over to women from all over the world generation after generation. Kurdish women have been carrying this flag with honor for 40 years. All women who have lost their life fighting in history are walking with the promise of realizing all the women's dreams of freedom.
We welcome 8 March 2019 with the victory over DAESH. We welcome 8 March with the resistance of Leyla Güven. Leyla Güven's action is a historic struggle."
The rally ended with a call to all women to join the demonstration that will take place on Friday, 8 March, in Marseille.