'Women can establish a free life only through national unity'
KJAR member Uta Doxuruzgari said that women can establish a free life only through national and international unity, adding, "As women in the Middle East, we can frustrate plans of the forces that started the third world war."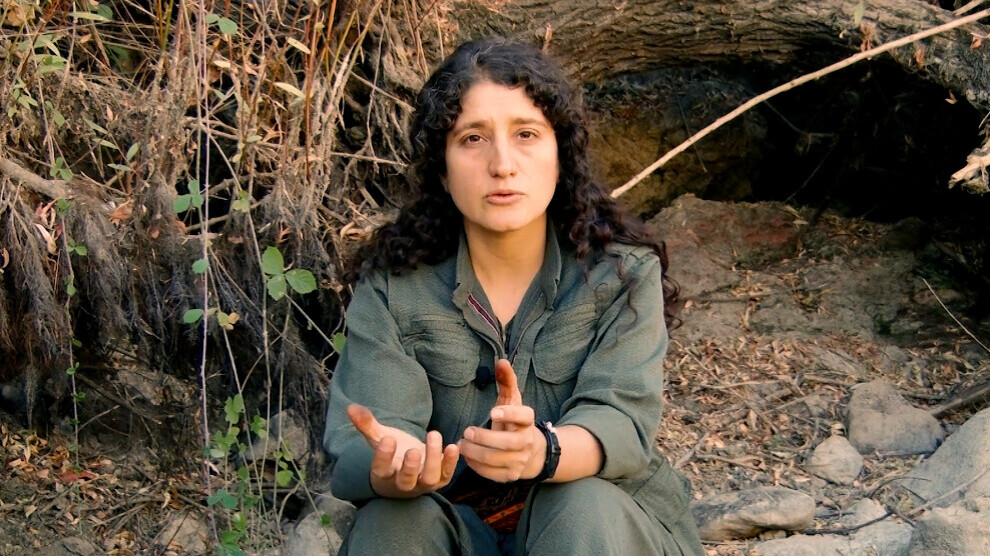 Doxuruzgari, a member of the Community of Free Women of Eastern Kurdistan (Komalên Jinên Azadiya Rojhila, KJAR), stated that Iran imposes immorality on society through its special war policies in the country, particularly in Rojhilat (Eastern Kurdistan). Remarking that women should fight and organize against the patriarchal system, she said, "Women's liberation ideology is a necessity in the Middle East, especially in Kurdistan." The KJAR member emphasized that this can be achieved through ideological, political and military organization.
Guerrilla Doxuruzgari spoke to ANF about the special war methods introduced by the Iranian regime in Rojhilat.
Doxuruzgari pointed out that the hub of the 3rd world war was the Middle East and Kurdistan. She continued, "The most important hallmark of the 3rd World War is the use of special warfare methods. Women and children are most affected by this war. They are exposed to harassment, rape and massacre. Every woman who troubles herself with the situation and current problems in her country will see how the special warfare methods are applied. This also applies to all women in the Middle East. As Kurdish women, we see our emancipation in Abdullah Öcalan's philosophy, and we struggle in this direction.
Öcalan's paradigm offers a free, equal and common life to women all over the world, especially Kurdish women. The women's liberation paradigm is a necessity in the Middle East, particularly in Kurdistan. In Rojhilat, women, HPJ and KJAR forces are organizing themselves ideologically, politically and militarily.
INTERNATIONAL SOLIDARITY NEEDED
Our struggle is not only for the Kurdish people and women, but also for the liberation of the whole society and the removal of enemy forces from these holy lands. There is a need for solidarity among the peoples of the Middle East and all women in the world. Women should defy the patriarchal system, fight and organize. The Afghan women should organize against the system and act together against what they have been through recently."
AFGAN WOMEN ARE STRONG ENOUGH TO FIGHT TALIBAN
Doxuruzgari noted that the whole world witnessed the power and struggle of women in Rojava, and continued, "All women in the world should be inspired by the Kurdish and Arab women fighting in Rojava. One needs to have a great heart and courage to fight against occupation, harassment, rape of women and children and massacres. The Afghan women also have this power. Following the armed struggle against ISIS, the Arab women also gained strength and experience. They organized and fought ferociously against ISIS. The Afghan women also need to organize against the Taliban occupation and establish their own army."
'WE CAN FRUSTRATE THE PLANS'
Doxuruzgari remarked that the Iranian state imposes immorality on society through its special war policies in Iran, especially in Rojhilat. "The aim of the special war methods is to keep society apart from its essence and to weaken it morally and politically. The invading Iranian state promotes harassment and rape everywhere. It also encourages child marriage. As women in the Middle East, we can frustrate the plans of the forces that started the Third World War. Therefore, we must build our national unity. Women can establish a free life only through national unity."
RELATED NEWS: