"We are not helpless in the face of violence"
In the Kaktüs women's association, young women have been organizing and fighting against patriarchal violence for a year and a half. They announce that they will participate resolutely in the activities leading up to November 25.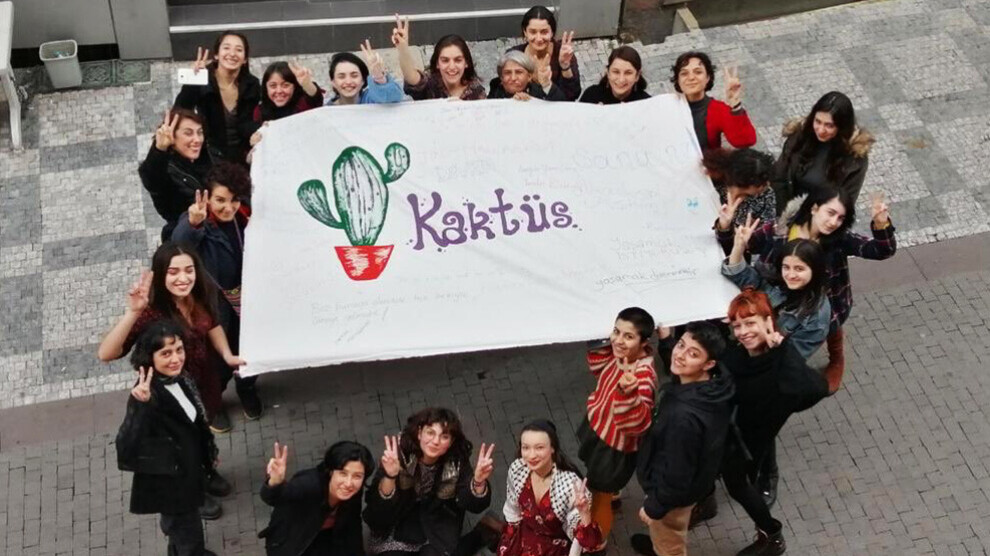 After the murder of 23-year-old Şule Çet in Istanbul in May 2018, young women came together to fight for justice. The young women, some still at school, others at university, discussed together in workshops how they could make a difference together and founded the women's association Kaktüs (Engl. Cactus). Since then, the association has held regular events and seminars. The work did not stop because of the physical isolation that Covid-19 brought with it. On the contrary, the women addressed the escalating violence against women at home and at work during the pandemic and expanded their struggle.
Self-Defense Against Patriarchal Violence
The young women conduct a series of workshops every month. In November, the main topics are violence against women and self-defense. These workshops take place in respect to November 25, the International Day for the Elimination of Violence against Women.
Tanya Kara from Kaktüs spoke to ANF about their work and said: "We have prepared a program for November that involves how we as young women can confront the different forms of violence. It is about what forms of violence against women exist. In this context, we deal with the different forms of violence, from consent and forcing consent to psychological violence. We have also prepared a program item on self-defense and will train self-defense, but also show films and eat together."
Standing by the side of Çilem Doğan
Kara continued, commenting on the sentencing of Çilem Doğan to 15 years in prison after she killed her violent husband in self-defense as an intimidation attempt by the "male justice system" against all women who protect themselves. She said, "We as women experience in our lives the production of violence by patriarchy in the most serious way. There is a serious attack organized by all the institutions of the patriarchal system. We need to organize against this and strengthen our solidarity. As women, we need to create awareness about self-defense. We are trying to organize this attitude. We are not helpless against violence and we know that we can defend our lives in every way. We are trying to organize along a line in the time of November 25, which is to say 'no', to organize self-defense to be able to defend ourselves as well as other women. Today, the patriarchal justice system sets many rapists or murderers free while imposing heavy sentences on women who defend themselves to protect their own lives. It's a very clear message to women. The state is using it to say, 'I protect the men who push the patriarchal system and punish the women who oppose me.' Çilem defended herself to protect her life and she received just such a punishment from the men's justice system. We defend Çilem and draw strength from her practice. As women, we stand by Çilem's side."
Organizing the uprising in the streets
Kara concluded by saying, "Turkey's withdrawal from the Istanbul Convention and the significant increase in violence against women are the most concrete examples of the widespread attack on our lives, rights and bodies. They are trying to take away our right as women to make decisions, and they want to organize the whole society on a political Islamist basis. The slaughter of women with samurai swords, which is cruel murder, is presented as an example in the bourgeois media. We as women are facing an organized attack. Some women are murdered in the party building, some in their homes or on the street by a man they don't even know. Then they say, yes, her skirt was short, what was she doing in the street? Against this legitimization, we women rise up and try to organize and raise our voices."