TJA: We defend ourselves
The Kurdish women's movement TJA has launched a campaign under the slogan "We defend ourselves" against all forms of oppression and violence against women.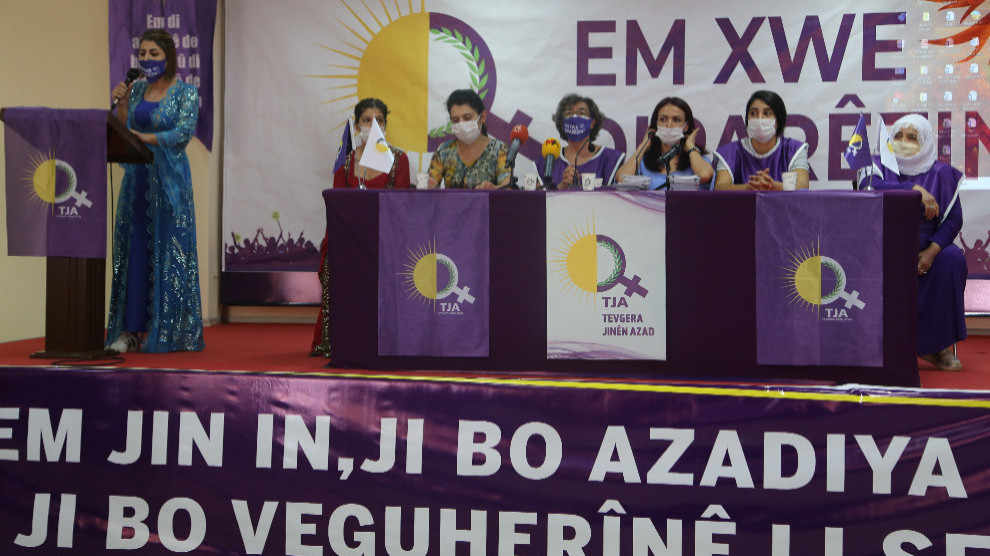 Under the motto "Em xwe diparêzin" (We defend ourselves), the Free Women's Movement (TJA) has launched a campaign against sexual assault, violence and all forms of oppression. The launch of the campaign was announced by the Kurdish women's movement at a press conference in the Vedat Aydin hall of the Peoples' Democratic Party (HDP) in Amed (Diyarbakir). The press conference was attended by women from various Kurdish provinces in Turkey, including DBP co-chair Saliha Aydeniz, DTK co-chair Leyla Güven and other HDP members of parliament.
The campaign is scheduled for a period of four months. The statement on the campaign was read out in Kurdish and Turkish by TJA spokeswoman Ayşe Gökkan and HDP MP Semra Güzel. The statement said: "Kurdish children are assimilated in special institutions and alienated from themselves. They are made to feel ashamed of their own identity and language. Kurdish women are supposed to be concreted in, but they have managed to re-create themselves through self-defense. It is finally enough. We set out to defend ourselves with the women's liberation ideology against the patriarchal mentality, which is organized against us women by exploiting militarism, racism, sexism and religion. We will no longer tolerate oppression and fight for a free and equal life."
The campaign includes the fight against state and male sexual, physical, psychological, digital and economic violence. The women's movement demands that the perpetrators be punished. A further aspect is the state's "special war policy", which turns women into slaves through sexual violence and torture and removes young people from their social environment through drugs and targeted recruitment of informers. The TJA wants to fight together with the religious communities and ethnic groups affected by lynch attacks for their defense and to get involved against religious fanatical "hate speech". The isolation on Imrali should be fought and the Kurdish mother tongue should be promoted. The TJA is committed to the unity of the Kurdish people and the promotion of a collective economy. Further priorities are to defend the nature of Kurdistan and the Istanbul Convention against violence against women.