TJA initiates March 8 activities in Siirt
Initiating March 8 activities in Siirt, TJA protested the Imrali isolation and femicide and promoted self-defense.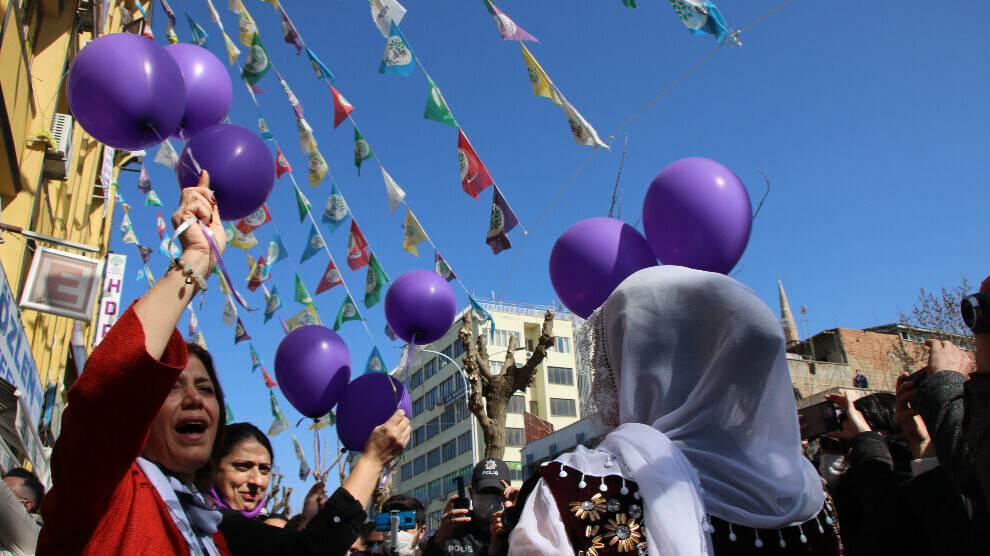 The Free Women's Movement (Tevgera Jinên Azad-TJA) started its March 8 International Women's Day under the slogan "We Defend Life Against Femicide, Freedom Against Isolation" in Siirt province, southeast Turkey. The action in front of the Peoples' Democratic Party (HDP) Provincial Organization building was attended by TJA activists, HDP Group Deputy Chair Meral Danış Beştaş, Women's Assembly members, HDP MPs Feleknas Uca and Remziye Tosun, Rosa Women's Association members and executives and many other women activists.
IMRALI ISOLATION PROTESTED
Despite police intervention and ensuing protests, women were able to make a press statement. Speaking here, HDP Group Deputy Chairman Meral Danış Beştaş said, "Verbalizing the concept of isolation is considered a crime in this country. I am talking about the Turkish Criminal Law (TCK) and there is no period of limitation for the crime of isolation in the TCK. Thousands of prisoners in 107 prisons in Turkey are currently on hunger strike against isolation torture. We women defend freedom against isolation as we fight against all torture methods."
'YOU CANNOT PREVENT OUR STRUGGLE'
Beştaş slammed the government, saying, ''Stop the murderers of women, the rapists and those who use violence, not us. We are always stronger than you in this struggle. I call on the Ministry of Internal Affairs from here. With bans, you can only make our struggle invisible for a short time, but you cannot end it."
'THE TARGET IS SELF-DEFENSE'
TJA activist Şilan Kan read out the press release regarding the start of March 8 activities and said, "The struggle against those who attacked our language, body, identity, culture, nature, economy and achievements has continued throughout history and will continue. It is thanks to this struggle that women's gains and values ​​are not lost."
"Those who want to leave women self-defenseless carried out massacres to achieve this. We are harassed, raped and murdered. We are tortured. We are left face to face with poverty. We are arrested. We are dismissed from our jobs by governmental decrees. Women are murdered every day and men are left unpunished. Women who hold on to life with self-defense face severe punishments by the male judiciary."
'FEMICIDE CAN BE PREVENTED BY ORGANIZING'
Kan continued, "Because of this background, women have turned towards Jineology. The resistance of the women like Sara and Sevè became the reason for establishing a new life. It should be known that the isolation of the Kurdish people's will means the isolation of women and the whole society. They want to create women who have no opinion or will, and they try to do this through isolation policies. We welcome March 8 with the inspiration we receive from the women who are resisting through hunger strikes in order to defend life against femicide and to get out of these dark days and to break the isolation. We will frustrate the punishment policies of those who have turned our geography into an open prison and prohibit thinking and resistance. As Leyla Güven and Ayşe Gökkan said, "whether inside or outside, we will continue our struggle through resistance" and we say "we are Kurds, women, we are here".
After the speeches, women danced with the slogans "Jin jiyan azadi", "Bijî berxwedana jina", "We are not afraid, we do not keep silent, we do not obey".