Story of an Arab woman from slavery to fighting for freedom
Watha Hamid Xelef was sold to an ISIS member by her brother and father and was later held in a dungeon under torture for 7 months. She has been fighting for freedom in the ranks of the SDF for one year now.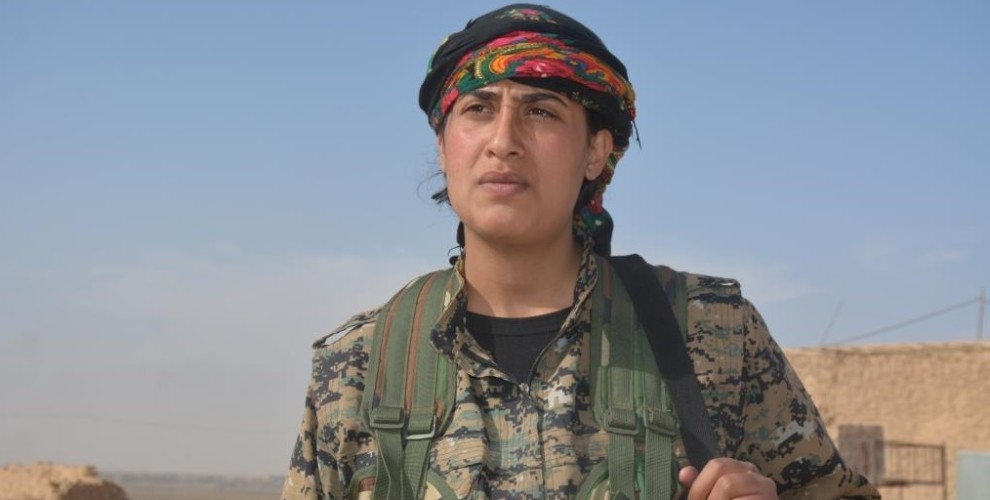 SDF fighter Medya (Watha Hamid Xelef) is an Arab woman from Mayadin. Her whole life changed with the ISIS invasion. Her father and brother both joined ISIS, and sold Medya off to an ISIS member. She was later thrown in a dungeon for cursing at ISIS by her brother. A brave woman who couldn't accept what was happening in the ISIS dungeons helped break her out, and Medya now displays the same courage in fighting to avenge all women as part of the Operation Cizire Storm.
Medya is a tall, dark Arab woman. She is only 23 years old, but thinks what she went through has robbed her of her youth. Her comrades encourage her to talk about her experience without shame and to tell the story of how Arab women found their voice and met with freedom once again. She first hesitates to speak in front of the camera, but when her comrades insist she agrees: "Alright, but let's go somewhere quiet."
Medya is part of the Deir ez-Zor Women's Battalion in the SDF. Here is her story that she told the ANF.
BROTHER AND FATHER JOIN ISIS
When ISIS invaded Mayadin, Medya's father and brother who she loved so much became gang members and stood against her and all Arab women. Medya talks about that time as: "Before ISIS entered our precinct, our family was pretty good. We were 6 sisters and 3 brothers. Our family was tight. ISIS advanced from Sicire Spî (White Bridge) and arrived in our precinct. When they arrived in Sicire Spî, they beheaded people and threw the heads into the water. When they got close, my brother and my father joined them."
SOLD OFF TO ISIS MEMBER FOR MONEY
Not only did they join ISIS, but they actually shared their mentality. One of their first victims was Medya. She continues her story: "After ISIS entered Mayadin, my brother gave me to an ISIS member he knew named Mahmut Sham. I didn't want it, but my father and brother received 6.000 dollars for me. Me and my mother went to the court because I didn't want the marriage, but that did nothing. We came back crying. My mother wanted me to go with him, and I did, I had no choice."
BROTHER'S ACCUSATION GOT HER IN THE DUNGEON
The slave marriage lasted for one year. She hated it, and she was cursing ISIS when she was home. Her brother was in ISIS intelligence and he filed a complaint, after which Medya was taken by the Hisbe (ISIS police), thrown in a dungeon and tortured. She summarizes the 7 month long inhuman treatment as: "I was beaten a lot, and tortured. I was in so much pain. They gave us electric shocks. They doused us in cold water and whipped us. We were at the point of cursing for being alive. We were in the dark 24 hours a day. We were always watching the door, dreaming that one day it would open and we would escape."
ESCAPE WITH A WOMAN
Medya escaped the ISIS dungeon thanks to a brave Arab woman: "We escaped in a group. Another prisoner named Merva helped us escape. She had planned her escape, and she couldn't stand women being captive in the hands of ISIS so she took us with her. We sought refuge among civilians, but our group was caught. I hid in the garbage. I was affected a lot by their capture. I stayed alive so I could avenge them and myself one day."
THERE WILL BE NO BLACK LEFT ON THE MAP
Medya says she joined the YPG after she fled: "I was spent, physically and spiritually. I received treatment fortwo months in Kobanê. Then I joined the SDF."
Medya is very happy to be part of the Operation Cizire Storm in the Deir ez-Zor Women's Battalion today: "We want to avenge all the cruelty ISIS imposed. They took my youth from me, they took my whole life. Deir Ez Zor has had it very hard. They crossed over from Iraq. They took women from their homes and raped them. They made life pitch black for us. That is why I want to avenge all women, and myself. The liberated areas start to wear colorful clothes, but in ISIS controlled areas everything is still black. God willing, we will liberate those areas as well. We couldn't speak freely like this even when we were home. I am thankful for the Leader for developing women's emancipation."