Kurdish Women's Movement joins Women's Day activities in Finland
In Finland around 20 women are murdered by their partners or husbands every year, while in total 71 % of women and girls living in Finland have been subjected to sexual harassment.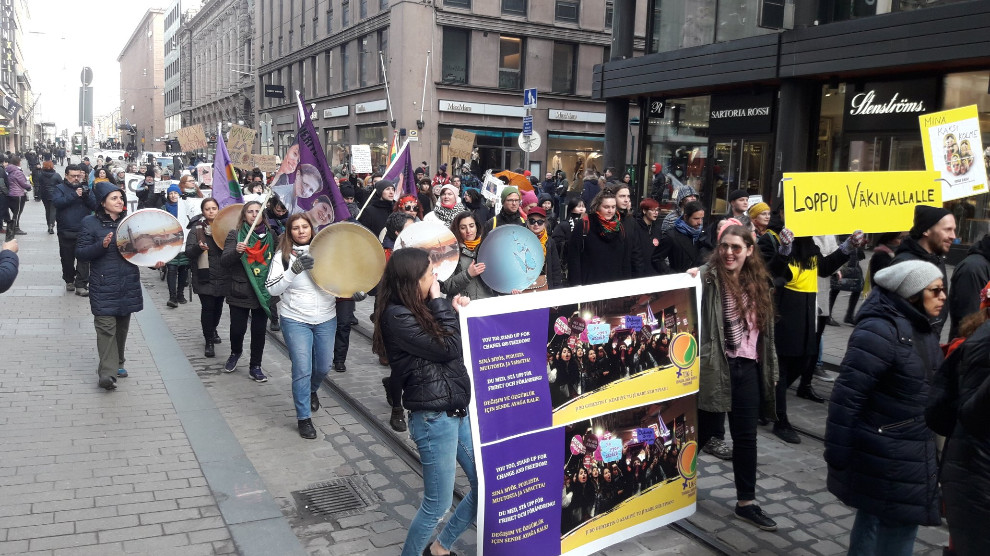 In Finland's capital city Helsinki, a large coalition of internationalist and socialist feminists organized a protest march that demanded an end to violence against women. The organizers included women of the local Kurdish Democratic Society Center (NCDK) as well as feminist organizations of exiled activists from Latin America, Russia, Ethiopia and Italy.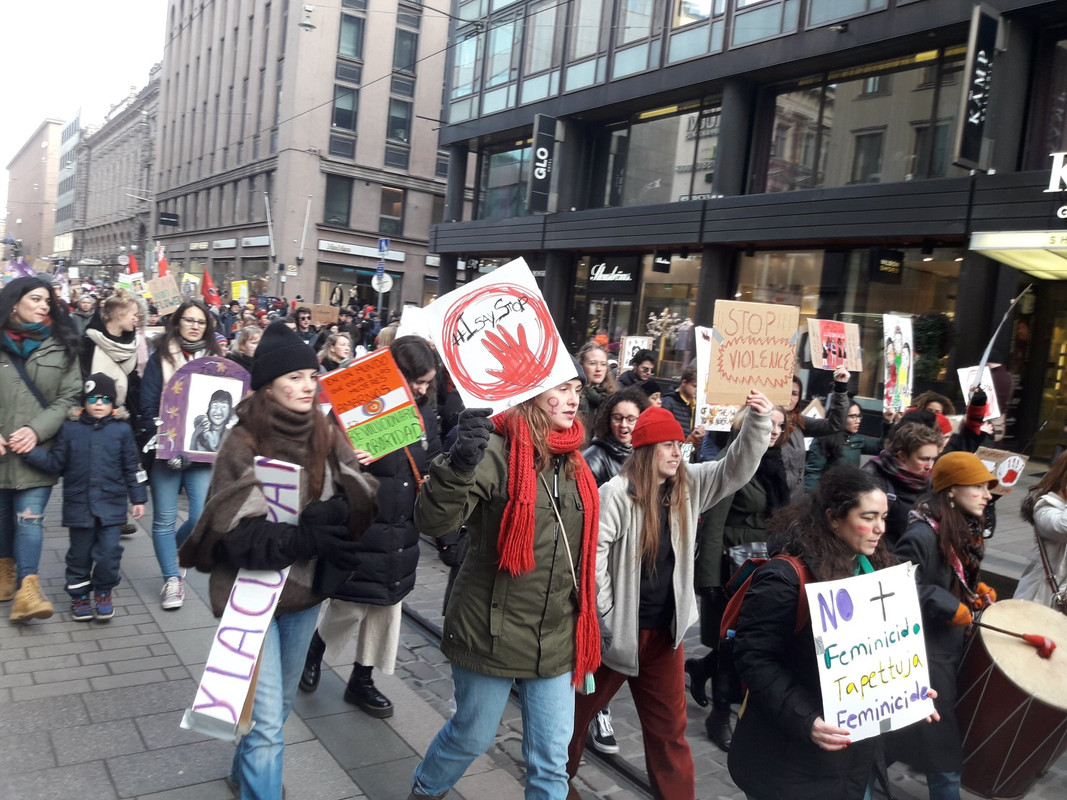 In the demonstration it was highlighted that Finland is year after year among the top countries in Europe in terms of domestic violence and violence against women, currently the second most violent EU country towards women. In Finland around 20 women are murdered by their partners or husbands every year, while in total 71 % of women and girls living in Finland have been subjected to sexual harassment and almost half of the women to domestic violence.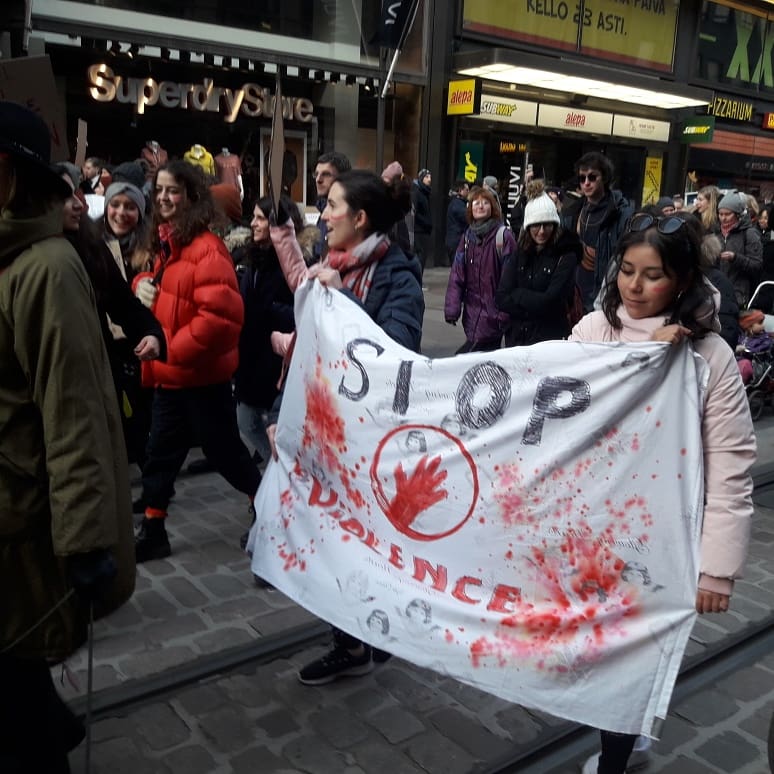 After several speeches, the famous Chilean Las Tesis performance was performed in Spanish as well as in Finnish language. Several hundred participants marched through the center of capital city with the slogans "Jin! Jiyan! Azadî", "Down with patriarchy! It's falling! It's falling!", "Sin nosotras, se para el mundo!".


In the city of Turku, the women's day started already on the 7th with a movie screening about the Kurdish women's movement for a full house in the Cooperative bookstore. After there was also dance and music.
Information was shared about the president of Finland Sauli Niinistö's last week support for Erdogan and information was also given about the boycott Turkey campaign.
On March 8 the Friends of Rojava joined other leftwing and libertarian groups in a demonstration against men's violence against women. The Friends of Rojava group delivered a speech in which the importance of international struggle was highlighted, as well as the political situation of Rojava which is also connected to Finland.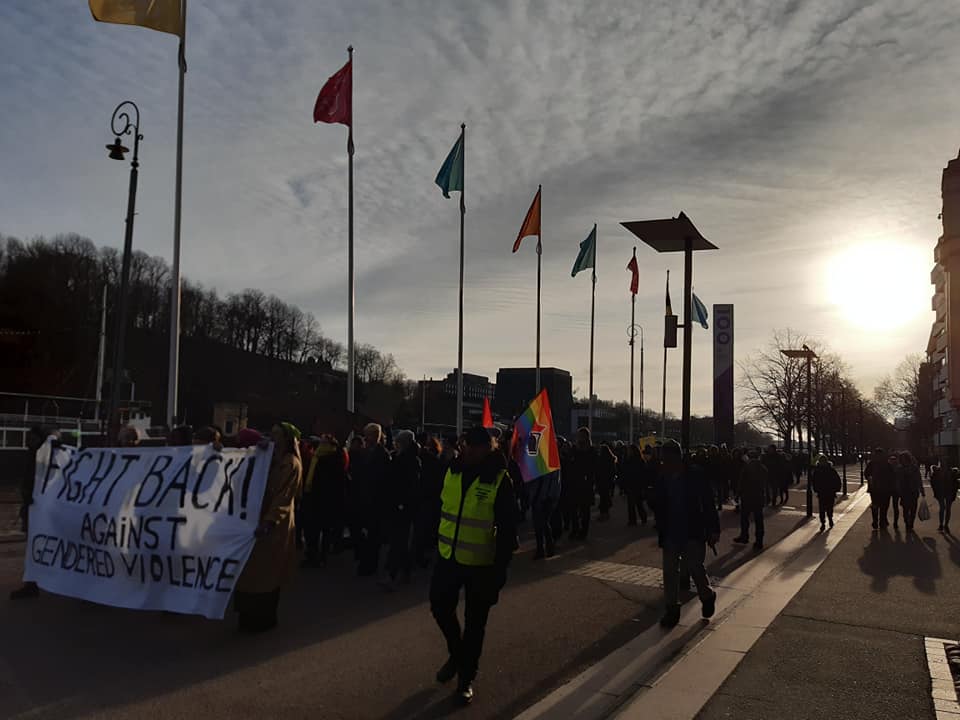 In her speech, one activist pointed out that "The forces of oppression attack society, freedom and planet itself, and to do this, they attack women every time. Gender based violence and femicide in all their forms are intensifying across the world. But we are fighting back! They cannot escape our resistance and that the resistance is building up day by day. Women and freedom seeking people all over the world have stood up shoulder to shoulder with the Rojava revolution. We see the truth, we know who our comrades, friends and allies are, and we know our enemies too. We will stand up to patriarchy's regime of death and create life. We will come together and free each other and ourselves!"


In the city of Tampere there was a movie screening of "I Am the Revolution" documentary movie which introduces three persons struggling for women's liberation in three different countries in Syria, Iraq and Afghanistan. The event was held in The Finnish Labour Museum Werstas and was organized by Friends of Kurdistan Tampere. Before the screening there was a short speech held where issues of Rojava, Kurdistan Women's Liberation movement and also questions relevant in Finland were mentioned. It was highlighted that we need to fight against patriarchy also and especially in our ways of thinking and that even though for example the movie speaks mainly about women we need to take into consideration also non-binary genders and queer. Patriarchy affects us all, no matter which gender we are.

After the screening there was a possibility to ask questions to the director Benedetta Argentieri. Participants were very interested and there was a discussion considering women's liberation both in Rojava, Afghanistan, Iraq and Europe. Also during the week there has been a Tampere Film Festival where one of the this year's themes has been Kurdistan.