Jineolojî camp in Montpellier discusses future work
Women from 13 different nations exchanged ideas in a Jineolojî camp in Montpellier and determined their future work priorities.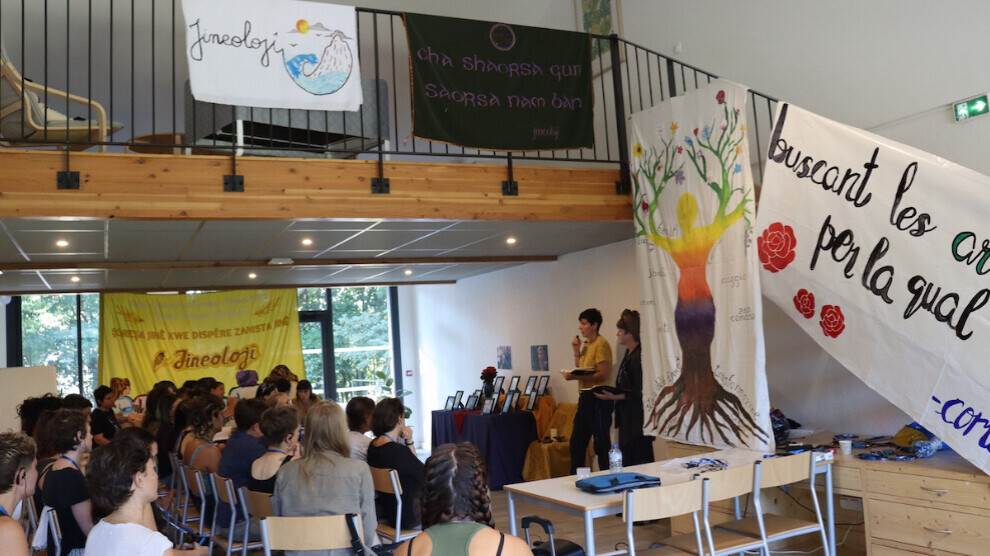 A camp of the Jineolojî Academy took place in Montpellier. The camp was a comprehensive follow-up to dozens of regional gatherings over the past several years. The participants were women who are active in Jineolojî work. The first meeting of this kind was held in 2017 with the participation of women from nine different countries in the women's meeting place UTAMARA.  The focus was then placed on local camps in Catalonia, the Basque Country, Italy, England, Germany, Portugal and France.
The camp in Montpellier took place from August 26th to 31st and was dedicated to YJA star commander Armanc Goşkar who died in 2018. The participants, from 13 different nations, were already connected to each other via various networks and were able to exchange information directly about their work for the first time. Simultaneous translation into English, Spanish, French, Italian and Turkish was provided for communication.

The meeting was introduced by an English-language film about Armanc Goşkar. After that, participants presented the biographies of other women who died in various battles. Activists from the Jineolojî Academy and the Jinwar Women's Village in Rojava spoke in video messages. This was followed by reports from the different regions about the work there.
There were lectures and workshops on the connection between history and sociology and the influence of women. The second session dealt with ways out of patriarchy and capitalist modernity and, in this context, with liberalism, special war, individualization, revolutionary education, organization and self-defense on an ideological level.
In a session on the question of how social identities came about in the patriarchal system of rule, concepts such as "female identity" and the "kill the dominant male" approach were discussed. Another focal point was the preparation for the conference "Our Revolution: Liberating Life", which will take place in Berlin at the beginning of November.
On the last day, the difficulties found and methods to use in practice were discussed and key issues for the coming period were determined. In the evening, there was a celebration with cultural contributions from the participants.