Internationalist women release video and song
Women from many parts of the world have come to Rojava to defend the revolution and to learn from it. Many take part in the construction of the Jinwar women's village. The internationalist women have now released a song called "Ballem" and a video clip.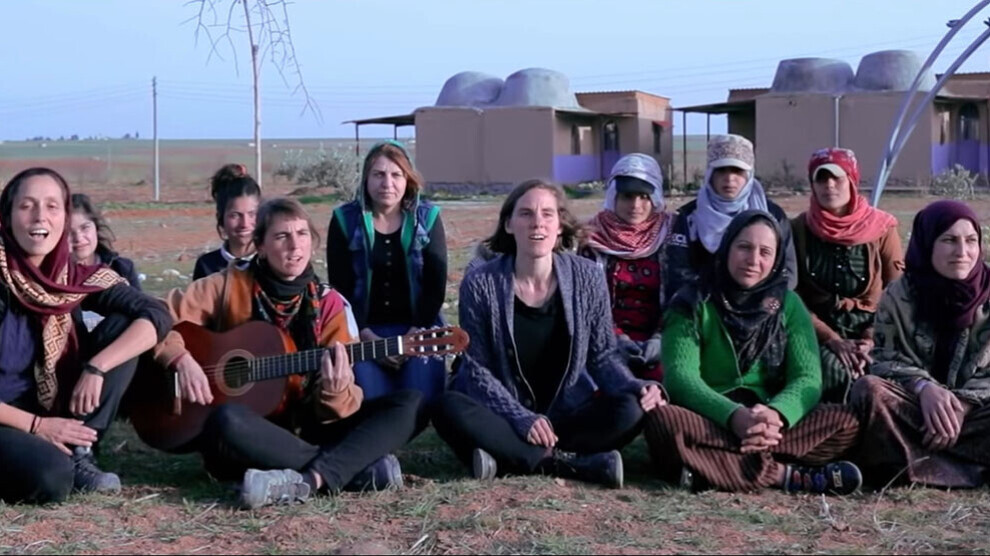 The Rojava revolution, with its women liberation, radical democratic paradigm, has put the perspective of an alternative to capitalist patriarchy back on the agenda for people around the world. Thousands, especially women, made their way to Rojava to defend the revolution and to learn from it. While some fell in battle, others returned to their countries to pass on the knowledge they had acquired. Many decided to stay in Rojava to take part in projects such as the construction of Jinwar women's village.
Jinwar was a beacon of women's liberation
The women's village, Jinwar, is located in the west of Dirbêsiyê in the canton of Hesekê. The planning of the project began in 2016, the opening ceremony took place on 25 November 2018. Women of different origins live in the village. In addition to Yazidis, Christians, Muslims, Kurds, Syriacs and Arabs, women from all over the world also take part in the village life. The village consists of 30 houses of various sizes, a school, an academy, a health center, a communal kitchen, a play area for children, a small shop, a stable, two swimming pools, a depot, a garden with 1,400 trees and a village square.
Music video clip from the internationalist women
In addition to education, self-administration and organization, culture also plays an important role in Jinwar. This principle is clearly shown in a music clip that the women in Jinwar village produced together with the Kurdish cultural movement. Musically and linguistically, the clip represents a synthesis of many resistance cultures and languages. The clip is called "Ballem" (Let's Dance, in Catalan).
The women featuring in the video, wrote about the song that "is dedicated to all the women who have resisted, resist and will resist patriarchy. For the women's revolution which we have already begun, we will keep on fighting, now they cannot stop us."