HDP women meet with women from around the world ahead of Congress
HDP Women's Council met with women from eight countries who are invited to the party's 4th Ordinary General Congress which kicks off today.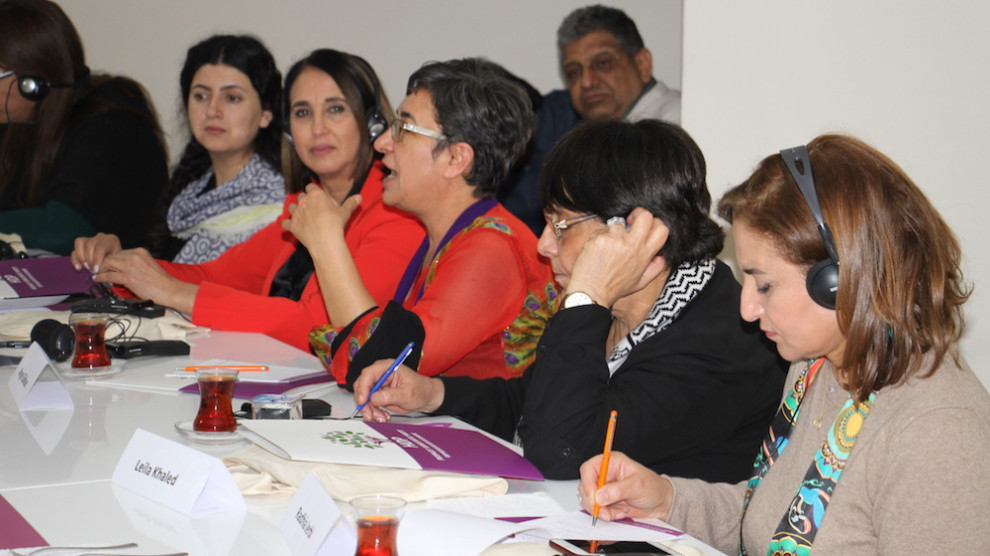 The HDP Women's Council met with women coming from Tunisia, Lebanon, Palestine, Morocco, Cyprus, Jordan, Western Sahara and Galicia to Ankara at the HDP's headquarters.
Women's Council spokeswoman Dilan Dirayet Taşdemir talked about the organization and women's role within it as well as about the co-chair system and the party's policy for women.
Taşdemir said that women with HDP want to carry out struggle togethwe with women from the Middle East and the world and underlined the importance of international solidarity among women.
Women from the foreign delegation spoke about the struggle in their country and underlined that they received strength from Kurdish women and the women's struggle for freedom in Turkey.
The meeting was joined by: Cyprus POGO Women Organizations Federation Secretary General and AKEL Party Politburo member Skevi Koukouma, National Union of Tunisian Women UNFT President Radhia Jerbi, Tunisian Democratic Women Union ATFD President Yosra Frawes, Moroccan United Socialist Party Secretary and Democratic Left Federation Spokesperson Nebile Envoy, Moroccan Progressive Women's Association AMFP President, Association Morocaine des femmes progressistes Souad Brahma, Polisario Representative Nadjet Hamdi, FHKB Leila Khaled, Former President of the Jordanian Women Association and current Representative of the Women Association of Jordan Tahani Shakhshir, UPWC Union of Palestinian Women's Committees Abeer ABU Khdair, World Women March MENA Region Coordinator Ruba Odeh, Lebanese Democratic Women Community - Lebanese Women Democratic Gathering RDFL Delal El Bestani, Paris Climate Change conference member Safiye Zaza, Ana Miranda, Galician European Parliament.