French politicians sent solidarity message to Leyla Güven
French politicians sent a message of solidarity to Leyla Güven to mark 8 March, International Working Women's Day.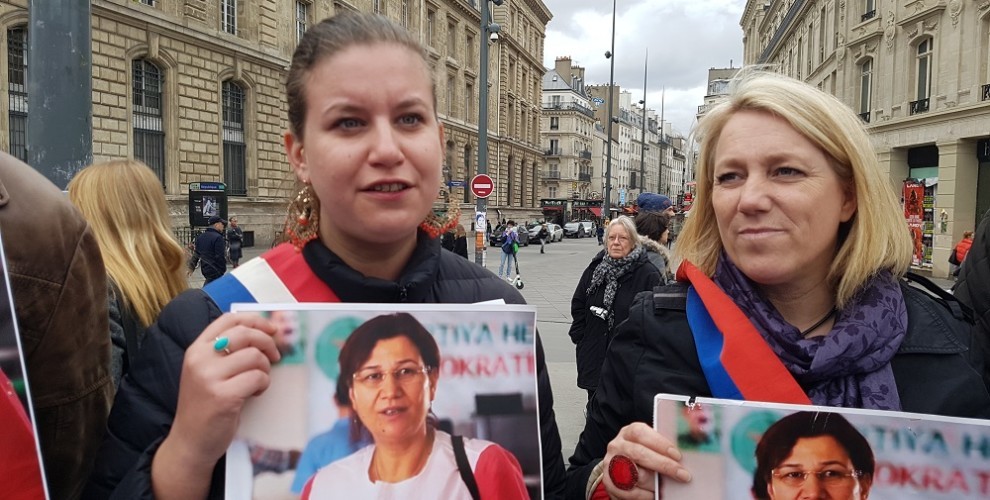 Val-de-Marne 10. District MP Mathilde Panot, member of Communist Party of France (PCF) National Council and Vitry-sur-Seine Municipal Council Fabienne Lefebvre and Left Party member Danielle Simonet joined the Kurdish women in this year's demonstration to mark March 8 International Women's Day in Paris.
Carrying photos of HDP MP Leyla Güven who is on day 122 of hunger strike against isolation, the French politicians highlighted the importance of Kurdish women's struggle for them.
"Hunger strikers are facing death"
Fabienne Lefebvre said: "We are here because 8 March is an important international day for women in terms of their gains and solidarity in the legal sphere. Internationalism means also solidarity among all women. And we are in solidarity with Leyla Güven and Kurdish women who struggle for women's rights and for peace. Today we are with them, because we know that today, they are facing death. We want to support and protect them, we want to send them a real message, and we are here for their rights, because their rights are our rights and our rights are their rights. Just remember that."
"We won't leave Kurds alone"
Mathilde Panot, who has been to Rojava before, expressed their solidarity with Leyla Güven and said: "Danielle visited Leyla Güven while we went to Rojava to support the Kurdish people. We support Leyla Güven. And we went to Rojava to support the struggle of Kurdish people who fight for the realization of a feminist, democratic and ecologist project. We went to Rojava to ensure Kurds are not alone because they are those who fought the most against DAESH, and they paid a very heavy price, and they fought for all mankind. France and the European Union cannot turn a blind eye to this."
"Öcalan must be freed"
Fabienne Lefebvre stated that she had a chance to visit Leyla Güven and said: "On the day of her trial, we went with a delegation to support her. We need to realise that she is not on hunger strike for herself. She is fasting to demand the end of isolation against Abdullah Öcalan."
In Turkey, added Lefebvre, "there are ten thousand political prisoners. In Turkey surely, there is a need for democracy and peace. My call to France and the European Union is to remove the PKK from the list of terrorist organisations. Öcalan should be freed in order for peace talks to start in this region."
RELATED NEWS: