European Kurdish Women's Workshop stresses national unity
Kurdish women are carrying out important efforts for national unity. The women came together in Europe to organize the European National Kurdish Women's Workshop.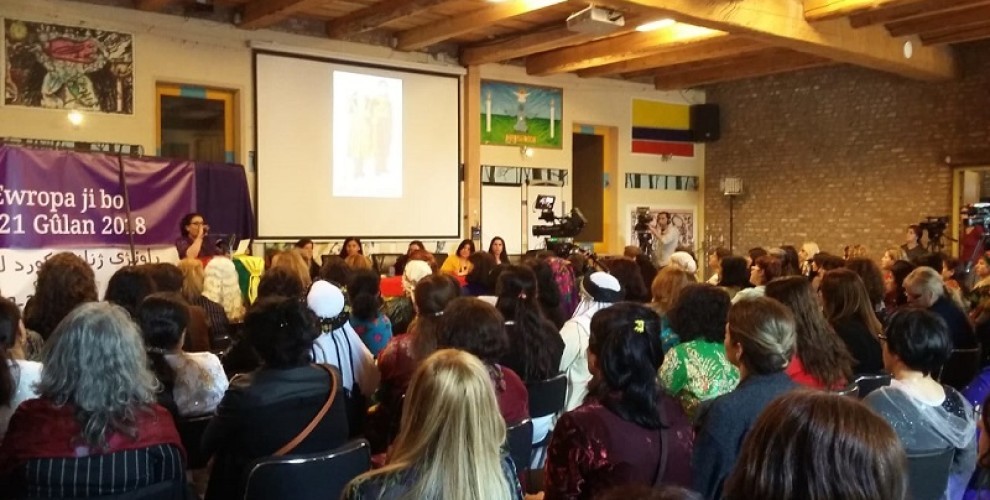 Women from Kurdistan came together in the Netherlands to hold the European National Kurdish Women's Workshop.
The workshop started yesterday afternoon with the participation of 130 women of representatives from TJK-E (Kurdish Women's Movement in Europe), KEJAR (Union of Free Women from Rojhilat), PUK (Patriotic Union of Kurdistan), Gorran, Komala, Yekgirtu and KDP, women from Yarasan and Fey, the Êzidî Women's Movement (TAJÊ), Kurdistan Islamic Society (CİK), members of PYD (Democratic Union Party), Kongra Star and KNK (Kurdistan National Congress), Kurdistani women's associations, academics, MPs and independent individuals.
The workshop started with a minute's silence and continued with the council election and opening speeches.
Quwesta Dawudî gave the opening speech for the platform and Kurdish politician Sakine Karakoçan took the stage after.
Karakoçan pointed out the importance of women's representatives from all four parts of Kurdistan coming together in a platform in Europe and said: "Especially at a time when Kurdistan is facing invasion attacks and threats, the development of this platform is very important. Women need to discuss how we can play a leading role against these attacks."
"KURDISH WOMEN SHOULD BE UNITED"
"We serve the women of all four parts of Kurdistan, and the women of the Middle East, and Syriac, Assyrian and Arab women," continued Karakoçan and pointed out the importance of Kurdish women's unity above all.
Karakoçan stressed that the Turkish state and all colonizers are afraid of Kurdish women's bodies. Mentioning the Turkish soldiers attacking the body of YJA Star guerilla Ekin Van, who was martyred in a clash in Muş, Karakoçan said: "We were silent when friend Ekin's body was attacked. Turkish soldiers first attacked our friend's body, then attacked Afrin. They are afraid of our bodies. We must grow this fear."
Karakoçan stated that the political situation in Turkey, Iraq and Syria can be seen clearly, and stressed that Bashar Assad wants to leave the people without a will in Azaz, Jarablus, Idlib and other areas. Karakoçan said despite all the attacks, unity came through in the resistance in Afrin.
Karakoçan also said that international and local powers want to keep Kurdistan as a permanent colony, and pointed out the importance of unity against the fact. She added that like in Afrin, Kurds will resist the attacks and achieve their unity and status.
Karakoçan pointed out the historic past of Kurdish women in terms of resistance and struggle, and added: "There are resisting women like Leyla Qasim, Viyan Soran, Şilan Kobanê, Sakine Cansız, Arin Mirkan and hundreds of others. Today Kurdish women should inherit this resistance and become more active in the resistance and the coming period of struggle."
Karakoçan also stressed that national unity will play an important role in the democratization of the Kurdish people and said: "When women's influence reaches a certain level, democratic reality is more clearly revealed."
Karakoçan stressed the importance of such a meeting being held in Europe and said: "If our unity is strong, we can fight in unison in each part of Kurdistan."
The European National Kurdish Women's Workshop continued with cinevision screenings and discussions after the opening speech.
The meeting ended at 18:00 yesterday and continues today.