Cudi: The slogan 'Jin Jiyan Azadi' became universal in 2018
PAJK Coordination Member Beritan Cudi said Kurdish women have been leading the women of the world and that the slogan "Jin Jiyan Azadi" has become universal.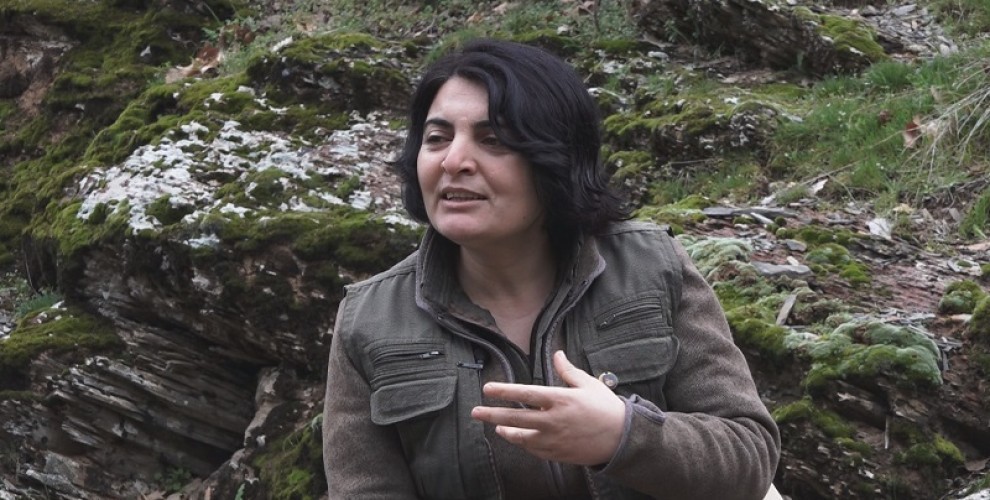 PAJK (Kurdistan Free Women's Party) Coordination Member Beritan Cudi attended the Rojeva Jin program on Sterk TV and spoke about the developments. Cudi said 2018 saw important resistances and added that they will be going into 2019 with more resistance. Cudi said 2018 has been a year when women and the peoples put forth their reaction against fascism and added: "In 2018, the democratic and capitalist systems fought as two paradigms and there was an ideological war.
This year, fascism showed its dirty face once again and there was great resistance by women and the peoples on the other hand. The capitalist system created chaos in society for women in the economic, health and political spheres. But there were also great resistances. Women and peoples were always in resistance against these attacks."
Cudi spoke about the ecological issues of 2018 and pointed out that nature's balance has been disrupted as a feat of capitalism: "Most recently, international states gathered in a former coal mine in Poland. They spoke of ecological issues, but they didn't propose any solutions for their own governments and interests, so they reached no results. The issues they acknowledged are things everybody already knows. None of these states wants to take any precautions for any ecological issues."
THE PEOPLE OF AFRIN ARE LOYAL TO THEIR LAND
Cudi said Afrin was invaded in the past year and added that the people of Afrin are loyal to the Kurdish People's Leader Abdullah Ocalan's paradigm and their land. Cudi said the capitalist system wants to crush the resistance of the century like it always does and to sever the tie between the people and Ocalan: "The people of Afrin and the Kurdish people stood against fascism.The people know fascism very well, and thus kept itself away from capitalism. Fascism offers nothing but pain, tears, chaos and hardship to the people."
Cudi commemorated all martyrs of Afrin in the persons of Barin Kobane, Avesta Xabur and Ilam Dara and said: "Afrin was invaded, but nobody can make the spirit and will of Avesta, Barin and Ilam surrender. We all keep these heroes alive inside us. The mothers who said they can live without their children but they can't live without their lands, dignity and pride will never be forgotten. The people went through so much hardship. Our people lost their homes but never surrendered their dignity and pride. Erdogan thinks he is expanding Turkey's territory like in Ottoman times, but he is losing, and he will continue to lose. States have a way of destroying each other. The capitalist states will destroy Erdogan just as they put him forth."
LEYLA GUVEN INTERVENED WITH THE PROCESS
PAJK Coordination Member Beritan Cudi spoke about the isolation imposed upon Kurdish People's Leader Abdullah Ocalan and stressed the following on what the isolation means for women and peoples, and how the leader of a people can be isolated like this: "It has come to light once again that the isolation imposed upon the Leader is an inter-state effort. The ECHR ruling exposed certain things, and the CPT statement made many things concrete. They wanted to put a rift between the peoples and Leader Apo's ideas. But Kurdish woman Leyla Guven intervened in this process. This hunger strike has shown once again that the PKK is the people, and the people are the PKK. The action of Umit Acar who self-immolated in Europe, and the hunger strikes in the prisons have convicted the isolation. The Turkish state fears these actions and doesn't speak of them."
Cudi mentioned Kurdish People's Leader Ocalan's words that a strong woman is one who returns to her essence: "Women were seen as objects of family honor, but thanks to the Leader women emerged as artists, philosophers, commanders, militants… Women are the leaders of the PKK, and the revolution. In short, they returned to their essence."
WOMEN HAVE MORE AWARENESS NOW
Cudi spoke about the lunge Latin American women started with the "Not one woman less" motto: "Millions of women participated in this campaign, which shows that women have more awareness now. The 'Me Too' movement also happened this year, and many were encouraged by it. The slogan 'Jin Jiyan Azadi' was chanted in film festivals. This gave us a lot of pride. The slogan has now gone universal."
Cudi spoke about the Kurdish women leading the women of the world, and said the following on Jineology, the science of women: "A certain awareness emerged in the Jineology conferences. Fascism attacked a lot, but women gathered around Kurdish women more. In India, there were women who put up Heval Sara's (Sakine Cansiz) photographs in the hall during their meetings. This is an important message. Kurdish women's leading role is accepted and recognized. The importance of self-defense was seen once again in these conferences. Women saw that women who resist are not slaves, and are not convicted to the patriarchal system."
PEOPLE WILL VOID ERDOGAN'S PSYCHOLOGICAL WAR
Cudi also spoke about the co-chair system, equal representation and the attacks against HDP municipalities: "Because they had the co-chair system, the state appointed trustees to the HDP municipalities. The co-chair system shows equality between men and women, they attacked this equality with the trustees. Erdogan said he will appoint more trustees if the HDP is elected again. Erdogan wants the Kurdish people to despair and not vote for the HDP. Our people have a will, and they should go to the ballots and vote for their own again to void Erdogan's psychological war."
Cudi spoke about the war between the Turkish state and the Kurdistan freedom guerrillas and concluded her words with: "Despite all hardships, guerrilla women carried out many actions this year. Comrades in prisons made many sacrifices. Our people are a resilient people. Our people everywhere in Kurdistan will defend their own lands. The people's power is more effective than bombs or the isolation. The people can create their own future. With this faith and hope, we will greet the new year."