An Indian guerrilla fighter in Kurdistan
Indian guerrilla fighter Jinda Cudi called on women from all over the world to come to the mountains of Kurdistan for their own liberation.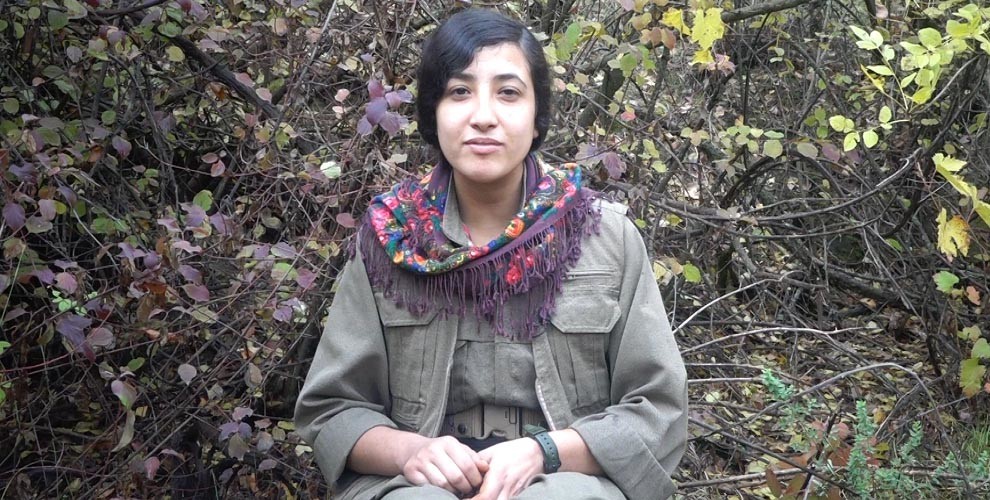 Wars do change the destiny of a geography, while the destiny of human beings on a geography could also change through war. The reality of war, which brings along massacres, exiles, deaths and massacres, result in tragedies that last centuries.
Due to the bloody conflict between Pakistan and India, tens of thousands of people had to leave their homelands and migrate to other places. In their new settlements, they continue to live their own culture and are simultaneously influenced by their new environment. This is what happened to Indian Jinda Cudi, whom we met in the mountains of Kurdistan.
At first glance, Jinda looks no different than the other female guerrilla fighters YJA-Star (Free Women's Troops). Only when speaking her accent falls on. While this interest is obviously unpleasant for her, she apparently tries to overwhelm it quickly with her modest attitude. When she has trouble expressing herself in Kurdish, a language she is just learning, she continues to help herself with the Arabic language.
Jinda comes from a family that first went to North Syrian city of Manbij and later to Turkey due to the war between India and Pakistan. After a temporary stay in Turkey, the family moved to Damascus.
In the Syrian capital, Jinda got to know the Kurdish liberation movement and joined the PKK. "I actually learned to struggle and fight only here in the mountains," she tells. "There are many premieres here anyway. Women having their own army is very important to me. We should appreciate this fact and we should be grateful to Chairman Abdullah Öcalan."
For Jinda, the Kurdish mountains are a place that offers liberation to all oppressed women. "We fight for all oppressed peoples, faiths and social groups. We fight for a multicultural, multilingual and colorful world. Despite al the oppression they suffered, the Kurds have embraced the philosophy and paradigm of Öcalan without ever growing away from their own language and culture. In my mother tongue there are many terms that resemble Kurdish words. I try to learn Kurdish, but I actually have no language problem here. We do not make a difference between the languages. I joined the Kurdish movement as an Indian, because the philosophy of Serok (Leader) Apo influenced me," expresses Jinda.
As to the life in the mountains, the Indian guerrilla fighter says: "Living together gives me so much strength. We fight together and actually the whole life here is a training. You learn many things that are never taught to you within the system."