8 March celebrations in Northern and Eastern Syria
Women from across Northern and Eastern Syria held events and actions in many places for the upcoming 8 March, World Women's Day.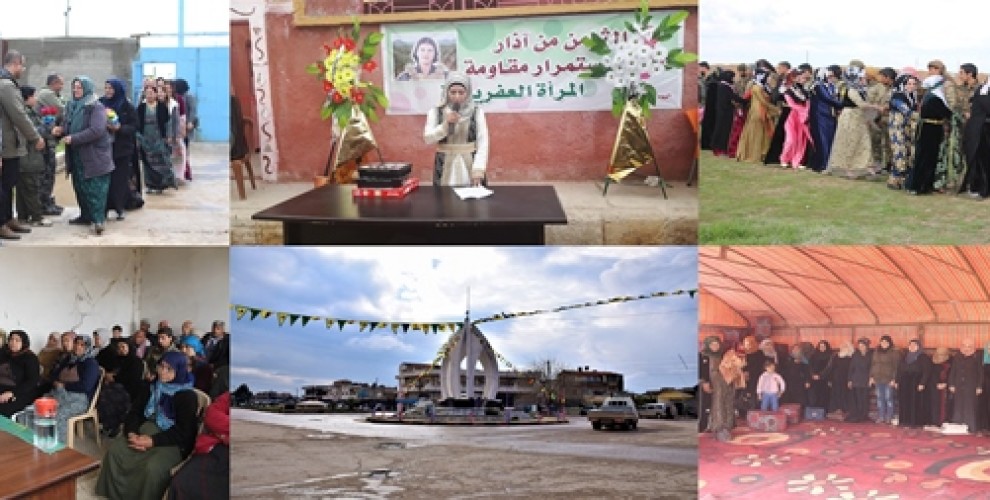 Women from across Northern and Eastern Syria held events and actions in many places for the upcoming 8 March, World Women's Day.
Tabqa
Tabqa Women's Executive set up the Euphrates Culture tent in front of the Syrian Women's Academy building in Tabqa as part of the March 8 actions.
Tabqa Executive Council co-chair, Hind El-Elî, co-chair of the Legislative Council Rewşen Hemê and members of the Tabqa Civil Council joined the inauguration ceremony.
Speakers celebrated 8 March and all the martyrs and women, especially the women of Afrin, Northern and Eastern Syrian women who have being struggling.
Deir ez-Zor
Deir ez-zor Women's Council opened a Women's Council in the town of al-Sewir. Many women joined the opening.
In the opening speeches, all women were celebrated on 8 March and wished success for the newly opened Women's Council.
After the speeches, the sister of Mudehî Hemadî who was martyred during the Jazira Storm Operation, cut the ribbon and declared opened the Women's Centre.
Tirbespiyê
In Tirbespiyê, in the Canton of Qamishlo, the women of Kongreya Star visited the Martyrs Revolutionary YPJ Brigade in the west of the district, the Syriac Military Council position in the village of Rotan and the Women's Asayish Forces and Military Discipline members in the district.
Members of Kongreya Star celebrated 8 March by distributing roses to women in military institutions during the visits.
Members of the Education Committee of Tirbespiyê organized a seminar on 8 March at the Martyr Hesen Institute.
The seminar was attended by the co-chair of the Education Committee, Xada Celal.
Congratulating all women teachers and all women on the 8 March International Women's Day, Xada Celal, underlined the role of women teachers in the training of new generations.
At the end of the seminar, videos telling about women's struggle was screened.
Til Hemîs - Til Berak
The women members of the civil institutions in Til Hemîs and Til Berak district visited the Martyr Sozdar YPJ Military Center in their traditional clothes, and distributed roses to the fighters.
Serêkaniyê
Kongreya Star in Serêkaniyê congratulated the city as part of the March 8 events. The women put up Öcalan posters and YPG-YPJ flags at Mitan junction and Waşûkanî martyrs junction.
Shehba
Kongreya Star in Shehba promoted a seminar on 8 March in Ehris and Kefernaya and the village of Um El-Hosh.
The seminar addressed the history of 8 March and the leading role of womenin the Rojava Revolution.
Kobanê
In Kobanê, young women gathered in the Free Woman Square, and held a press conference to mark 8 March, International Women's Day. The women lit a torch in the square.
Rodîn Bozan, a member of the Young Women's Union, said: "We congratulate the People's Leader Abdullah Öcalan, Leyla Güven and all the resisting women on 8 March, International Women's Day. Women have recognized themselves and their struggle through the thoughts of Öcalan. For this reason, as young women, we are saying that we will resist until we achieved the freedom of Öcalan."