15 years of women's meeting place UTAMARA
The women's meeting place, UTAMARA, celebrated its 15th anniversary. A cultural program and greetings commemorated 15 years of effort and toil in the common struggle against patriarchal structures and mentalities.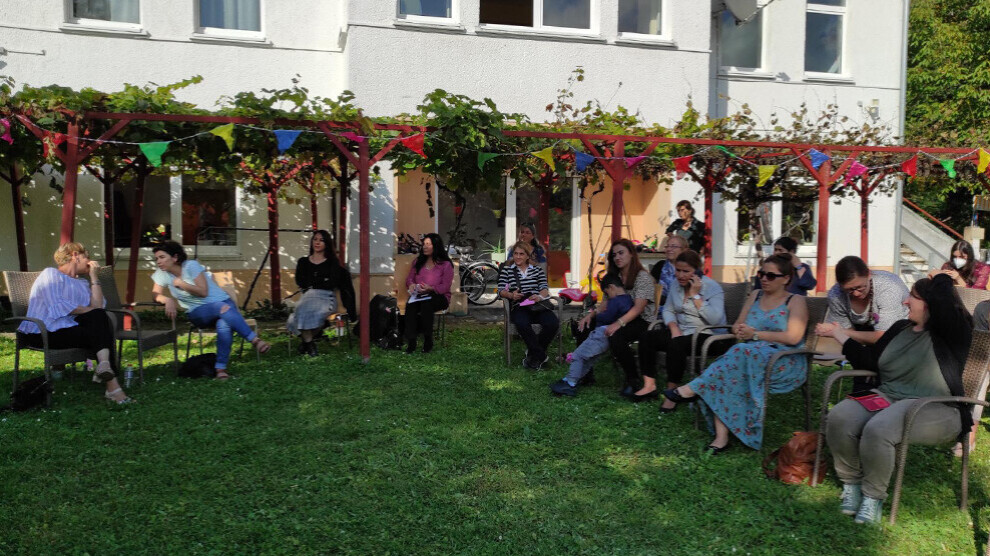 On Saturday, board members, fellow women, friends and supporters celebrated the 15th anniversary of the women's meeting place, UTAMARA, in Kasbach-Ohlenberg, Rhineland-Palatinate. With a small cultural program, a picture show, a quiz, poems, interviews and greetings, guests and organizers recalled 15 years of effort and toil in the common struggle against patriarchal structures and mentalities. Artist Binevş Roj accompanied the program musically.
The development of mother-tongue counseling, the summer program for mothers and children, Wendo weekends, children's festivals, campaigns against bride money and feminicide, multiplier training courses on trauma, for example, and women's cafés are just a few examples of projects and actions that fellow women, staff members and activists developed and implemented together. In 15 years, thousands of women and children have been able to participate. Hundreds of groups were able to use the meeting house as their place for seminars or activities. Hundreds of women found a second home and a way out of fear and violence.
Greetings from international women's organizations
In the greeting messages from women's organizations such as the International Free Women's Foundation, the European Committee of the Jineolojî, the European Committee of the Women's Village of Jinwar and the ROSARA Women's Center, all emphasized the importance of UTAMARA's work.
"UTAMARA is important, especially for Kurdish women, but also for all women worldwide, because it is a place where women can come together and organize, discuss and educate themselves. Women find support and can share problems and difficulties as well as their solutions with each other," said the women of the association's board and noted that they all agree to continue to work together, to move forward in a "feminist and women's movement". "Because especially in a time when war, fascist dictatorships and also the impact of the pandemic worldwide direct their destructive forces first against women, places like UTAMARA are important to stand up with common strength for a free society."