Co-chair of Kurdish Red Crescent: Afrin is under big threat
Turkish state trying to force the residents of Afrin to leave the city by uttering massacre threats, Nuri Sheikh Qenber, co-chair of Kurdish Red Crescent Heyva Sor A Kurd said.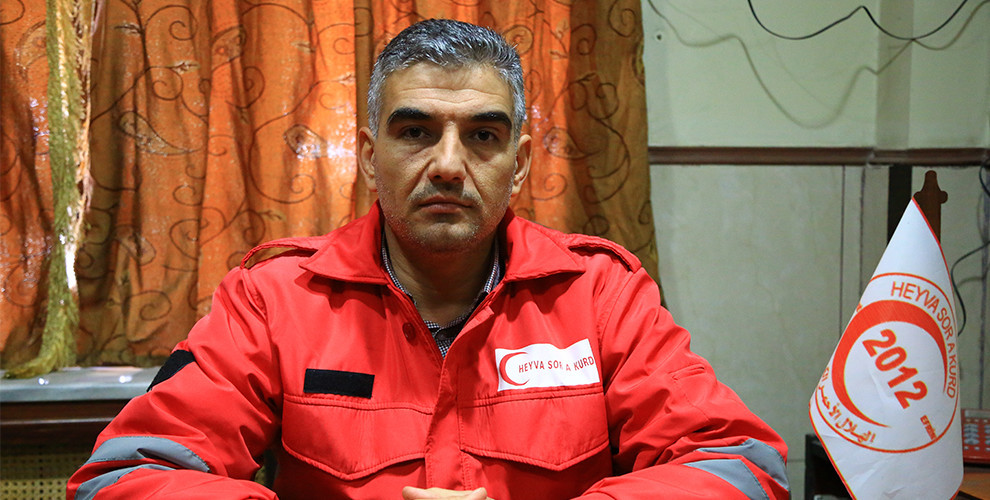 232 civilians, including 35 children and 29 women, were killed since the start of Turkish invasion operation against Afrin on January 20. 668 civilians, including about 90 children and 100 women, were wounded.
Speaking to ANF about the Turkish operation and civilian casualties, Nuri Sheikh Qenber, co-chair of Kurdish Red Crescent Heyva Sor A Kurd said that Turkish state is trying to force residents of Afrin to leave the city.
"The civilians are deliberately targeted in order for them to leave the city. They try to scare the people with these attacks. Their ultimate goal is to settle the gangs in the emptied villages. The residents of the villages which are invaded by Turkish army had to take refuge in Afrin city centre. The recent increase in the number of people living in Afrin city created a lot of problems. We are facing a lot of problems due to lack of shelter and humanitarian needs" Qenber said.
According to Qenber providing drinking water has become a problem for the city as Turkish army captured the only potable water facility in rural Afrin. Now hundreds of thousands of people rely on water from the wells.
Qenber also pointed out the importance of the road between Afrin and Aleppo and said that the road is the only connection of the city with the outside world.
"The aids have been cut off for a week after the aid convoys were targeted on Aleppo road. There is a lack of medicine, food and most importantly lack of fuel. For the past six years the electric power demand was met through fuel generators. When there is no fuel there will be no electricity. Then the hospitals and bakeries won't be able to work" Qenber added.
Qenber also highlighted the issue of plundering by the gangs and said "These gangs massacre people in every village they capture. They torture captives and loot people's belongings. If the world continues to remain silent and these gangs enter Afrin, hundreds of thousands could be massacred."
Pointing out the seriousness of the threat on Afrin, Qenber urged the United Nations, international organizations, UNICEF and Doctors without Borders to stop the massacres in Afrin.
"They need to act now so that one day they won't regret for what happened" Qenber said.