Omar: Turkey is planning attacks on Shengal and Dêrik
The Foreign Policy representative of the North and East Syria Autonomous Administration, Abdulkarim Omar, said that Turkey is preparing for an attack on Shengal and Dêrik with its diplomatic offensive.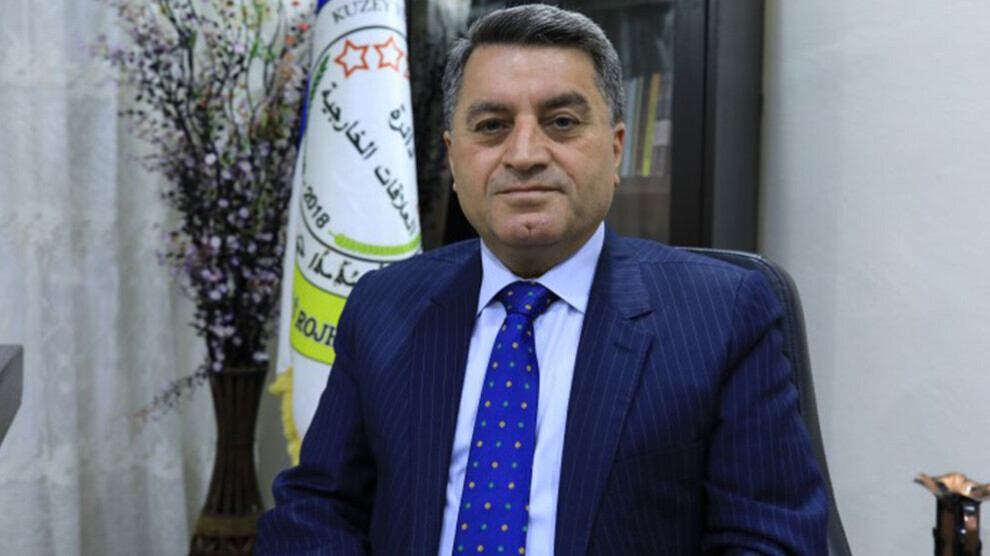 All indicates that Turkey is planning to expand its occupied territories in north and east Syria and to occupy the Yazidi region of Shengal in northern Iraq. In preparation for the invasion, the Turkish government is currently engaged in a diplomatic offensive on both a regional and international level. The visit to Germany by the Turkish Defense Minister Hulusi Akar, tomorrow, Tuesday, should also be viewed in this context, according to Dr. Abdulkarim Omar, co-chair of the External Relations Office of the North and East Syria Autonomous Administration.
"Erdoğan wants to become a neo-Ottoman sultan"
Abdulkarim Omar told Mezopotamya news agency that Turkish first step in establishing territorial rule in northern Syria was the occupation of Afrin, after which Serêkaniyê and Girê Spî were occupied. The foreign policy official added: "Turkey dreams of taking a strip from Aleppo to Mosul under control. Kirkuk is also part of this plan. Erdoğan wants to become a neo-Ottoman sultan and he goes beyond Syria, as we have seen. He also has plans for Libya, the Mediterranean and Armenia."
"If Erdoğan finds the opportunity, he will start a war"
The Muslim Brotherhood is one of the main means to achieve his plan, said Omar, adding: "Erdoğan is serious about his threats. If he can lay the foundations and find the opportunity, then he will start a war against Dêrik and Shengal and occupy a large part of South Kurdistan. We are preparing for every possible situation in northeast Syria and we will resist. We will defend our people and our will from the attacks by Turkey."
Meeting in Baghdad and Damascus
Attacks against Nrth and East Syria take place almost every day. In particular, the front line from Ain Issa to Til Temir is under constant artillery fire by the Turkish army and its Syrian National Army mercenaries.
In the light of these attacks, high-level visits from Turkey were made to Damascus and Baghdad. Commenting on these meetings, Omar said: "These visits are part of the plan of attack. Turkey wants to play a very destructive role in the region. Talks with the KDP in South Kurdistan were also held in this spirit. In this way, Turkey is trying to create a basis for its comprehensive concept of annihilation on an international and regional level. It wants to get certain consent for a comprehensive attack on the Kurds on all fronts."
Hulusi Akar's visit to Germany is in the context of the attacks
Tomorrow, Tuesday, the Turkish Defense Minister Hulusi Akar will arrive in Germany to meet his counterpart Annegret Kramp-Karrenbauer (CDU). In Omar's view, this visit is also taking place in preparation for the Turkish invasion: "This meeting is about developments in the region. Germany supports Turkey's politics and Turkey plays the refugees card. It is not clear whether this attempt by Turkey will be successful, but the representatives of the Turkish state will meet with many circles to ensure support for its anti-Kurdish plans."
"Constitutional talks will not be successful
Finally, talking about the negotiations for a new Syria constitution in Geneva, Omar said that like all other platforms on the Syrian conflict from which the Autonomous Administration is excluded, this too will not be successful. "This talks actually exclude the will of the peoples of northern and eastern Syria, i.e. about five million people. This platform serves to protect the interests of outside forces. These talks won't work. The UN special envoy for Syria, Geir Pedersen, ended the meeting without saying when the sixth round will begin. That is actually a clear admission that things are not going well."