PYNK: Turkish state avenges ISIS with the "Kobane trial"
Speaking out against the "Kobane trial" in which over a hundred Kurdish politicians stand trial in Turkey, PYNK in North-East Syria expressed that the Turkish state seeks to avenge ISIS that was defeated in Kobane.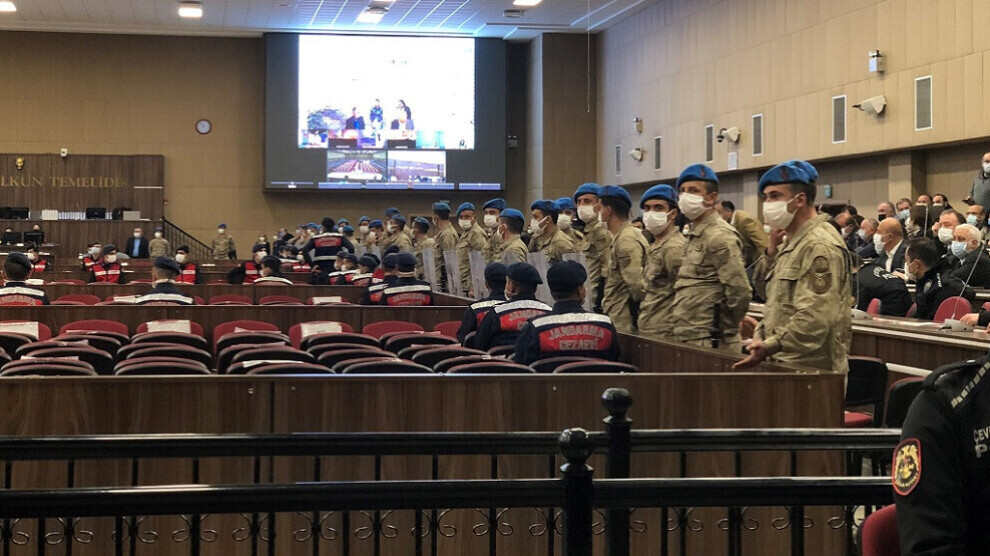 The "Kobane trial" in which 108 politicians, 28 of whom are arrested including former co-chairs of Peoples' Democratic Party (HDP) Figen Yüksekdağ and Selahattin Demirtaş stand trial, was heard in Ankara on April 26th. Parties for Kurdish National Unity (PYNK) in North-East Syria made a statement on issue and asserted that the Turkish judgement intends to liquidate the Kurdish politics.
The statement remarked that the alliance of AKP and MHP treats Kurdish people as enemy and Erdogan intends to inactivate HDP, saying, "This court case was opened in response to our people's protest as they took to the streets in 2014 against ISIS attacks on Kobane. At the time of the ISIS siege, Kobane faced large-scale slaughters. In response, our people voiced solidarity for Kobane."
'PART OF THE ATTEMPT TO CLOSE DOWN HDP'
The statement pointing out the relationship between Erdogan and ISIS expressed that: "Whole world, especially the International Coalition supported Kobane. Turkey, on the other hand, supported ISIS peculiarly for the fall of Kobane. Today, Turkey indicts our people's solidarity through non-independent courts. Erdoğan avenges the ISIS that was defeated in Kobane.
This trial is a part of AKP and MHP bloc's attempt to close down HDP. Indeed, they have pursued genocidal policies against HDP for years. HDP members have been arrested and stripped of their status as deputy. Trustees have been appointed to municipalities and persons directly allied to Erdogan have been appointed everywhere."
'OPPOSITITON FORCES IN TURKEY SHOULD UNITE AGAINST ERDOGAN'
Indicating the AKP's loss of votes as revealed by the latest surveys conducted in Turkey, PYNK pointed out that Erdogan resorts to any kind of vicious ways and means to remain in power.  
PYNK condemned the trial of HDP members and the political genocide operations in Turkey, adding, "International community should interfere with Erdogan who shelves the laws in Turkey. Also, opposition forces in Turkey should stand with HDP. The vicious policies that HDP faces today may target other political parties tomorrow. Therefore, all political parties should unite against Erdogan fascism."
RELATED NEWS: