Sancar: We will announce the "Kurdi Alliance" in early September
HDP co-chair Mithat Sancar said that they will announce the "Kurdi Alliance" in early September during his visit with Kurdish parties in Amed.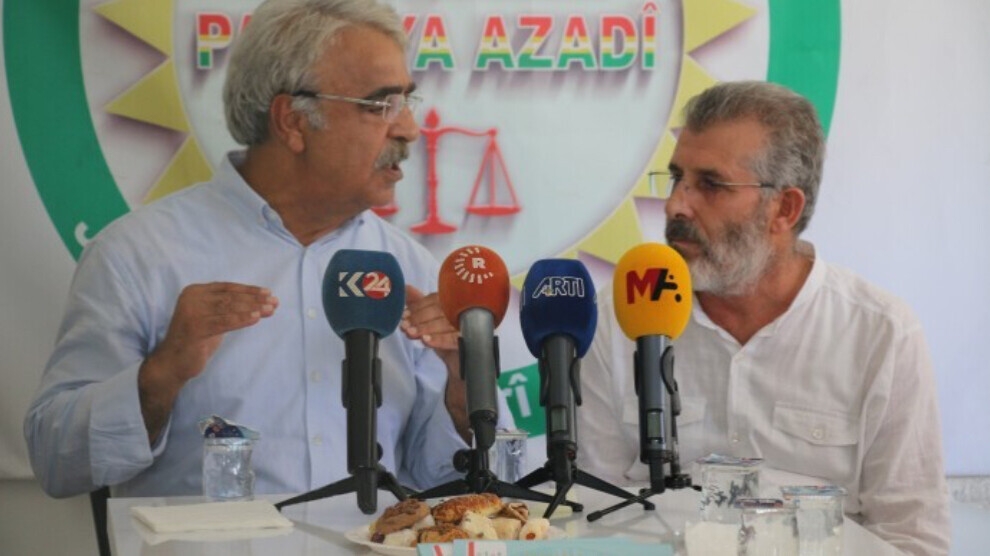 Peoples' Democratic Party (HDP) co-chair Mithat Sancar started his party visits this Sunday, after his party's rally in Amed on Saturday.
Sancar visited Kurdish parties such as Democratic Regions Party (DBP), Kurdistan Democratic Party-Turkey (KDP-T) People and Freedom Party (PIA), Kurdistan Communist Party (KKP), Azadî Party and the Revolutionary Democratic Kurdish Association (DDKD).
Making a short statement, PIA co-chair Mehmet Kamaç said that HDP is fighting for the Third Way. "A multi-colored and polyphonic society will be formed thanks to the Third Way. The way of brotherhood and peace is the Third Way."
Sancar, on the other hand, said: "These consultations continue at the level of delegations. A critical juncture is ahead of us. We are in a period when the current government is increasing oppression. There is an ambition to turn these pressures and attacks into war policies in South Kurdistan and Rojava. We have a responsibility to create the greatest unity to counter this. We will discuss the most important steps to create the biggest anti-war policy that will meet the Kurdish parties and Kurdish political circles. I have said before that the Kurdish peace movement is an urgent need. Now a strong anti-war bloc must be formed along with a comprehensive peace bloc. Inter-Kurdish conflict needs to be resolved through mutual dialogue and consultation. On August 25, we will develop the alliance we formed with the left socialist parties. If we mature the conditions, we aim to announce the Kurdish Alliance here to the public in September. We will also talk about how it can expand in the new period."
Emphasizing that they need to expand the alliance in order to achieve their goals, Sancar said: "One leg of the Democracy Alliance is meeting with the left and socialist segments. On the other hand, there is an alliance with the Kurdish parties and organizations. We are planning to share the results of the work with the Kurdish parties in September. On August 25, we will announce the results of the talks with the left and socialist structures to the public. All these parts together will form the alliance of democracy."