Southern Kurdistan people protest against Turkish invasion
Kurdish youth organizations staged a demonstration in Sulaymaniyah in protest at the Turkish invasion attacks against southern Kurdistan.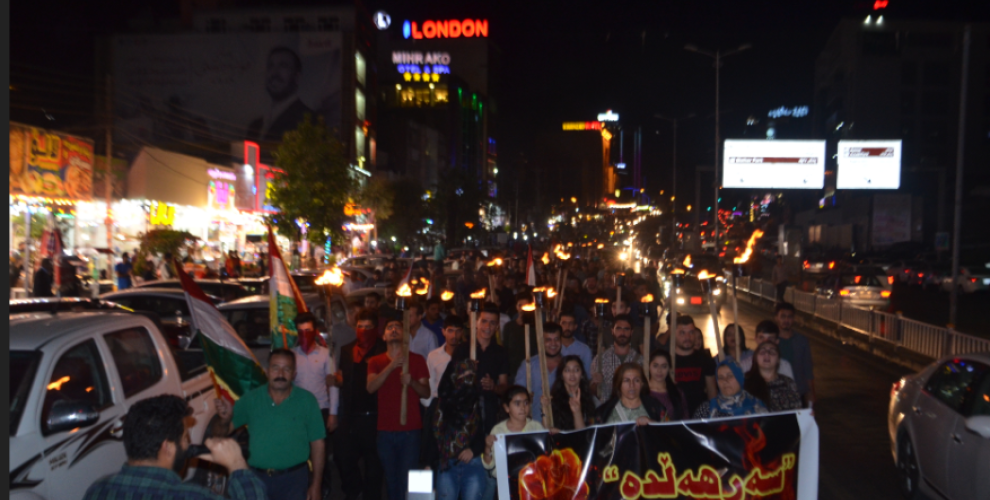 A demonstration was held in Sulaymaniyah under the lead of Patriotic Youth's Movement and Revolutionary Young Women's Organization to protest against Turkish invasion attacks against southern Kurdistan (Bashur), northern Iraq.
After gathering at the Baxê Giştî Park in Sulaymaniyah, demonstrators marched to the Saholeke Avenue where they handed out leaflets calling for awareness against the Turkish state's invasion attempts.
Reading a press statement on Saholeke Avenue, Patriotic Youth's Movement member Akam Benzenci stressed that the Turkish state pursues policies that seek to destroy the Kurdish people everywhere and invade their lands.
Berzenci said the following; "The Turkish state is attacking free mountains and South Kurdistan. However, terrorist Erdoğan should know that he will not be able to invade Qandil and South Kurdistan. We call on the people of Bashur to rise up and resist against the invasion attacks of Turkey. We will not allow Turkey to invade Bradost, Qandil, Sidekan and other free areas."
The statement said that demonstrators will head to Qandil following a press statement at Sulaymaniyah's Nali Park at 08:00 on June 8, Friday.
On the other hand, concurrent demonstrations were held in Chamchamal, Seyidsadıq, Sengeser and Hewler (Erbil) against Turkey's invasion attacks. Demonstrators protested the Turkish state and called on the people to stand against invasion attacks.