Leyla Guven: We will break the isolation and free our people
DTK Co-chair Leyla Guven sent a message to the Amed Newroz and said, "Comrade Zulkuf illuminated our future with his resistance move. We will never accept the isolation."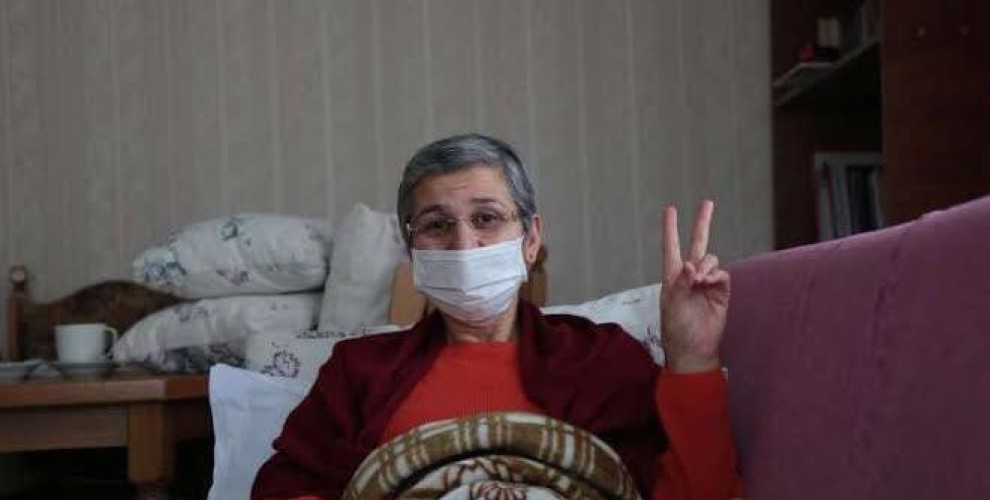 Democratic Society Congress (DTK) Co-chair Leyla Guven, who has been on a hunger strike for 134 days, sent a message to the Amed Newroz. Peoples' Democratic Party (HDP) MPs Dersim Dag, Tayip Temel and Murat Sarisac who have been on a hunger strike since March 3 saluted the crowd before Leyla Guven's message was read.
The MPs were kept by the protocol entrance and not allowed in for a long time, and were able to enter as the crowd chanted slogans in protest. HDP Amed MP Dersim Dag read the Kurdish message Leyla Guven sent. Dersim Dag started her speech by saying, "We brought you greetings from Leyla Guven, from Nasir Yagiz and from the resistance in the prisons."
GUVEN: COMRADE ZULKUF ILLUMINATED OUR FUTURE
The message Leyla Guven sent, which was interrupted with applause frequently, is as follows:
"Greetings Amed, greetings the capital of resistance… Greetings sacrificing mothers, valiant young people. I embrace you all with the dungeons' spirit of resistance.
Our esteemed people, Newroz is the beginning of spring, it is the resurrection of freedom. Newroz is Mazlum's cry in the dungeons, Zekiye's halay in Sur, Amed, and the torch Ronahi and Rahsan carried. Newroz today is Zulkuf Gezen, who is the Mazlum Dogan of our time. Comrades, Zulkuf Gezen is a martyr in the resistance move. Comrade Zulkuf illuminated our future with his resistance move. I bow in respect for his action once more.
"WE WILL NEVER ACCEPT"
Our valiant people, victory is near. Spring is already here. In 2019 we will break the isolation and we will free our people. All peoples of the world should know that we will not accept a life in isolation. 2019 will be the year of resistance for Kurds and Kurdistan. I salute you all with this spirit of resistance and faith. I celebrate Newroz for you all from the bottom of my heart. Newroz Piroz Be. We will prevail."