Karayılan: The Rojava Resistance will win
People Defense Center Headquarters Murat Karayılan joined a special program with journalist Serdar Yektaş in Dengê Welat radio.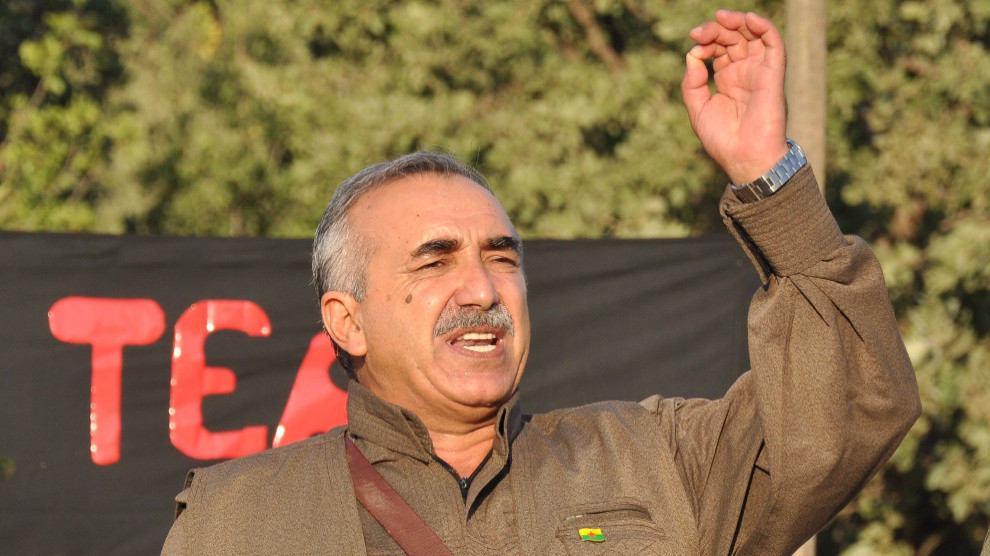 People Defense Center Headquarters Commander Murat Karayılan said that "everyone should stand up against this infamous invasion ordered by the AKP-MHP fascism."
People Defense Center Headquarters Commander Murat Karayılan said: "Everyone should stand up against this infamous invasion ordered by the AKP-MHP fascism. The resistance must grow. These resisting peoples will have glory in the coming days. There will be a losing and defeated fascist Turkish state. The Cenga Rojava Resistance will win."
Karayılan added: "We are going through a very historical period. The occupying Turkish state is carrying out a brutal and barbaric genocide policy on the territory of North-East Syria before the eyes of the whole world.
Turkey is waging a very uneven and disproportionate war. On the one hand there is the people of North-East Syria, who are resisting only with their weapons for their honor, dignity, existence and freedom, and on the other hand a barbarian state with advanced war machines."
Karayılan continued: "It is such an unjust war. The war is not only disproportionate and unjust, but the colonial Turkish state is carrying out a genocide by attacking the people of North-East Syria, by attacking the whole society."
Addressing the International Coalition Karayıla said: "Now these coalition forces declare that they are against this occupation. If they really meant to counter this occupation, then they should close the North-East Syrian airspace to the Turkish state. They can do this because it is something under their control.
If they do, the balance of the battle will shift."
Murat Karayilan continued: "The invading Turkish state and the genocide fascists are carrying out savagery on our people, on the peoples of North-East Syria and developing recklessly attacks. People are falling martyr, a great example of sacrifice is shown and the burden on our people is heavy.
But, on the other hand, we have an enemy who is facing serious problems, struggling with crises and who is left alone in the world.
We believe that these facts will lead the Kurdistan Freedom Struggle to victory. The Kurdish people and all the peoples of the region will win, not be the genocidal Turkish fascists.
Our people in Rojava are carrying out a great resistance. Of course, it is not easy to carry out such a resistance. We feel and live this resistance from the heart. As mentioned before, we will always stand by our people. Every resistance has its difficulties and its costs. There has been a great and sacred resistance for four days. There, history is being rewritten.
The main tactic of the enemy is to make people to emigrate and evacuate the cities. For this, they applies the tactic of scare and displace people by hitting around villages and cities.
That is why our people should not be afraid and everyone should stay at their place. This is very, very important strategically. This is the main tactic of the enemy and it must be frustrated in this way. We need to know that the enemy wants to evacuate our people with heavy strikes and psychological warfare. Everybody should act consequently and be alert to the psychological war carried out by the enemy.
This war is not only for Rojava and the people of North-East Syria. It is a struggle to protect the existence and freedom of all peoples of the region, including the Turkish people. It is a great resistance against the AKP-MHP fascism and the brutality of ISIS and Al Nusra mercenaries.
Developments in all parts of Kurdistan and abroad show that both our people and politicians in Northern Kurdistan, Southern Kurdistan and Eastern Kurdistan are aware of this truth, and therefore a very high spirit of national unity has developed.
We salute this development of a spirit of national unity and we are undoubtedly a part of it. We are ready to do whatever is asked of us for this cause.
The people of Northern Kurdistan should play their part in this process. In Northern Kurdistan, everyone, especially Amed and Botan, should act responsibly.
We know that there is intense police pressure on our people. But we all need to know that today is the day of facts. To do this, everyone must overcome the obstacles imposed by the police and take action.