HPG: Turkish operation coordinator killed in Haftanin
HPG announced that the operation coordinator was killed in the action on Partizan hill in Haftanin where over 20 Turkish soldiers died.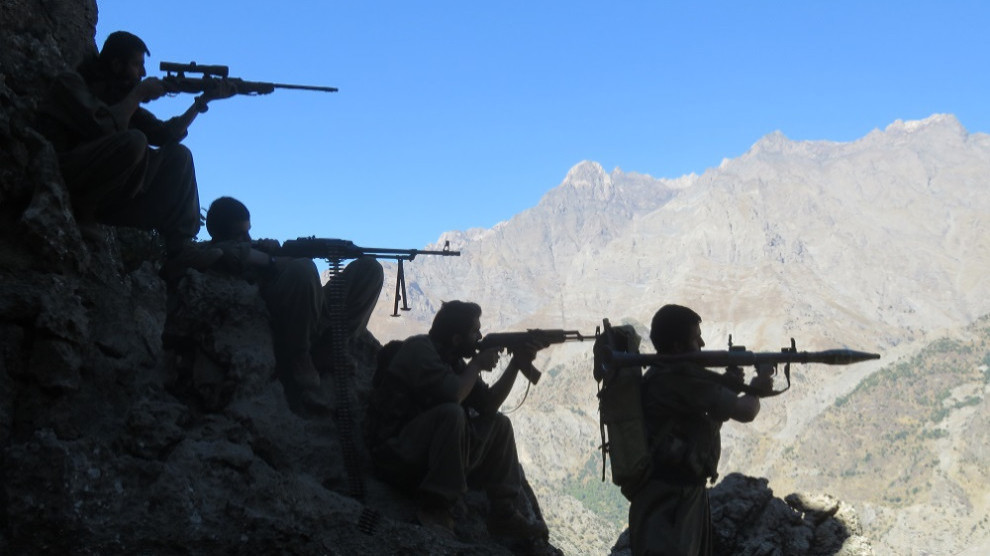 HPG Press Center issued a written statement on the guerrilla actions in Heftanin region of southern Kurdistan, northern Iraq.
"Our forces continue their historic resistance against the invading Turkish state's attacks launched against the Haftanin area of the Medya Defense Zones on August 23," said the statement and continued: "As part of these efforts, our forces launched 3 separate sabotage actions following the dispatches on Partizan hill on August 23. Many soldiers were killed and injured in these actions, but the concrete number is not clear."
The statement continued:
"On August 25, we had shared with the public that our forces carried out a series of actions against the invading soldiers on the Partizan hill, killing over 20 soldiers and injuring dozens. According to new information obtained, the invaders' commander was killed in these actions. Our units have suffered no losses during the actions.
GUERRILLA IS DISPLAYING A HISTORIC RESISTANCE
On August 26 at noon, UAV and Kobra helicopter backed Turkish army brought in forces to the Siser Hill in the Geliye Pisaxa area in an attempt to continue their invasion operation. On the same day, attack helicopters bombed Bezenike and Geliye Pisaxa.
INVADERS SUFFER HEAVY LOSSES
The Turkish army has been attacking our forces with all the resources they have, and have been met with the historic resistance of the guerrilla. The invaders are only able to advance their soldiers with intense technical support, and cannot fight our forces on the ground. They suffer heavy losses. The invading Turkish army, in an attempt to cover up their losses and incompetencies, have been serving inflated numbers of guerrilla losses to try and trick the people through their special war media.
OPERATION IN BATMAN
On August 24 in the evening, the Turkish army launched an operation in the Qelanis area of Batman with support from UAVs. on August 25 at 03:00, the invaders bombed the area with jets. Two of our comrades on duty were martyred in these bombings. The invaders dispatched soldiers after the bombings and searched the area. This operation withdrew from the area at 15:00 the same day. The identities of our martyred comrades will be shared with the public at a later time."