Guerrillas resist Turkish invasion attacks in South Kurdistan
The resistance of the HPG/YJA Star guerrillas is continuing uninterrupted as Turkish attacks intensify around the Avaşîn region.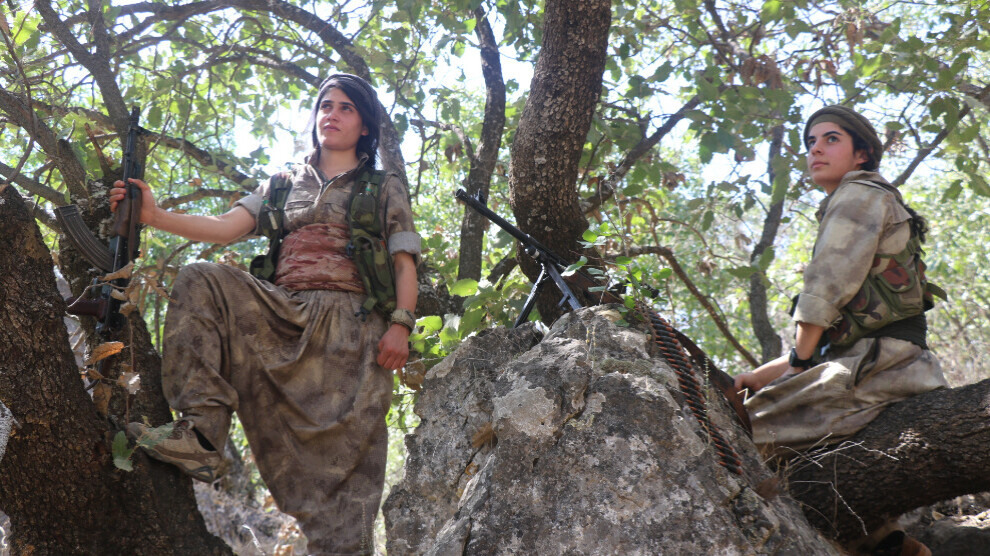 HPG Press Centre released the following statement regarding the latest guerrilla actions and Turkish invasion attacks in the Avaşîn region of the guerrilla-held Medya Defense Zones in southern Kurdistan (northern Iraq).
"As part of the Bazên Zagrosê Revolutionary Campaign:
On October 25, at 19:10, three Turkish helicopters that attempted to move from the Tîpa T area in the Zap region to the Banista area in the Avaşîn region were targeted and shot by our forces. One Sikorsky type helicopter was seriously damaged as a result of the intervention of our forces. At 19:30, two attack helicopters were targeted by our forces while they were trying to get to the Tîpa T area. As a result of the successful intervention by our forces, the attack helicopters had to withdraw from the area and helicopter mobility in the area was halted. This action was carried out to mark the anniversary of the martyrdom of our immortal commander, Martyr Berîtan (Gülnaz Karataş).
The military operations of the Turkish army and the resistance of our forces in response are continuing unabated in the Girê Kartal and Werxelê Resistance Areas in the Avaşîn region. Fierce conflicts that spread over a wide region are also continuing in the Girê Kartal region. The fighting has expanded from Girê Kartal to Stûnê area most recently.
On October 25, the Turkish army attempted to attack the Girê Kartal Resistance Area with a remote-controlled vehicle laden with explosives. This vehicle was destroyed together with its explosives and cameras following a counterstrike of the Kartal Resistance fighters.
On October 25, Turkish forces trying to approach the battle tunnels in the Kartal Resistance Area were targeted and hit three times by our forces. The Turkish troops could not advance after the intervention of our forces and thus attacked with explosives four times and with chemical weapons three times.
On October 25, at 14:30, a Turkish killer drone which flew over the Resistance Zone was struck and destroyed by our forces.
Since 20:00 October 25, the Turkish army has been bombing the Werxelê Resistance Area with heavy weapons.
On October 25, at 11:00, the Girê Şehîd Hawar area in Xakurke's Goşine area was bombed by Turkish fighter jets."