Lola from Catalonia, marching shoulder to shoulder with Kurds
Kurdish youth and internationalists in Germany have been mobilising for a week to protest the international conspiracy against Kurdish people's leader Abdullah Öcalan.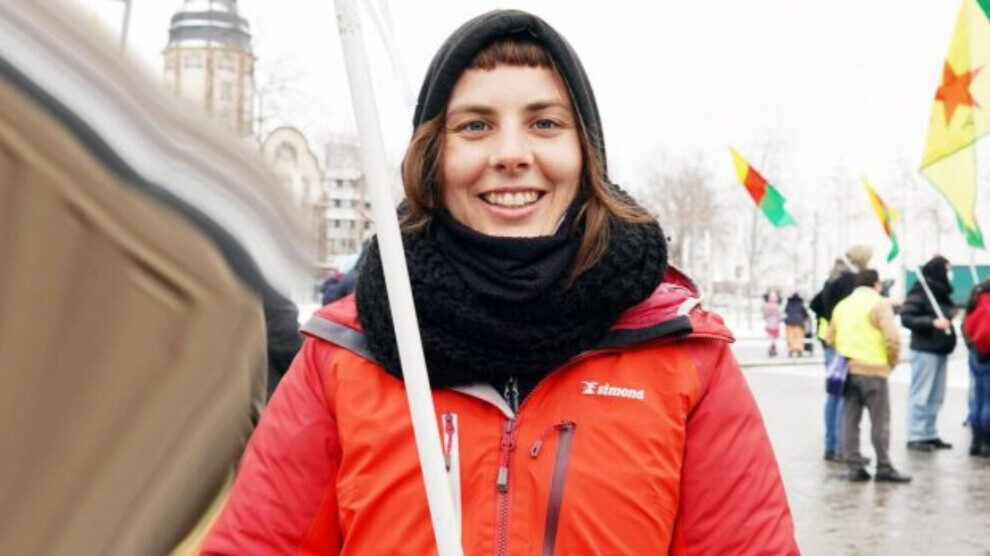 24-year-old Lola Ginesta, one of the internationalists who took part in the action, came with 4 of her friends from Lleida, Catalonia. Ginesta has joined the Long March for the first time and said: "It is very nice for me to be here. Friends from my country had participated in the march in previous years. In every town and city we visit, there are people who welcome us, there are people who join us. One of the things I like most is to be a guest of Kurdish families in the evenings. We have the opportunity to get to know each other and learn their stories."
Ginesta met with the Kurdish Freedom Movement during the Kobanê resistance between 2014 and 2015, "A solidarity group was established in the city where I live, Lleida. I gradually got to know the Kurds through that group," she says.
Ginesta said that she gets strength from the women in the Kurdish Freedom Movement. "The base of this revolution is women's freedom. There are many feminist structures and organizations in Europe, but they have a problem, when it comes to leading processes. Kurdish women define 'sociality' more accurately and differently."
Women's science is very interesting
Stating that she also studied jineoloji, Ginesta said: "It draws my attention even though I am new to it. It is remarkable to see and realize that there is a women's science. This guides me to continue our struggle every day. If we fight together, success will be inevitable."
Ginesta added: "We often think we can't do anything. However, the people who struggle and fight in the world show us that resisting and winning is possible. The Kurdish people are proving that, we can learn from them."
Internationalist woman from Germany
Maria Müller is one of the German internationalists taking part in the Long March. Maria, who lives in Hamburg and is involved in the German left, got acquainted with the Kurdish movement 2 years ago. Stating that she joined the Long March before she regretted the restriction due to the coronavirus pandemic this year. "The Long March is a good opportunity to live collectively and put collective struggle in practice."
We learn a lot from Kurdish families
Müller explained that the young internationalists stay with a different Kurdish family every night and that each day is a great experience for her. She said that she knows a few words of Kurdish and added: "We are having a great time with the families. We learn the history and culture of the Kurds from them. It is a great education for us."
Kurds know what they are fighting for
Müller said that she was very influenced by the ideas of Abdullah Öcalan, whom she describes as a "leading thinker". Müller added that the struggle against the patriarchal system, "the cause of social conflicts and problems", affects her. "Kurdish women express and implement the left and feminist demands openly. It is necessary to support this struggle and show solidarity."
Stating that the Kurds' struggle for freedom is making a great effort to succeed, Müller finally added: "Success will be achieve Abdullah Öcalan's freedom and spreading his thoughts. No matter how cold or tired we are. We know exactly what we are here for. We have been marching for days. We raise our voices and try to grow our struggle."
Source: Yeni Özgür Politika/Pervin Yerlikaya