The Time Has Come! Free Abdullah Öcalan
Naples city councillor Eleonora De Majo recalled how important is the experiment of the Democratic Confederalism and in general the feminist, ecologist, democratic doctrine of President Öcalan for contemporary Europe.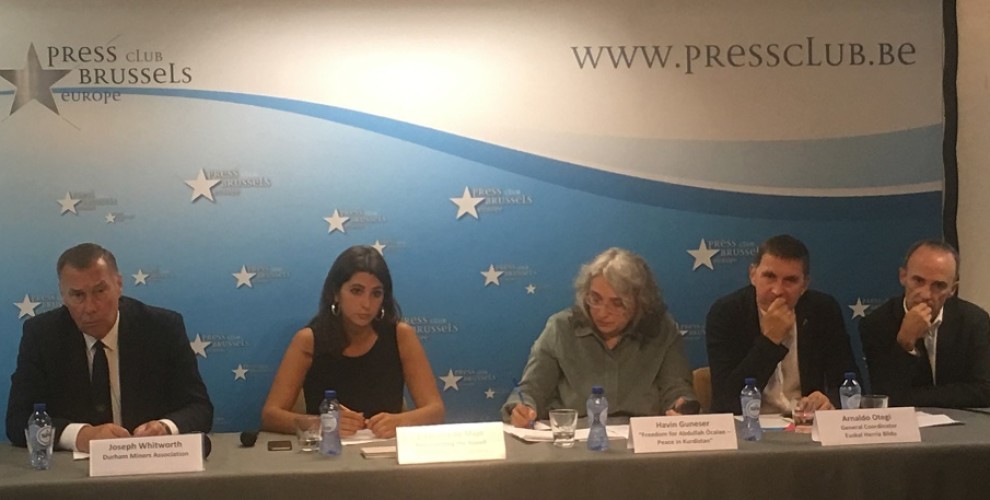 The Time Has Come! – Freedom for Öcalan World Campaign – held a press conference in Brussels today at the Press Club Brussels Europe.
For more than seven years now Abdullah Öcalan has had no contact to a lawyer.
Among the participants was Eleonora de Majo, Naples city councillor for the list DemA. 
De Majo delivered her speech at the press conference also on behalf of the city mayor, Luigi De Magistris. 
De Majo underlined the importance of the conference and reminded journalists that Naples City Council had conferred the honorary citizenship to Kurdish People's Leader Abdullah Öcalan, giving the key of the city to his niece, Dilek.
De Majo added that "Naples council never fail to express the violations of human rights both in Bakur and Rojava and unanimously passed many motions denouncing these violations".
Concrete actions, De Majo said "which are not solely the belief of Naples but of many other Italian councils (like Palermo, Reggio Emilia) and they are proof of how important is the experiment of the Democratic Confederalism and in general the feminist, ecologist, democratic doctrine of President Öcalan for contemporary Europe, because they represent a civil model of civil co-existence between people of different religions and cultures. Even more importantly - De Majo added - in a worrying moment where there is an ever-growing neofascist groups and xenophobic parties". 
Thus, De Majo added: "as an administration close to the Kurdish people, we are extremely worried about the inhumane detention of President Abdullah Öcalan. Moreover we are certain that only with his immediate release there can be a significant step towards an effective and long-lasting peace process in the Middle East which has for so long been torn apart by decades of war, genocide and terrible human rights violations".
De Majo then pointed out that "it is in our interest to work until we realise the road map, outlined by Öcalan and supported by the Kurdish people at the negation tables which were unilaterally interrupted by Turkey in 2015".
Recalling that Öcalan has been in detention for almost 20 years, the Naples councillor said: "We ask that the international community mobilises until President Öcalan is able to receive visits, above all else to have him checked by a physicians and to be able to meet with his lawyers and relatives". 
Also, said De Majo, "as friends of the Kurdish people and mainly as strong defenders of the extraordinary experiment of municipality government which is being practised in Rojava, in spite of the pressures of the Syrian war and the Turkish repression, we invite the international community to open its eyes in respect to the peace process which is now opening in Syria, a process in which Syrians and Kurds must be involved". 
De Majo also recalled that "Turkey is a privileged interlocutor of the European Union on the theme migration, as there are 3 million Syrian refugees within their borders, who otherwise would have gone to Europe".
If Europe wants to regain credibility, said De Majo ending her speech, "they must demonstrate true independence and break the connections with Erdogan which are the indirect reason for the perpetuation of the violence in the Turkish-Syrian scene.
From our part - said De Majo - we must be the first to work concretely to build a network of territories which represent point of reference for democracy and civilisation and which demonstrate the existence of a confederate of municipalities able to break the silence of national states and Europe on the Kurdish question".