KJK's Çiğdem Doğu: Time for workers to unite on May Day
​​​​​​​"This year we celebrate May Day to counter State of Emergency."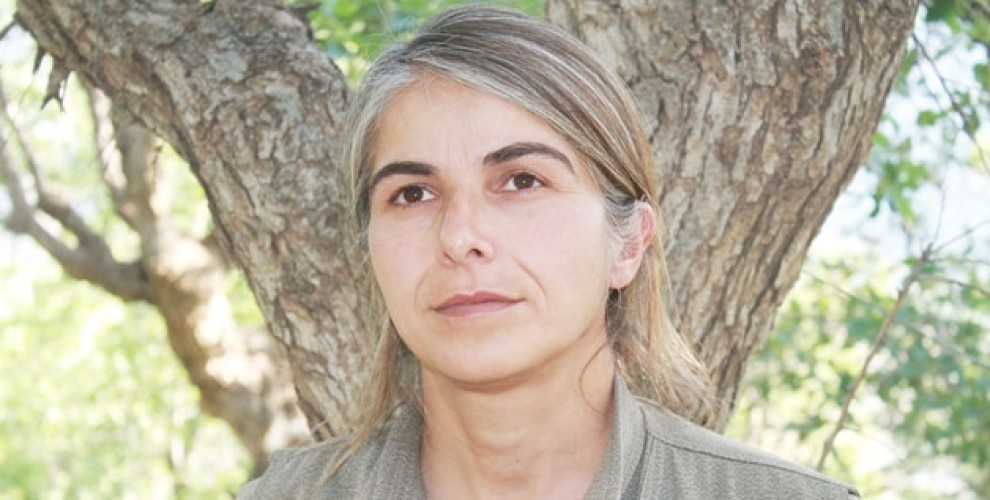 KJK Coordination Member Çiğdem Doğu has been talking to ANF about this year's First of May celebrations.
Doğu begun by saying that "The AKP-MHP fascism will be defeated only with the unity of all democratic sectors".
Doğu then said the following:
Women, labourers and workers find themselves under the most terrible exploitation. On the other hand, the society finds itself unemployed and exploited.
We salute all the workers, peasants, oppressed people. May Day 2018 especially from the point of view of our working people in Turkey and Kurdistan, and from the point of view of our women marks a very important process and time.
Because our peoples in the Middle East, Turkey and Kurdistan are still facing a lot of repression and are experiencing a great injustice. The same old genocide policies are deepened and imposed on the Kurdish people. There is a great war.
The war carried out in Middle East, Turkey, Kurdistan mostly affect women, workers, proletarians, peasants. It affects them on various dimensions such as the economic, cultural and it affects their lifestyle.
More and more workers are faced with pressure, unable to express themselves. In Turkey, the AKP and the MHP made a fascist alliance. In particular, as we are witnessing a process which we called "Third world war", we see that there is great chaos and crisis in the region. The AKP is the main responsible for this chaos. In particular, the AKP has fought against Kurds everywhere guided by its genocide policies. The war in Afrin opened a war not only against Kurds, but also against workers and proletarians in Turkey.
Today when we look at Turkey's economic indicators we can see that the country is already in a situation of complete bankrupt. Production appears to be very low. For thousands, tens of thousands of years, Anatolia and Mesopotamian lands, Kurdistan lands have cradled peoples, societies, women, humanity who enjoyed the great fertility of these lands.
But when we're looking at the stage we have reached today we can see that there is nothing left in Turkey and Kurdistan when it comes to agriculture and manufacturing. It's completely depending on the outside. Production areas such as wheat and animal husbandry, which are basic production materials, are completely dependent on the outside. They have basically ended peasantry, agriculture, land.
Especially during the AKP period, the exploitation reached a critical stage. The working peoples are ignored; people are being completely exploited and condemned to poverty. Workers are exploited for hours and paid the lowest fees. Women in particular are being exploited, and are the one who most suffer this situation.
Apart from this, we see people who work as subcontractors, people are employed without any safety guarantee. Again, when it comes to life safety, we see the situation of the workers everyday: there is a massacre going on, death on the workplace are a daily fact. This, of course, is not acceptable. A construction worker, who works to be able to eat, but his future is uncertain. There is no life safety. This, of course, shows the value that the system attaches to people. The Soma Massacre is the greatest example of this. The AKP system is a system that allows people to die and be massacred.
After the July 15th military coup, thousands of people, tens of thousands of people, were accused to be Fetullah Gulen followers. Without any reason, people were laid off by arbitrary practices. There is no guarantee even if you are an official. Many people have been called terrorist, Gulen followers, PKK members. Unemployment has increased. The streets are filled with unemployed people, especially the streets of Kurdistan. Unemployment is a sign of the degree of corruption of a country. So if a person, a society cannot work, cannot produce, then society is rotten. This means experiencing a very serious corruption.
Fascism has oppressed women in different ways. Motherhood is the biggest labor, but motherhood has been turned into a business. It has been turned into a policy issue by the AKP. In short, if we take a look at what is happening, there is a terrible level of exploitation in terms of women's labor, in terms of the general labor of the society, of the workers, of the peasants.
Existing exploitation is not only against workers and proletarians, there is also a big exploitation of nature and society. Nature is exploited, nature is a social laborer. Capitalism, imperialism have left no tree, no forest, no water, no piece of land in Anatolia, in Kurdistan. They offered them for sale. They have destroyed production and turned everything into a business.
The AKP and the MHP have turned everything into trade and unearned income. Everything has become a war tool. In fact, everything has become a war against the collectivity. There is a great war against women, for this reason it is time for workers to unite against AKP and MHP on May Day if we want to end this system.
Since May Day is a day of unity, struggle, resistance it is necessary to see it in a way that corresponds to its meaning. All of the affected sectors should be organized and get together, if we want to counter this system, fascism and their war against the collectivity, against labor. To counter the AKP fascism we need to step up our struggle.
In particular, it is time for women to unite on the revolutionary front: May Day could be the right opportunity. Because this system made life unbearable. It brought it to a suffocating level. The system is working to make life not comfortable for mankind; it is trying to create a life where there is no room for democracy, for decent work. For all this, it's time to raise our voices against it.
Both Turkey and Kurdistan territories have paid with martyrs and a heavy price to defend May 1st. It is a day of resistance, solidarity and struggle.
This May Day then let's celebrate everywhere to show our strong will. Let' it be not just a celebration but the beginning of a process of transformation. We need to transform into a revolutionary front, democratic and on the workers' side".