KCK's Sozdar Avesta: Zeki Shengali will be avenged
Sozdar Avesta stated that a preliminary investigation into the murder of the Yazidi politician Zeki Shengali has begun. She said regional forces in particular played a role in the murder.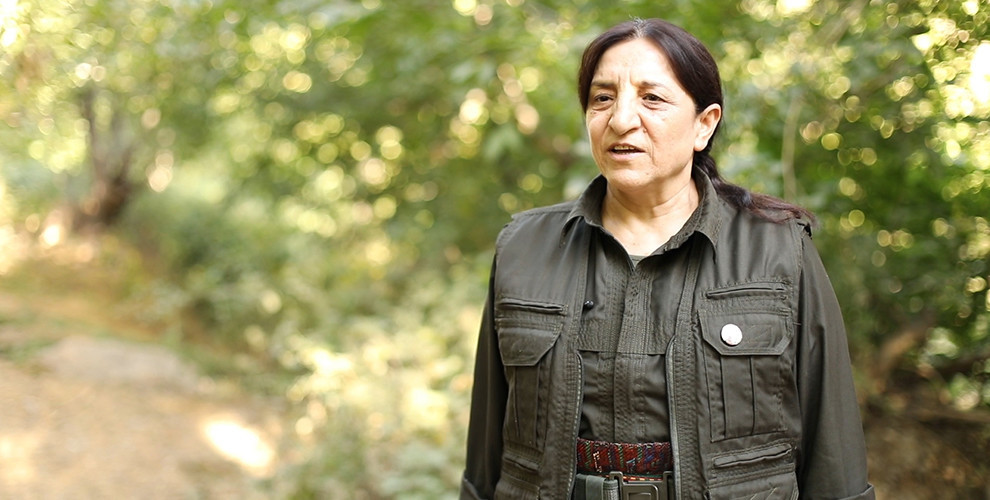 The Turkish state carried out an air raid in Shengal on August 15, killing Yazidi Society Coordination and KCK Executive Council member Zeki Shengali. Mahir Serhad who had been wounded in the same attack also lost his life in late August.
Sozdar Avesta, member of the Kurdistan Communities Union (KCK) General Presidency Council, spoke to ANF about the incident, giving important details about the motives behind the targeted assassination of Zeki Shengali.
Sozdar Avesta said that a preliminary investigation has been launched into the assassination. The investigation moves along the following questions: "For example, where did these planes come from? How many miles did they fly? He was killed with an armed aerial vehicle. According to the Turkish state, these armed drones cannot fly from Turkey to Shengal, they do not make such long distances. Where did these planes take off from? The suspicion is that they took off from Turkish bases in Southern Kurdistan."
Sozdar Avesta further stated: "To understand these events, one must look at the Yazidi genocide. The Islamists have moved away from the culture of Islam. They use Islam for their policies. Along with this, the genocide in the Middle East has begun and this is affecting the Yazidis.
Chairman Apo (Öcalan) once said, 'We are in debt to the Yazidi and Alevi society' because these societies have kept the Kurdish identity alive. To date, the Yazidi society has survived 73 massacres. Today's Yazidi population has declined sharply and lives scattered all over the world. They wanted to evacuate Shengal and subject Yazidis to migration.
In this context, the assassination of our friend Zeki has targeted the entire Yazidi society. When ISIS attacks began in Shengal in 2014, Zeki went there and led the defense. He played an important role in military and social organization. This organization was a thorn in the eye of the Turkish state. Zeki Shengali was in the diplomacy committee where he was establishing a unity with Arab, Turkmen and Shiite peoples. Zeki Shengali became a target for the Turkish state because he was a leader for the Yazidi society."
Where did the planes come from?
Sozdar Avesta continued: "Shengal is located in Iraqi territory. It is a controversial area due to article 141. The problems there are still not completely solved. If the US does not give permission, the Turkish planes cannot operate until Shengal. If there is no support and intelligence information, as well as regional support, these planes cannot engage in reconnaissance or attack. That is why both Iraq and the South Kurdish regional government and the US have their share in this assassination.
One day before the attack, a meeting took place between Iraq and Turkey. The Turkish state may have promised Iraq not to cause chaos in Tal Afar and Kirkuk in return for an attack on Shengal. This attack was part of a negotiation. Iraq says it has nothing to do with the attack, but we know that Iraq has a role in it. The Yazidi society and the Council have launched a comprehensive investigation which will reveal those responsible for the attack, what forces were a part in the attack, and what forces allowed it. The regional powers are silent on the subject, as is the regional government of Kurdistan. This means they want the Yazidis to be driven out of Shengal. There is an international concept, not just a regional one. In addition to the Yazidis, the Turkmen, the Kakais and the Syriacs are also wanted to be expelled from the region. What was not achieved on 3 August 2014 is now intended to be executed."
"Zeki Shengali was a pioneer of our movement"
Avesta describes Mam Zeki as a "pioneer of the freedom movement" and continues: "He was one of those forced to migrate in the 1970s. He got to know the PKK abroad and was one of the first people to start working in Europe. For the freedom movement of Kurdistan Mam Zeki is a pioneer, just as he is also a pioneer for the Yazidi population and society.
Zeki knew that the emancipation of the Yazidi society is possible only through the liberation of Kurdistan and the liberation of Kurdistan through the philosophy of the Chairman Öcalan. He fought for 40 years in various fields. Many were impressed by Zeki and joined the ranks of struggle because of him. His death left a large gap in the Yazidi population. I have known Zeki since 1985. We have fought together in many areas. We, as his friends, must now turn the pain into a determined struggle."
Avesta went saying that there has been a deep mourning for Zeki Sengali around the world, especially in Russia, Europe and Rojava: "Everywhere people have embraced friend Zeki. That was very important. There is one very important question now: How will we take revenge? A retaliation must be done with the methods of Chairman Apo. If there is a genocide, then you stand in its way. As far as defense is concerned, self-defense is necessary everywhere. As for organization, you have to organize yourself everywhere. As for unity, we need to build it. Our friend Zeki wanted to build a democratic Shengal and he has reached a considerable level. Shengal has been organizing itself for four years. Thousands have returned home. In 2014 there were still 10-15,000 people in Shengal, now again 70,000 people are living there. This return has been a very difficult process. Now the Yazidi population should put aside all contradictions and build their unity."
"PDK wants to bring Yazidis against each other"
Avesta remarked that the PDK is trying to bring the Yazidi population against each other. She mentioned a plan to motivate those Yazidis who are still housed in camps to go to Europe.
"At the same time, some allegations are made in connection with Mam Zeki's death. Everyone should await the investigation, whoever has information must forward it to the investigation committee. Whoever has a role in this attack will be brought to light. In this sense, I appeal to the Yazidi society. We must set aside our contradictions and continue the work of Zeki. Zeki fought for democratic autonomy of Shengal and recognition of its status. We will realize his dreams", added the KCK executive.