HBDH components: Our position will be maintained to the end
On the occasion of the 5th foundation anniversary of the Peoples' United Revolutionary Movement (HBDH), the components of the movement stated that their position will be maintained as they enter the sixth year "with the will for victory".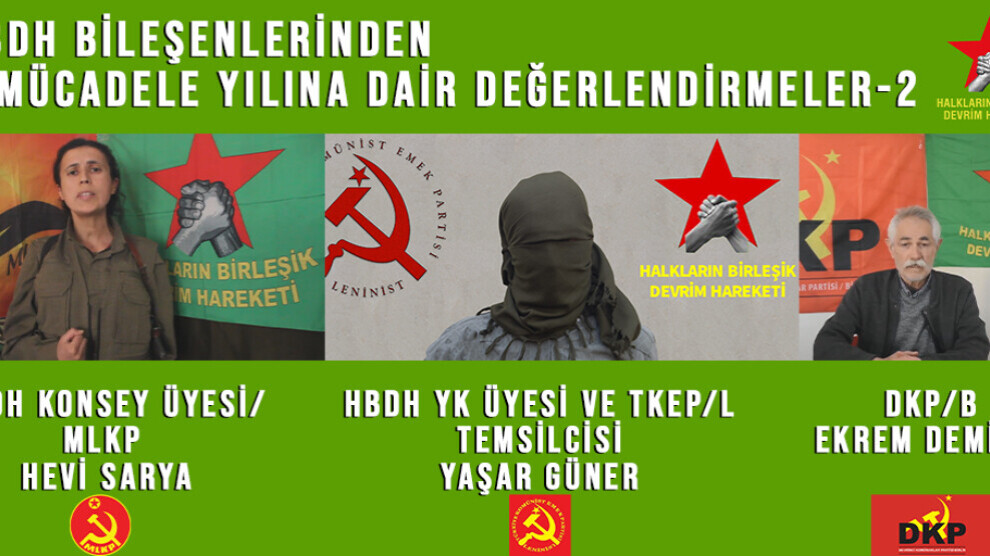 HBDH (Peoples' United Revolutionary Movement) Executive Committee Member and TKEP/L (Communist Labour Party of Turkey/Leninist) Representative Yaşar Güner; KBDH (Women's United Revolutionary Movement) Council and MLKP (Marxist Leninist Communist Party) member Hevi Sarya and DKP/B (Revolutionary Communard Party/Union) member Ekrem Demirci made evaluations for the 5th anniversary of the HBDH.
GÜNER OF TKEP/L: THEY WILL BE DEFEATED
HBDH Executive Committee Member and TKEP/L Representative Güner said; "The HBDH was born in Turkey to meet the vital needs of the revolution in Kurdistan. It was established to meet the need to bring together the revolutionary fronts and command them from a single center."
Güner pointed to the crisis in the political regime and economy in Turkey and said that they will be surely defeated.
"The HBDH is entering its 6th year of struggle with the will that is going to lead the uprising to victory. With our militias, guerrillas and united forces, we are preparing for a victory. We will make the dreams of the workers come true."
SARYA OF MLKP: THIS POSITION WILL BE MAINTAINED TO THE END
MLKP member Hevi Sarya, celebrating the foundation anniversary of the HDBH said; "The HBDH is inspired by Kızıldere (…) It comes from the tradition of united struggle.  It is a unified revolutionary front for revolution in Turkey and Kurdistan."
"This position will be maintained to the end. This is a position to hold the enemy to account and create new victories," she added.
Sarya pointed out that what they are doing is a "modest contribution" adding, "What we do is the subject of our revolutionary self-criticism. As the HBDH, as we enter into our sixth year of struggle, we consider what we have not done and cannot do as the subject of a revolutionary-practical self-criticism."
She concluded: "Turkey and Kurdistan revolution will attain absolute victory."
DEMIRCI OF DKP/B: FASCISM WILL LOSE
DKP/B member Ekrem Demirci stressed that fascists and perpetrators of femicide are the targets of the HBDH.
"If the revolutionary forces can gather their own forces, become visible and appear in practice against fascism, and if this triggers the anger of the poor, fascism will lose and we will win."
"When we join our forces, nobody can stand in front of us," he added.
RELATED NEWS: