Nivişta Gerîla: The story behind the song
In the guerrilla, there are many stories full of hope, longing and love. One of these stories is told in the piece "Nivişta Gerîla" by Şêro Hindê and Mehmûd Berazî.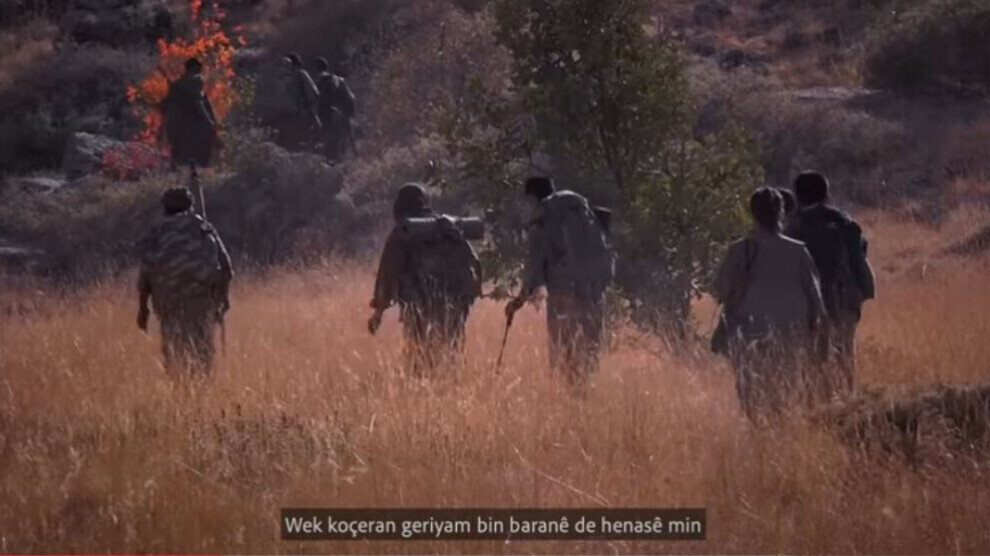 Nivişta Gerîla is a song that I have been hearing over and over again for almost two years. Every time I hear it, I am swept up in a wave of sadness. It takes me away into the distance. After the sadness, hope comes to me and spreads in the middle of my life. Therefore, I wanted to know more about the makers Şêro Hindê and Mehmûd Berazî and the history of this play.
When I came to Rojava again, one of my first concerns was to find Şêro Hindê and talk to him about his song. Şêro Hindê is one of the founders of the Film Commune of Rojava (Komîna Film a Rojava). About the song, he tells:
"Two young people from Rojava are interested in each other. I don't want to mention their place of residence and their names; they should remain a secret. Their story stands for many people in a similar situation. The two start seeing each other - with or without the knowledge of their families. They become lovers, but both of their hearts also beat for the guerrilla struggle in the mountains of Kurdistan. Together, they decide to join the guerrillas.
After their basic training, they are sent to different places. No one knows that they love each other. They show a very mature way of dealing with each other. Their love for each other weighs as heavily as their love for their country. For years they do not see each other. In the liberation struggle, they carry each other in their hearts to all actions and tasks.
Years later, they meet by chance in the mountains. They can only talk to each other briefly, then they both go on in different directions. They go from one place to another and continue their struggle, but in this short meeting it becomes clear that their hearts still beat for their country and for each other.
When the revolution begins in Rojava, the woman guerrilla goes back to her birthplace to join the work there. After a while, the male guerrilla is also sent to Rojava to defend the revolution. Even before his arrival, the woman falls in the fight against the ISIS. Her boyfriend seeks out the places where she stayed and follows her footsteps. He fights where she fought: Şengal, Kobanê and Gire Spî. In one of these areas, he continues his fight even today."
Stories full of hope, longing and love
Şêro Hindê says that in the guerrilla there are many such stories full of hope, longing and love. On the origin of the song, he says:
"After hearing this story, we wanted to make it known with a piece of music or in some other way. The song is a message of love and the lyrics are about two people whose love for their country and each other are intertwined and complementary. It is about sadness and longing, but much more so about hope. We called the piece Nivişta Gerîla (Amulet of the Guerrilla)."