"Kaval is passion, love and history"
An old "uncle", Ali Ucun is blind and gives sound and life to the kaval in the historical city wall of Amed. Ali Ucun says that kaval is passion, love and history.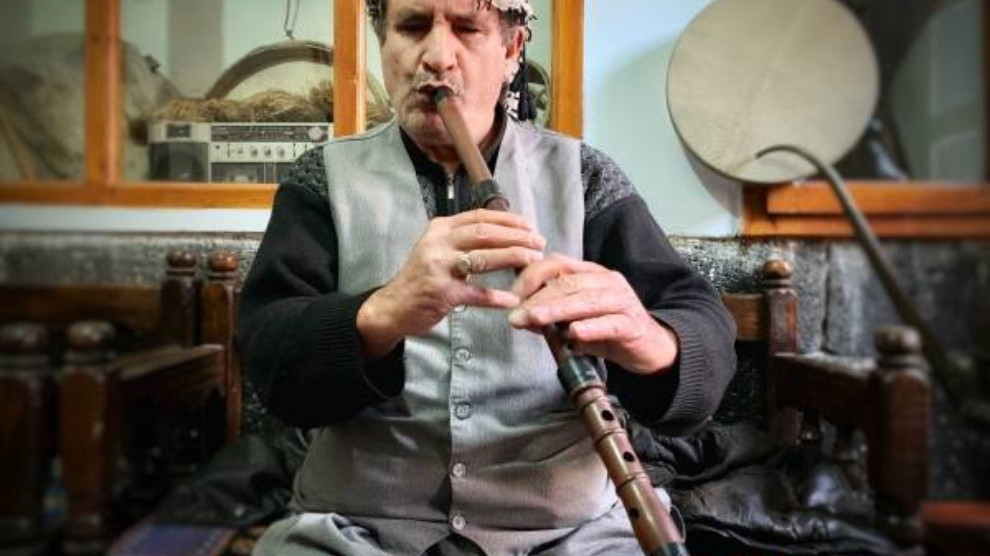 Although mostly known as a shepherd instrument, the kaval is often confused with the Western flute, but is actually an instrument that has survived to the present day and is played even in orchestras.
When we pass through the streets of Amed's historic city walls, an old art and culture, as ancient as the city walls resonate from this old "uncle" playing his kaval. This culture, which has been the voice of many emotions for thousands of years, is rising from the land of resistance.
The person who gave sound and life to the kaval is an old "uncle" named Ali Ucun. Uncle Ali is blind and gives life to the emotions sitting in his local dress and black and white kefiyah.
Young, women, men and elderly people gather around Ali Ucun to listen to the ancient voice.
Ali Ucun - or Eliyê Qerejdaxî as he is also known - was born in 1963 and has been playing kaval for 49 years.
Reaching deep emotions in the hearts of people with the kaval, Qerejdaxî is happy to continue the tradition of thousands of years. And he wants to educate young people so that this culture does not disappear. "If you want to learn, you need to learn, understand and love the language of this voice," says Qerejdaxî.
Qerejdaxî lost his eyesight in 1970 as a result of an illness he had when he was 7 years old. His family took him to many doctors and hospitals, but due to poverty, they couldn't afford surgery. Now 58 years old Qerejdaxî said: "I have hope that I can see, one day. This is a very hurting issue. But I did not lose hope. Of course I will see one day."
After losing his sight Qerejdaxî dedicated himself to the kaval. He has been a shepherd for years and learned the kaval by himself. "I was born in the village of Şahdiyê. I lived in the village until the age of 45. I lost my eyes because of illness. After losing my eyes my best friend has become the kaval. I was a shepherd in many parts of Amed. I was playing the flute next to the sheep. The animals were grazing better when I played kaval. It was nicer then. But I had to come to town for some reason. I live in Amed now. But I miss those days."
Qerejdaxî said that the kaval is a very ancient culture and added: "The kaval carries all the values ​​of the Kurds in his bosom. It is necessary to learn and teach this art well. The kaval is the best medicine for the wound. It is healing for all troubles. At that time, there was only kaval and the Kurds used to live their art and culture with it."
Qerejdaxî  has one call to make to Kurdish artists. "There are many Kurdish artists. Some sing in Kurdish, but what they sing has nothing to do with Kurdish culture. They put foreign cultures in our culture. I call on all Kurdish artists against the cultural massacre. Get to know yourself and embrace your culture."