Young women visited Leyla Güven in hospital
Güven told the young women: "Spring came to Kurdistan with the voice of Mr. Öcalan. This year we can celebrate this holiday because Mr. Öcalan's voice has reached us."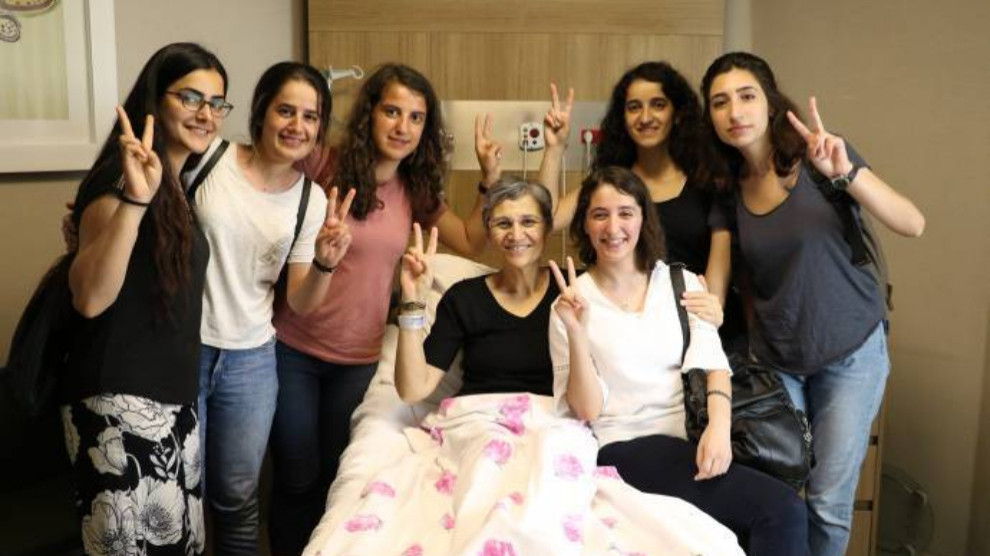 Members of the HDP Youth Council visited DTK co-chair and HDP Hakkari MP Leyla Güven to celebrate the Eid.
Güven told the young women: "Spring came to Kurdistan with the voice of Mr. Öcalan. This year we can celebrate this holiday because Mr. Öcalan's voice has reached us."
Güven was on hunger strike for 200 days demanding the end of isolation against Kurdish People's Leader Abdullah Öcalan and has been held in a private hospital for treatment since the end of the hunger strike. 
Activists continue to visit Güven in hospital. The HDP deputy was particularly pleased to receive the visit of HDP youth council members and she reminded them of the comrades who lost their life during the hunger strike resistance.  
"We heard the message Mr. Öcalan has sent us, a message of peace, democracy and democratic politics. Kurdish people have lived together undergoing pain and joy throughout history."
Güven said that young people have strength and moral resources and added said: "Tomorrow will be the days of peace and brotherhood. Every new time has been led by young people. This time it was led by a woman. Resistance continues. Our resistance will continue until we reach freedom."
HDP Young Women's Council member Merve Öztep underlined the fact that young people will continue the struggle against isolation and said: "Young people could not play the leading role in this process. However, we will continue to struggle to ensure isolation is lifted."