Yazidi women in Europe hold congress in Germany
The SMJÊ congress, held under the motto "We will stop genocides through our struggle and resistance", was dedicated to Berivan Şengali (Dünya Seid Hesen) who fell a martyr in the Medya Defense Zones in November 2015.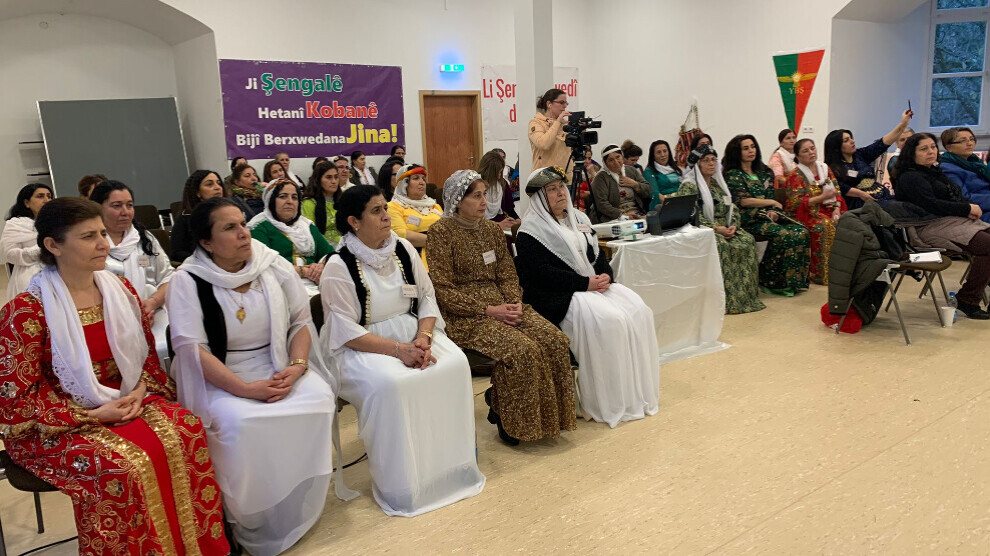 The Yazidi Women's Assemblies Umbrella Organization (SMJÊ) held its 4th congress in the German city of Lönen on Saturday, November 20.
The congress was dedicated to Berivan Şengali (Dünya Seid Hesen) who fell a martyr in the Medya Defense Zones in southern Kurdistan (northern Iraq) in November 2015. The congress, held under the motto "We will stop massacres through our struggle and resistance", was attended by around 70 delegates from the Yazidi Women's Assembly and Commune representatives.
Evaluations made during the congress pointed out that organizing was the only way to stop massacres, genocides and violence against women. The ongoing attacks on Shengal were defined as a part and continuation of the 9 October plot against Kurdish People's Leader Abdullah Öcalan and the genocide perpetrated in the Yazidi town in August 2014.
The participants highlighted the need for the whole Yazidi community, especially women, to realize self-defense, as well as the importance of enhanced struggle and more powerful actions in response to the isolation of Öcalan, attacks on Kurdistan and violence against women.  
KCK (Kurdistan Communities Union) General Presidency Council Member Sozdar Avesta sent a video message to the congress. She said that a plot against Shengal was in place and pointed out that the Yazidi community has achieved great developments during the last seven years, from genuine organization to self-defense, specifically for women. She laid emphasis on the need to draw lessons from previous genocides to make sure not more do not follow, and to enhance the struggle under the leadership of women.
Avesta remarked that women should give the most powerful response because they have suffered from genocides the most.  
"No one can promise women freedom, a free future and a free life; this can only be created by women in themselves and society," Avesta said, and remarked that Yazidi women should strengthen their genuine organization as a need more urgent than water and bread.
The Yazidi Women's Freedom Movement (TAJÊ) Coordination member Riham Hico made a speech which she began by saying, "We draw strength from you."
Hico said that Yazidis in Europe could provide the required support for the creation of living conditions to prevent the migration of Yazidis from Shengal.
"The greater attacks on Shengal are, the greater will our response be," said Hico and underlined that the Yazidi land could be rebuilt and gain status through joint struggle.
The Union of Democratic Alevi Women, the Assembly of Yazidi Villages and the Kurdish Women's Movement in Europe also sent their messages to the congress and expressed their support.
Following the messages and speeches, the biennial report was read out and a series of decisions were made for the new term.