Women to take to the streets today in defense of the Istanbul Convention
Women are getting ready to take to the streets today to defend the Istanbul Convention.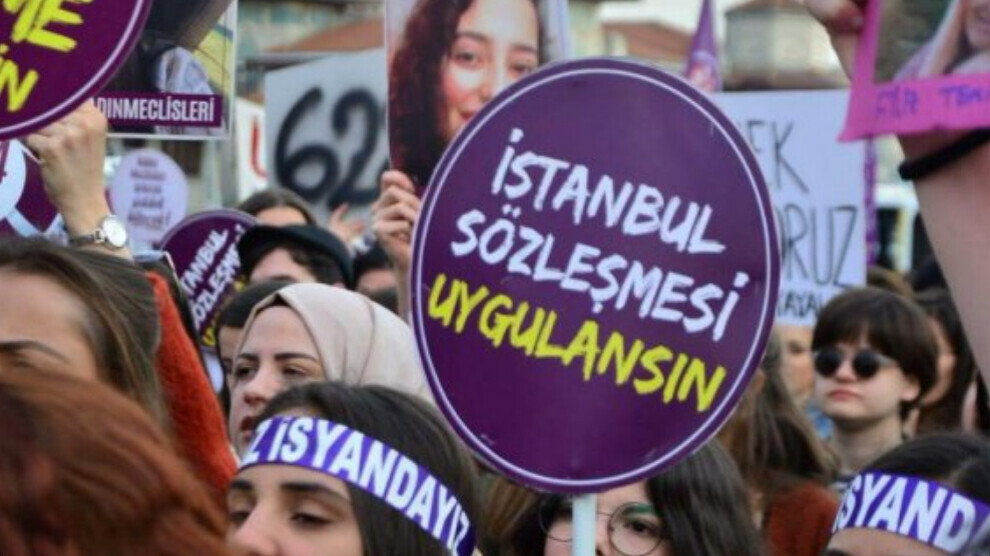 Women will take to the streets today to defend the Istanbul Convention. A rally to be held in Istanbul to protest the decision of President Recep Tayyip Erdoğan to withdraw by the Convention. A decision that will come into effect on 1 July.
Violence against women does not slow down. Today, besides male violence, women are also the target of the state. Just like Deniz Poyraz who was killed in the attack on the HDP Izmir provincial building on 17 June. Duygu Delen died after suspiciously falling from a balcony in Antep a few days ago, and Mehmet Kaplan, who was on trial with a sentence of aggravated life sentence and up to 32 years in prison, was released under house arrest at the last hearing.
HDP Ankara Sincan district co-chair, paid tribute to Deniz Poyraz and described the direct role of the state in the killing of women: "The Istanbul Convention protects women against all forms of violence, it protects women against state violence as well. In particular, the militarist discourses produced by the male state over the female body during the self-government resistances in the 2015-16 period as well as the women and children murdered at that time also show that the Convention was never implemented in Kurdish provinces. At that time, these massacres were carried out by the state itself. Taybet Ana and 12-year-old Cemile, whose bodies were kept in the middle of the street for 7 days, became symbols [of this hatred]. Our friend Deniz Poyraz was killed as a result of the attack on our party building in Izmir the previous day. Deniz Poyraz was a member of the HDP based on women's freedom. She was fighting for women's freedom. She was murdered by the state's militarist hit man, behind the banner we hung to draw attention to violence against women. The Istanbul Convention, which is based on protecting women against all kinds of violence, was unfortunately never implemented for Kurdish women. We know the killers; the killer is the male state! We say once again that we will not give up on the Istanbul Convention, which protects women, children and refugees against all forms of violence without discrimination. As Deniz Poyraz's mother said, we will not keep our head down."
Adile Doğan, President of the Istanbul Esenyalı Women's Association, emphasizes that, in addition to defending the Istanbul Convention, women will also take to the streets today to expose the increasing impoverishment of women, their precarious work and labor: "Women have not left the streets, and since this annulment came to the agenda, male violence has continued to change its dimension. In fact, we saw an increased violence almost if to say 'there is no Istanbul Convention anymore, there is nothing left to save you'.
Doğan added: "Yes, the Istanbul Convention was not fully implemented, but women were trying their best to enforce it. Women were trying to implement the Istanbul Convention, either through the associations they were involved in, and through organization or solidarity, and they were succeeding. This, of course, brings women to a point where they are even more insecure and unprotected. In addition to violence against women, a deepening poverty, an increase in the female population falling into a more precarious and poor situation often due to divorce, is the picture emerging. Our main demand is not to leave the Istanbul Convention, but we are also taking the streets today with many other demands."