Women's delegation from Germany visits Shehba and Sherawa
A delegation of women from Germany has made observations in Shehba and Sherawa to see the situation of Afrin people, and explained their demands.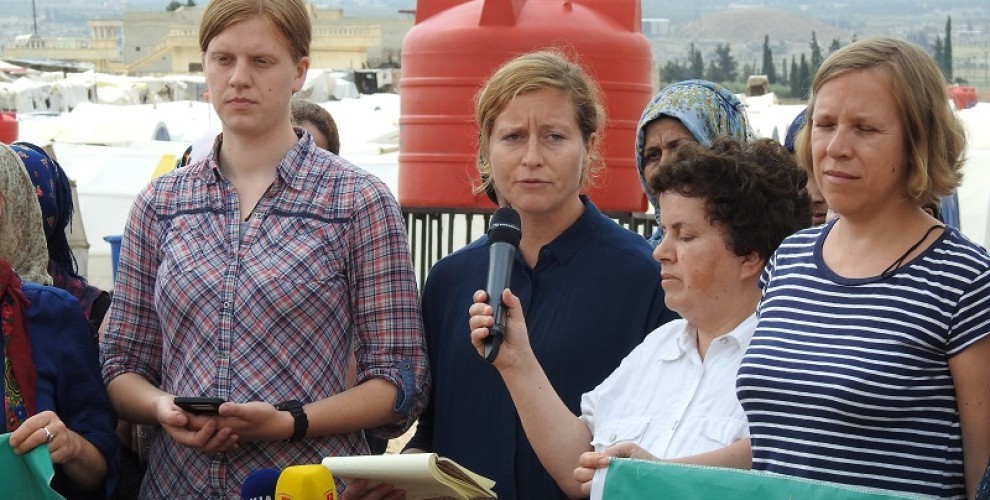 Following the invasion attacks of the Turkish state and affiliated Al-Nusra, ISIS and FSA gangs against Afrin, hundreds of thousands had to move to Shehba and Sherawa. Settled in these areas, Afrin people are continuing their lives under challenging conditions.
Four doctors from various institutions in Germany, Dr. Swantje Illig, Daniela Nischik, Silvia Hauffe and Sylvia Gabelman, have made observations in Shehba Canton and Afrin's Sherawa district to see the situation of displaced people from Afrin for themselves.
"STOP ARMS SUPPORT TO TURKEY"
Following three days of observations, the delegation held a joint press conference with women's movement Kongra Star in the Berxwedan Camp in Shehba Canton.
The press statement was read out by Dr. Swantje Illig who called attention to the troubles and tragedies experienced by the displaced people of Afrin, and called on all NATO member states that provide weapons to Turkey, including Germany, to immediately stop giving arms to Turkey.
"WE HEARD TRAGIC STORIES"
The press statement said the following; "We are feminist women. We are all working in healthcare services. We came to Shehba and visited three refugee camps here. We talked to health workers, mainly officials from Heyva Sor a Kurd (Kurdish Red Crescent).
We came here for an observation of the circumstances surrounding the refugees from Afrin. We heard several tragic stories including cases of violence and disappearance. We condemn the Turkish state and allied gangs trampling on human rights and laws in this manner. We condemn the NATO states and Germany for their support to the Turkish state. We support Afrin people's demand to turn back to their homes safely."
"URGENT MEDICAL AID NEEDED"
The delegation underlined the need for urgent medical aid, remarking that this is of great importance for particularly women and children in Shehba.
"We want the people of Afrin to be treated as refugees in international arena and we want them to get support.
We want that institutions like UNHCR provide support for these refugees. Arms support for Turkey must stop immediately."
CALL TO WOMEN
The delegation urged international observers and media outlets to go to Afrin, and called on all women to rise up for Afrin.